Sunday, December 5th, 2010
One of the best things about this time of year is the chance to get together with friends at holiday parties! It's so fun to see everyone at their sparkly best! And, of course, it's the perfect excuse to dress up.  (We live for the chance to amp up the razzle-dazzle!)
So if you're looking for some extra 'zazz to take your favorite little black dress to the next level, Ped has just the thing!
Here to help is Seattle-based jeweler Jamie Joseph, who has "how to dazzle" down to a science!  The hand-selected gems she uses are truly special, and her minimal designs show these spectacular stones off to their best advantage (and yours). Drink in the loveliness of Jamie's latest cocktail rings, which just arrived at Ped HQ: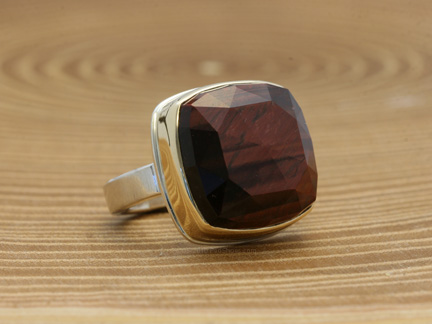 Every time we look at this Blood Tiger's Eye ring, our hearts skip a beat because the stone is so unusual. The rose-cut faceting pulls in the light, amplifying the filament-like streaks that run through the gem. This ring is a guaranteed show stopper!
Another new JJ design that has us swooning is her Dark Drusy ring, which gets extra sparkle from a gold-encircled diamond set in the stone.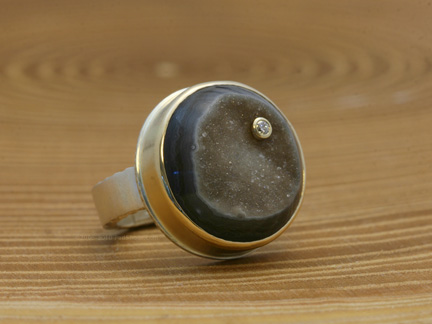 A drusy is commonly called a geode, which, as you may know, has a crystalline interior. We think the diamond floating on the sugary background looks like a full moon shining in a star-filled night sky. Go for high drama by slipping this unusual ring on your finger! No one will be able to resist you!
If you really want to pull out all the stops, though, there's no better way than with Jamie Joseph's Square Rock Crystal Ring.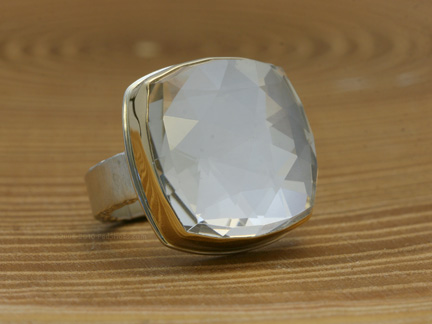 You'll be as glamorous as an old-school Hollywood movie star when you wear this sparkler! Want to flirt with someone across the room? Simply flash this ring with a wave and soon you'll feel a tap on your shoulder or maybe even an arm around your waist!
You say rings aren't your thing? Don't worry, we have other ways for you to turn every head at the party! Look no further than the whimsical creations of Pepita!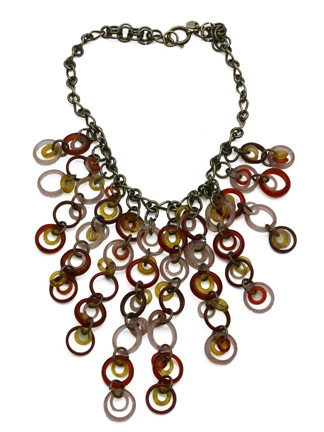 What a fabulous necklace! Beautiful circlets of sanded glass cascade down from an antiqued brass chain to create an eye-opening sensation! Not only does Pepita's Fabiana necklace look gorgeous, but it also makes a lovely sound when you wear it! If you prefer something brighter than these earthy hues, it also comes in a lovely combination of blues and greens!
Another wow-worthy piece is Pepita's Fortuna necklace: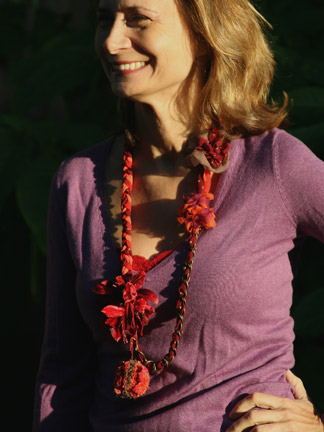 Crafted from a combination of coral, red, and burgundy silk, entwined through a brass chain in one section, this necklace looks so festive for the holiday season! Imagine how it would enliven a dark party dress!
But if you wish to be the belle of the ball (and why not?), then Pepita's Mumbay necklace is a must-have for making your mark:
WOW! A necklace like no other, this knockout features lightweight copper beads hand-sewn to a printed piece of Italian fabric. You will feel like an Indian princess when you tie the Mumbay's grosgrain ribbon around your neck. (And everyone will bow down to your royal style!)
Whether you slide a Jamie Joseph sparkler on your finger or deck your neck with a one-of-a-kind Pepita necklace, you'll be the spiciest thing at your holiday parties since mulled wine and eggnog!
(And just fyi, you've got one more day to enjoy Ped's current "sweet treat," Cydwoq's oh-so-chic Kappa Boot! Simply click "be sweet to your feet" in the upper right corner of any Ped page, and you'll arrive at the Kappa the magic discount code that will take a a cool 20% off when you enter it in the designated box at checkout!)