Tuesday, July 28th, 2009
At Ped, we love a long, luxurious summer as much as anyone, but we get pretty excited when fall starts to feel just around the corner. One of our first indications is when the upcoming season's shoes start arriving at the warehouse—it's so much fun to open the boxes and feel the "wow"!
Our current queen of "wow"? Chie Mihara! Based in Spain, Chie knows how to take vintage romance, spice it with old-school sex appeal, and turn it all into a wearable shoe that will have every eye in the room admiring your lovely feet. Chie Mihara heels charm with the most beautiful leathers and interesting details but never at the expense of comfort.
And this season, Ms. Mihara has outdone herself. We just got in our fall styles, and each and every one made us swoon. See for yourself! Here are just a few of Ped's latest from our lady of Spain: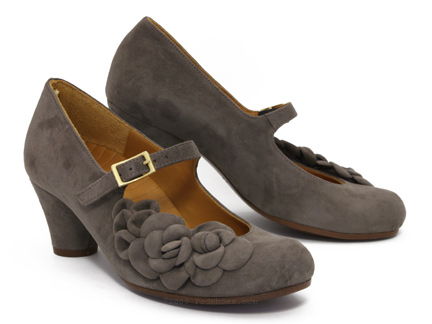 Drink in the loveliness of Chie's Nerine! We took a poll at Ped HQ, and the vote was unanimous: none of us has ever seen a go-with-everything shoe that's quite so pretty and flirty and unusual! The elephant grey suede is easy to wear, but the sweet floral detail makes this heel a head-turner. Never a more gorgeous Mary Jane than Nerine!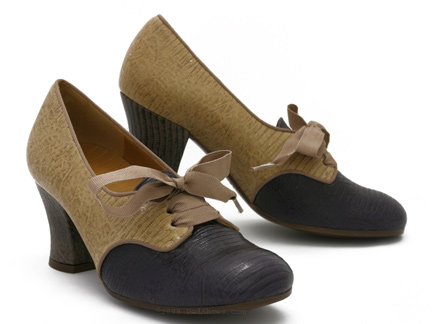 When Ped's Laura saw Chie's new Saura, she said, "It must be mine! After all, it rhymes with my name—it's meant to be!" And we have to admit, the design is everything she likes: feminine without being fussy, striking in its color combination, and drop-dead sexy. The subtle leather embossing and the mix of the deep purple toe with the tan body and brown heel make the Saura a knockout. Lace it up with the grosgrain ribbon tie, and, well, "sexy secretary" has never looked sexier!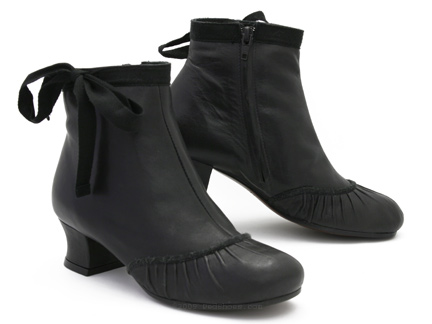 Get ready, this fall black is back and better than ever. Witness Chie's sweet and girly Piet ankle boot! Although we love Chie's way with color (nobody better), the woman also knows exactly what to do to make a black heel stand out from the crowd. The gently pleated leather on the toe and ribbon tie at the ankle send this boot into the stratosphere of style! So saucy!
Those are just three of the sweethearts in Ped's fall Chie Mihara lineup, and we honestly can't pick a favorite among them. They're all stellar! Ms. Mihara's shoes usually fly out Ped's door, and we never know whether or not she'll be able to fulfill a reorder (given the time and craftsmanship that go into each shoe, it's often not an option). So word to the wise: snag your size while you can.