Go Belgian with Ellen Verbeek! (Don't waffle.)
Ped fans, remember when I told you last spring that I was bringing several new lines to Ped? You've already met Couple Of! Now let me introduce you to the wondrous Ellen Verbeek!
Based in Belgium, Ellen Verbeek designs eye-opening shoes and boots, which she entrusts to master craftsmen in Italy to make, knowing they will meticulously attend to every detail. She takes a playful attitude to creating feminine shoes designed for real women—i.e every style feels as good as it looks! She uses only vegetable-tanned leathers and is a stickler for details, paying attention to clean lines and balance in her designs. Known for her wooden heels, Ellen Verbeek has mastered the ability to combine elegance, sex appeal, and innovation!
See for yourself!
Ellen's Angeline Bootie left us gobsmacked at last spring's European shoe show: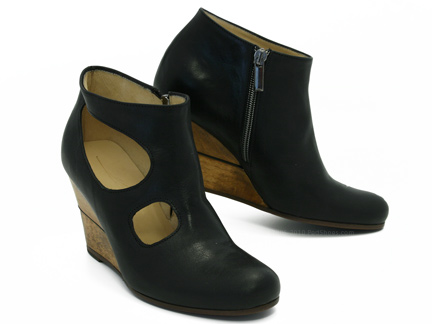 Unlike anything else we've seen, this ankle boot radiates modern sophistication! The lines are so clean, and the cutouts perfectly placed for a flirty flash of skin, colorful tights, or funky knee-highs. But the thing that really makes this boot work is Ellen Verbeek's exquisite wooden wedge heel with its leather detailing. Delicious!
This lovely heel also spices up the Elise Bootie: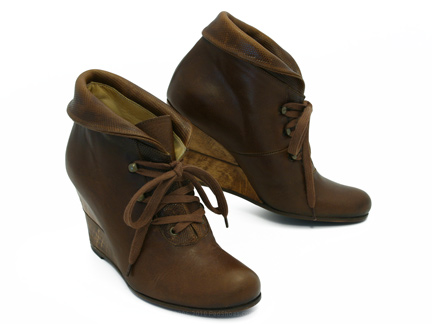 The caramel leather of this lace-up is so supple that it's almost sinful (but it's not, so no penance required!). The collar folds down just so, and we're crazy about the brass grommets and rivets that structure the lacing.
If you're looking for a taller boot, Ellen's signature wedge heel also supports the mid-calf Karlina Boot: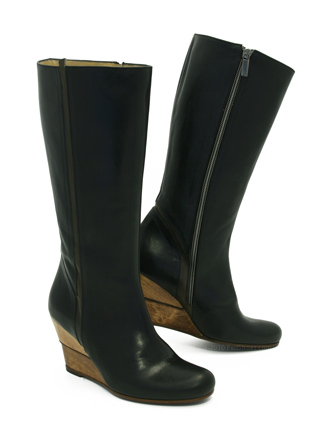 We are always on the lookout for minimal black boots that have something extra to keep them from being boring. The Karlina illustrates just what we mean because it's quiet yet explosive with style! Utterly elegant and versatile, this is the boot to wear everywhere.
Another wonderfully versatile boot in Ellen Verbeek's lineup is the Camille: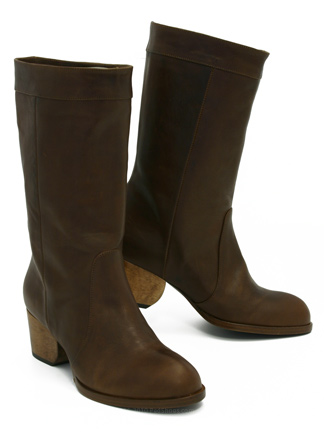 A chunkier wooden heel gives an air of ruggedness to this caramel beauty's sophisticated styling. Meanwhile inside, the leather lining and padded footbed give your foot the posh treatment it deserves!
As we said, utterly gorgeous! We are so glad to welcome our Belgian sole sister, Ellen Verbeek, into the Ped family! Trust us, you're going to love her!
(In case you haven't checked it out yet, the "Sweet Treat" this week is Couple Of's Ava Oxford! Get 20% off this shoe that gives wrinkles a good name by clicking "be sweet to your feet" in the top right corner of any Ped page, which will magically take you to the Ava, where you will find the discount code! One of the coolest oxfords in the Ped house!)
Tags: ankle boot, Belgium, black, bootie, boots, brown, Ellen Verbeek, heel, Italy, leather, low boot, mid-calf, wedge, wood, wooden heel