Monday, April 11th, 2011
Ped fans, you may remember last fall I returned from the European shoe shows all excited about a new line I'd found for Ped: Vic Matié from Italy. I was impressed that Vic Matié's shoes are created start to finish in a small-town factory by a dedicated group of designers and craftsmen who work collaboratively to produce beautiful shoes of first-rate quality and first-rate comfort.
Well, good news, they're finally here!!! And were they ever worth the wait! Behold the fabulousness of Vic Matié!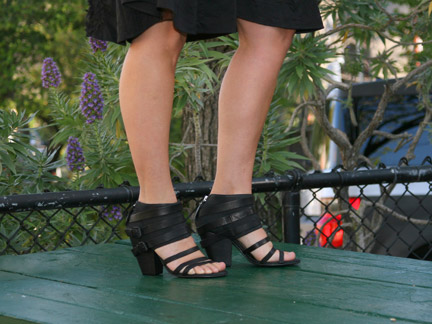 We immediately fell for the charms of the sexy Belladonna sandal! This season it's all about the ankle, and this strap-and-buckle sandal will make the most of yours! Add in the 3.5″ heel and the seductive zipper up the back, and you've got deadly style!
Sandal boots are another look we love—so modern and chic! Vic Matié's Luisa is one of our favorites: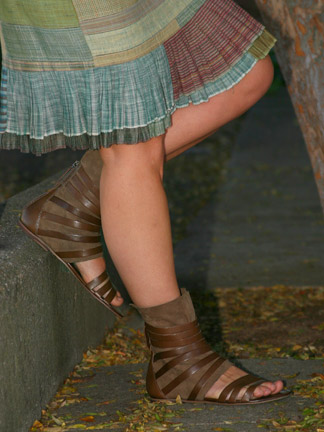 The contrast of the soft suede shaft (which feels wonderful against your skin) with the matte leather straps is so delicious! Pair the Luisa with a floaty feminine dress, and you'll look like you just stepped off a European runway.
Another ultra-edgy flat sandal that will inspire shoe envy in everyone who sees you is Vic Matie's Elda: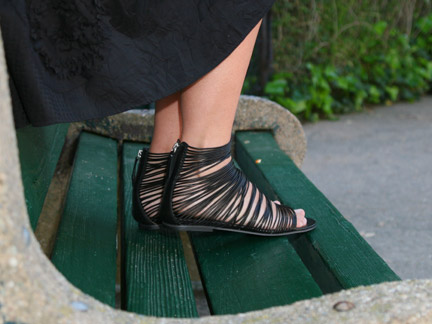 Composed of countless rolled-leather straps, all meticulously made, the Elda is unlike any other sandal you'll see! So stunning and so comfortable—this zipped-back sandal's leather sole molds to your individual foot with wear.
If you're looking for something a little girlier, perhaps with a wooden sole (another current trend we love), then feast your eyes on the Allegra: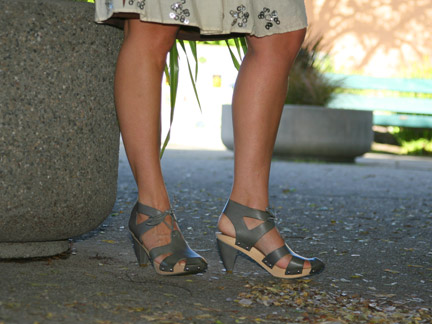 We think it's so cool how Vic Matié has combined a wooden sole with a beautifully contoured wrapped-leather heel! Every aspect of this sandal is gorgeous, from the silver rivets that attach the upper to the sole, to the thong that artfully laces the front section to the back, to the go-with everything slate-grey leather!
But if you're in the mood to stop traffic—and we mean bring it to a screeching halt while drivers and pedestrians all rubberneck to get a better look at your cool shoes—then Vic Matié's Sienna is the ticket!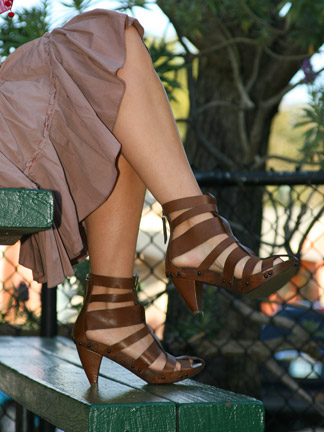 This sandal is so devastatingly sexy that perhaps it should come with a warning label: "May cause cardiac arrest in those who see the wearer." The wooden sole, the zipper up the back, the cage-like leather straps, and leather-wrapped heel—what a knockout combo!
Now you understand why I was so thrilled to add Vic Matié to the Ped family—even if the inherent hotness of the styles raise the temperature in the warehouse by a few degrees! Summertime is going to be that much sweeter when you sashay through it in a pair of Vic Matié sandals!