Thursday, March 10th, 2011
Ped fans, I'm in Milan, Italy, this week, finding all kinds of wonders to warm up next fall and winter. In the meantime, fresh Italian delights for spring and summer are the latest things to arrive in the Ped warehouse. And when we say "Italian," we mean the line you love: Fiorentini + Baker!
As F+B addicts know, once you indulge in a pair of these beautifully handcrafted leather boots, shoes, or sandals, nothing else will do. F+B's quality, comfort, and timeless beauty are simply magnifico (as the many celebrities who wear this line will attest)!
So join us for a brief Italian lesson! After seeing Fiorentini + Baker's latest designs, we suspect you'll want to become fluent in F+B style.
One thing we adore about F+B is their understanding that less is often more, a point made clear in the knockout Elgin Boot: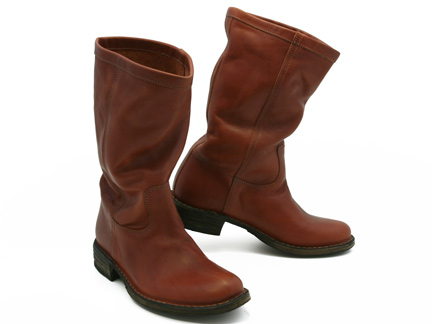 The clean lines and soft scrunch-a-bility of this minimal mid-calf boot make it perfect for pairing with floaty spring skirts. Of course, it also looks great with jeans! The mattone brick leather version is so rich, but we also offer the Elgin in a delicious mocha ice suede! Good luck choosing between the two! (Hint: either one is the right choice!)
Some of you Ped fans have begged us to carry the two-buckle cousin of F+B's popular Eternity Boot. Well, consider your wish granted! Behold the Emmy, also know as style #713: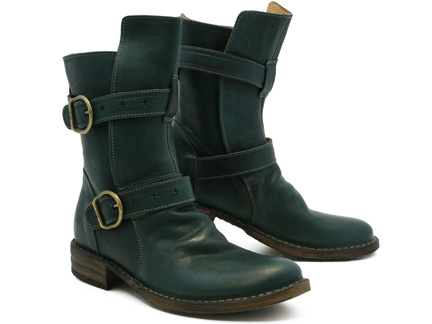 We are woozy with love for F+B's new turquoise leather! It is to die for—so unusual and yet it still works with lots of other colors. (Ped's Laura went down for the count when she saw it.) Of course, if you're a gal who prefers all things noir, we've got the Emmy in black, as well!
Want a few more flourishes? And perhaps a bit of textural contrast? Fiorentini + Baker's Ebbi has your name on it: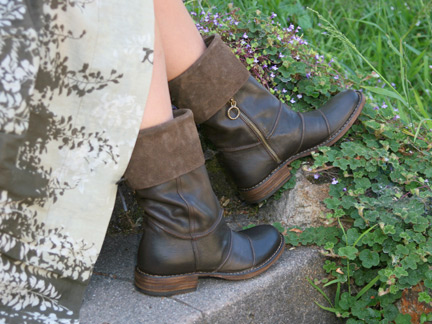 You'll give the people following you something to talk about when you saunter down the street in the Ebbi because the fold-over suede cuff laces in the back. And the raised seams that arc over the instep and encircle the ankle add further eye-popping interest!
If you like a well-heeled boot to boost your height, then feast your eyes on Fiorentini+Baker's new Bessi: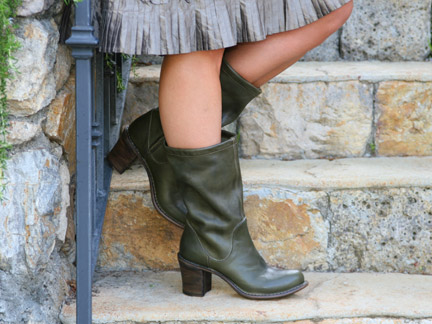 The 3″ stacked-leather heel gives this sexy boot a leg up, while an inside zip lets you breeze in and out in a flash. F+B's bonsai green leather is a Ped favorite, and it looks especially fresh on the Bessi!
Another great heeled style from F+B is the take-no-prisoners Zilla Clog: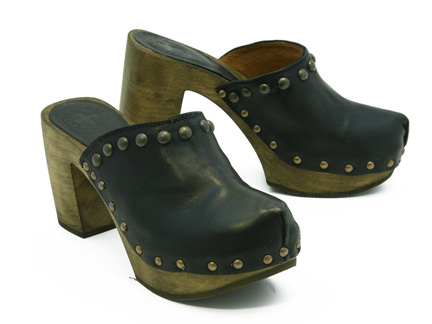 The hand-cut wooden sole features a 3.5″ heel and a 1.5″ platform under the ball of your foot. The brass studs that rim the collar and attach the luxe black leather upper to the sole are, in a word, badass! Who knew a clog could be this smokin' hot? (Somebody hand me a fan!)
When it's the weather that's hot, though, you may want to let your toes out to play. But you can still maintain your brass-studded style—just buckle up F+B's Tribo Sandal!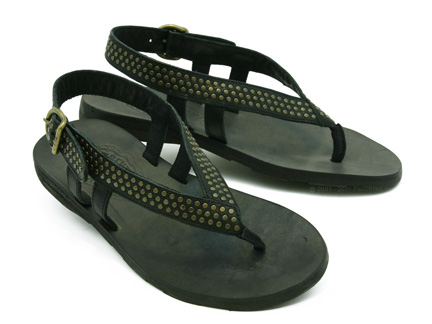 Take a minute to admire the wonderful details of this easy-going yet dazzling beauty: the leather toe thong is rolled for comfort; the studded straps are leather-lined to be soft against your skin; and the leather sole is designed to mold to your foot with wear. Fiorentini + Baker does it all so well!
Another fantastic F+B sandal is the Tulip: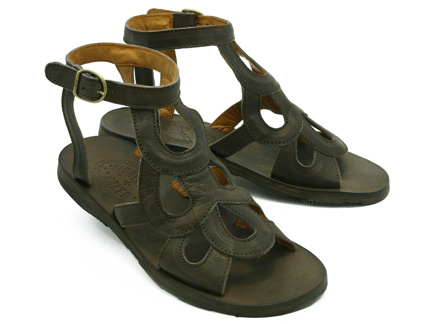 Crafted in our favorite rabbit-hued leather, this flat is both tough and girly, combining the edge of a gladiator sandal with petal-like cutouts that cascade down the front of the foot. What a way to go through spring and summer! Prepare to be the object of everyone's sandal envy!
Of course, we have all of F+B's classics over at Ped's main site. So let Fiorentini + Baker's leatherwork and style seduce you—we know you'll agree: That's amore!
(By the way, this week's "sweet treat" practically sings, "Spring!": Karin Wagner's delightful Alps Brooch. Simply click "be sweet to your feet" in the upper right corner of any Ped page, and you'll arrive at the hand-felted Alps Brooch with the magic code that will bring 20% at checkout!)
Tweet