Trippen is what's happening!
Every season we go on and on about what geniuses the German designers at Trippen are, how amazing their leathers and craftsmanship are, and how they've really outdone themselves with the latest styles! But honestly, Ped fans, every season it's TRUE!
This fall is no exception. When the latest Trippen boxes arrived at the Ped warehouse, every boot and shoe we unpacked had us shouting, "WOW!" Think we're exaggerating? Please see for yourself:
Just when all the beautiful boots out there start to blur together, along comes Trippen to open our eyes to things utterly new and different! Consider the Wind: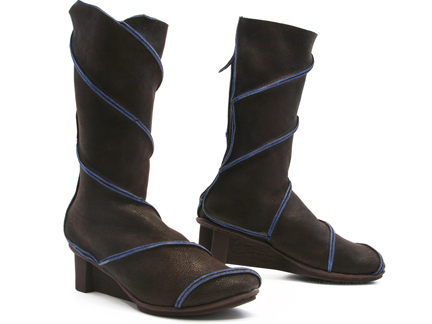 WOW! Too cool for school (but feel free to wear them there anyway), this mid-calf boot's blue-edged seams vine around the shaft, while a zipper zings up the back!
Like the seams but looking for something lower to the ground? Here's a tasty temptation: the Trippen Oven: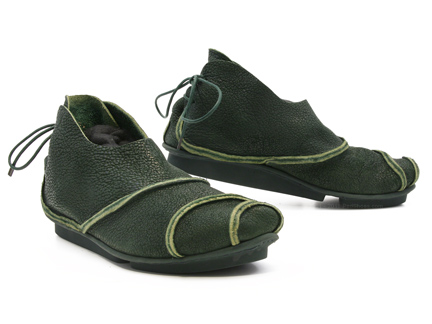 WOW! Longtime Ped fans know if there's one way to turn my head, it's with a great green shoe! And the Oven keeps it turned with its seaming and saucy lace-up back!
Trippen also uses back lacing to fabulous effect in the new California boot: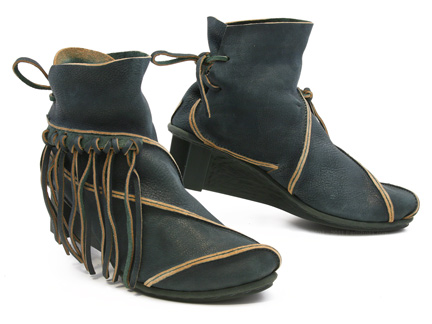 WOW! Be still our fringe-loving hearts! What a Bohemian beauty! The way the natural edges contrast with the petrol-colored leather is spectacular!
Prefer your lacing up front? Trippen's got your number in the sizzling Corset: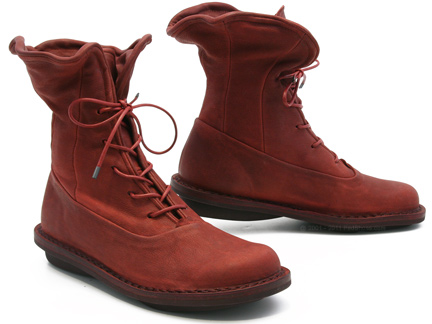 WOW! The structural design of this boot is stunning—vertical seams create a "corset" around your ankle and then flare into a dramatic ruffle around the top. Industrial down below and flirtatious above!
Taking the ankle boot in a completely different and pared-down direction, Trippen dishes up the Diesel: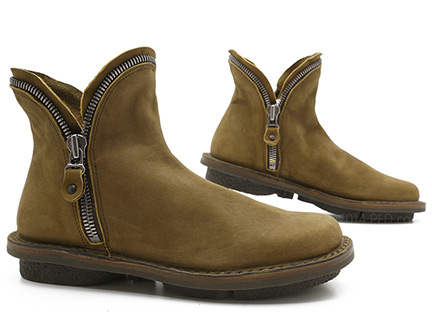 WOW! We heart this little boot so much it leaves us breathless! The dual zipper is fun and clever, and the curry-colored leather is lip-smackingly delicious. (Plus, if you forget to pack your clutch, it can do double duty…)
If you're charmed by the Diesel's zippy zipper design but wish it were on a taller boot, Trippen grants your wish with the Super: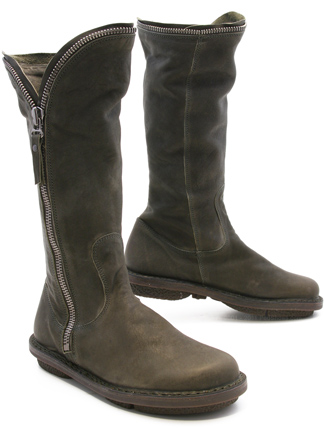 WOW! Versatile and comfortable yet with super-sized style, the Super is definitely a contender for the title of Must-Have Boot of the Season!
Trippen hasn't forgotten those of you who like to step out the door with flash and panache! Brace yourselves: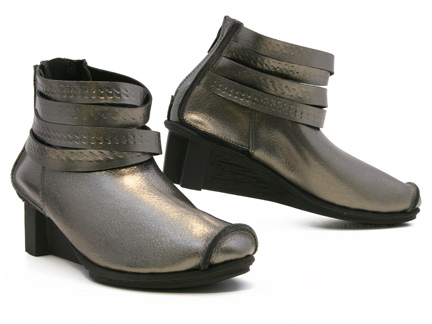 WOW! Futuristic, industrial, and as chic as the day is long, Trippen's Brace is the boot for making maximal impact! Shine on, sisters!
And those are just the tip of the eye-opening Trippen iceberg that's definitely keeping things cooler than cool at Ped HQ! Lots more Trippen styles await your ogling over at Ped's main site, so go get an eyeful!
Tags: ankle boots, blue, boots, Brace, brown, California, Corset, curry, Diesel, fringe, German, green, lace-up, leather, low boots, metallic, mid-calf boots, ochre, Oven, petrol, pewter, red, shoes, silver, Super, teal, Trippen, wedge, Wind, zipper