The heel deal
In addition to flowers, new leaves, and green grass, another hallmark of spring is the sudden flood of occasions that require us to spruce up and deck out. The calendar bursts into virtual bloom with weddings, graduation ceremonies, and garden parties. Personally, we Pedsters love to dress up, especially since slipping on a pair of heels no longer means our dogs end up whimpering after a few hours!
At Ped, we are committed not just to artistry and craftsmanship in what we carry, but also to C O M F O R T! Our highest heels and girliest shoes still feel great on your feet hours after you step out the door—all gain, zero pain! Plus, a little heel height is guaranteed to make a gal's gams look like a million bucks!
Here are a few of our favorite ways to ensure your style stands head and shoulders above the crowd:
If you want to get big bang for your shoe buck, Chie Mihara's Xantili is one of the most versatile heels of the season: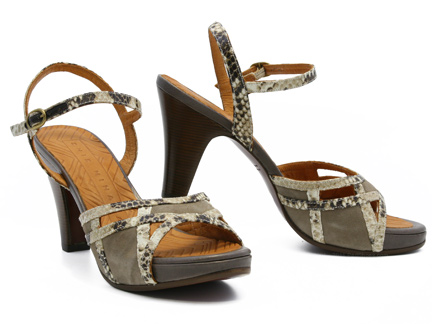 It's strappy good looks and snake-printed leather are distinctive, but its neutral color story means it will work with practically everything in your closet—a one in a million shoe for a million occasions! Plus the .75″ leather-covered platform under the toe makes the 3.25″ heel a breeze to wear.
Chie Mihara not only excels at creating comfortable heels, she's a whiz with whimsical details. Case in point: the zingy red poppy on her new Josy: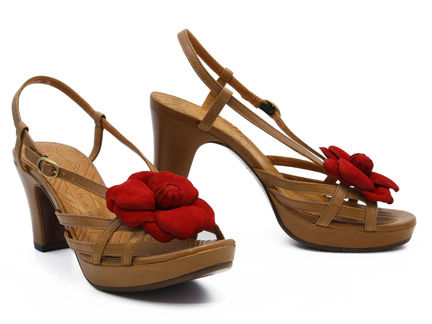 It's so neat how the caramel leather straps provide a virtual trellis for the red suede flower! And, again, a .75″ platform up front offsets the 3.5″ heel, bringing the pitch to an easy 2.75″!
If you want to bring the height down a notch, without losing an inch of style, check out Chie's Quory: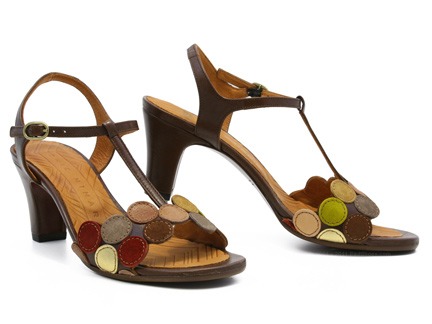 Talk about sophisticated fun! You can be a lady who lunches and go dotty, too! Plus, this to-die-for t-strap's heel measures an ultra-manageable 2″.
Cydwoq is another friend to those who don't like their heels too high. You don't need many inches to make an impact, as Cydwoq's Blast proves: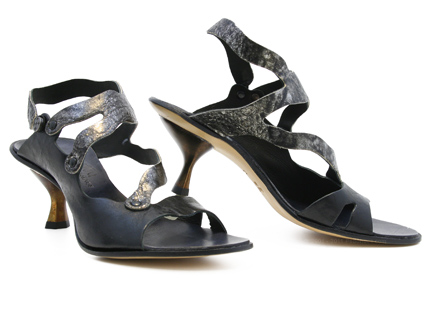 Whoa, Nelly!!! When you make an entry in this cutting-edge sandal, every eye in the room will be on you! Such a beauty, and the sculpted resin heel is a mere 2″!
If you prefer a closed-toe shoe, Cydwoq's Volcano will also leave a trail of sparks wherever you walk: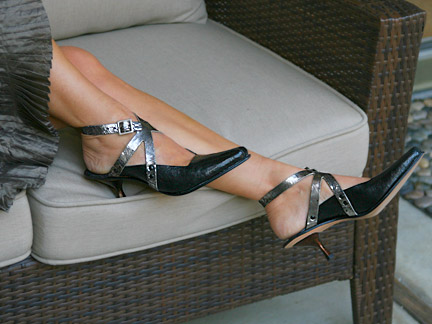 Way more interesting than your average ankle-strap heel, don't you agree? The Volcano will instantly elevate the sexiness of your favorite LBD, but imagine how fantastic it also looks with colors and prints! (Update March 10: We also just got this beauty in a stunning textured mocha leather!)
Lots of you Ped fans adore wooden heels. Well, this season Coclico has just what you want. Get an eyeful of the new Klucia: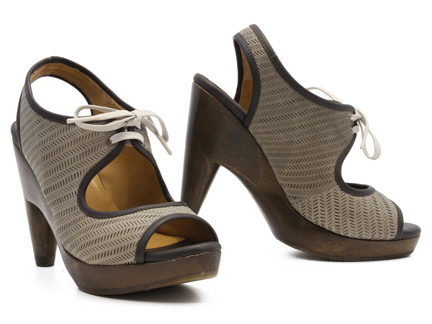 The design is beautifully balanced, and yet it offers surprising details, like the laser-cut chevron pattern in the leather and the twill lacing that ties everything up! Although the wooden heel is 3.5″, it's really a cinch to wear, thanks to the 1″ platform under the forefoot.
If you're looking for something that will really turns heads, you can never go wrong with red (and every woman needs a pair of red heels)! How juicy is Coclico's Yoni?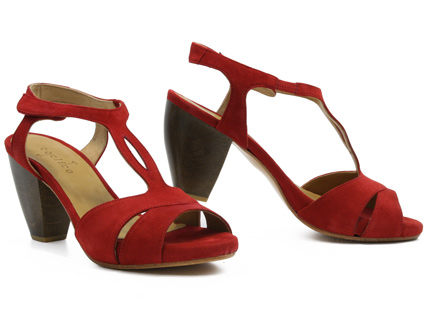 Delectable! This bombshell of a shoe is effortlessly chic, with a sculpted 3″ wooden heel made extra comfortable by the 1″ covered platform under the toe.
But we've saved perhaps our favorite heel for last: Fiorentini + Baker's knockout Nene: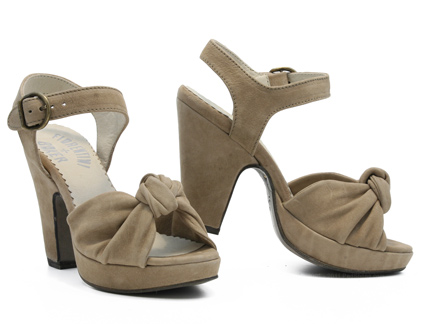 Take a minute to drink in the beauty of its design. It doesn't shout. It doesn't have to—its simple sophistication will make you the talk of the party and the envy of everyone there! We think that's 4″ of heel well-spent! Plus, the 1″ platform beneath the toe keeps it all manageable, and Fiorentini + Baker means this femme fatale feels as wonderful as it looks!
So don't be afraid to amp up your height when you put on your glad rags this spring! It's suprising how empowering—and comfortable—a high heel can be!
(Psst, this week's Sweet Treat is Cydwoq's wonderful Bright Bag! Haul everything you need in this all-time Ped favorite for 20% off when you click "be sweet to your feet" in the upper right corner of any Ped page, which will take you to the Bright Bag with a magic discount code to enter at checkout!)
Tags: black, Blast, brown, caramel, Chie Mhara, Coclico, Cydwoq, Cydwoq Vintage, Fiorentini + Baker, gray, grey, heel, high heel, Josy, Klucia, leather, metallic, Nene, Quory, red, sand, sandal, silver, snakeskin, suede, tan, taupe, Volcano, wooden heel, Xantili, Yoni