Happily singing the blues
Usually, the idea of "Blue Monday" doesn't bring a smile, but at Ped Central we intend to change that, at least for today. After all, not all blues are bruised and stormy—consider sky blue, robin's egg blue, and Caribbean blue, all so beautiful. Even darker hues like sapphire and cobalt are dreamy and romantic like a midnight rendezvous! At Ped, we've definitely got the blues, but they're not making us sad. Here are a few reasons why:
When I saw the Cydwoq Vintage Ionic, I couldn't resist making it my very own: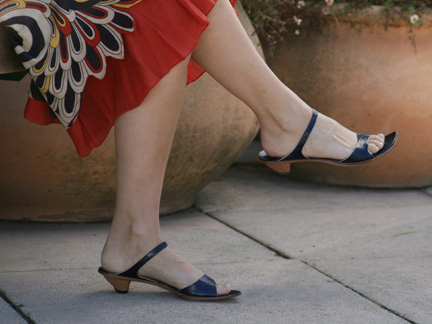 This Zen-like slide is the loveliest slate blue. More interesting than either grey or navy, the shade works as a neutral that's easy to wear with absolutely everything. And although it's a simple summer sandal, the hand-sculpted wooden heel and the design's clean lines give the Ionic an air of sophistication that lets it go dressy.
Another of my favorite blue sandals this season is Coclico's deep sea blue Reef: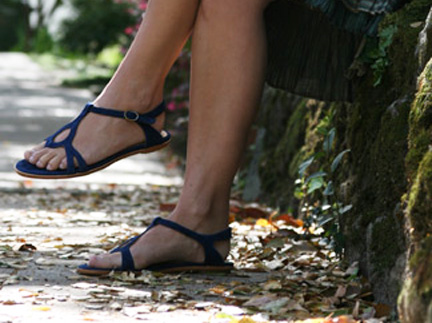 The jewel tone of the soft suede straps makes me sigh—so unusual and lovely. This little sapphire number is the ideal sandal to take on vacation since you can wear it sightseeing all day, but it's nice enough to wear out to dinner at night, too.
And speaking of shoes that are ideal for spending long days on your feet, how pretty is Trippen's 40s?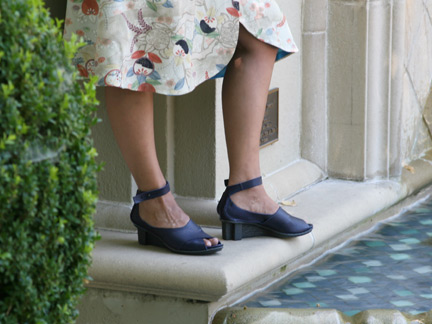 Honestly, we can't emphasize enough how comfortable Trippen's cross-shaped wedge is. And this particular blue is so rich and seductive! Add in the peep-toe and ankle strap, and you're all set to make 'em sweat.
Of course, nothing beats a t-strap for sex appeal! And Ped just happens to have a spectacular one in—you guessed it—blue:
Between the strappy design and the juicy color, we can't decide what we like best about Giraudon's Odette. Fortunately, we don't have to choose—we can simply love it all!
Even when you're facing a long haul with a lot to carry, a good blue can make the world a little brighter. Case in point, 49 Square Miles' hold-everything Bookworm Slim Tote in turquoise blue: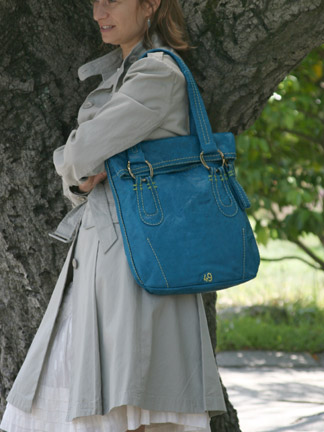 Everything pops with this blue beauty that features the softest leather complemented by lime green topstitching and hammered brass rings.
Are you feeling blue yet? If so, we hope you're smiling!
Tags: 49 Square Miles, blue, Coclico, Cydwoq Vintage, Giraudon, leather, sandals, shoes, spring, summer, Trippen, wedge