Springtime in Paris—or the next best thing!
How we love our Parisian friend, Sophie Digard! She has crocheted her way into many a Ped fan's heart with eye-popping and intricate scarves, necklaces, bags, and other treasures. You may be familiar with her woolen wonders (which can be worn year round), but every spring, Sophie whips up dazzling linen versions of favorite styles along with some new surprises—all of them lightweight and delectable! We just got in our latest shipment from France, and everyone at Ped HQ can't stop oohing and aahing (each item out of the box makes us swoon all over again). Just take a gander—they're sure to make you smile!
I ask you, who doesn't love flowers in spring and summer? (If there is someone, we hope they cheer up soon!) Sophie has concocted the sweetest three-blossom brooches that will always stay fresh: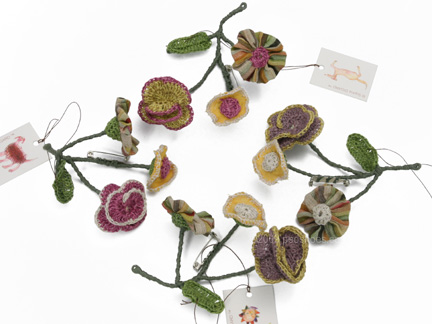 I especially like how the crocheted flowers are complemented by the little striped linen fabric bloom. So pretty.
And then there's the Supernova scarf (Laura's favorite):

The mosaic-like combination of colors and openwork—the flowers' centers are left airy—is absolutely stunning! Make sure you use the "zoom" feature at the Ped site to get a true sense of how astronomically beautiful the Supernova is.
Bringing it back down to earth, Sophie has created a necklace called Le Monde ("the world"):

Like all of Sophie's necklaces, the individual elements are movable, allowing you to cluster the spheres however you like along the linen cord. Each soft bead is a work of art unto itself (again, Ped's "zoom" is your best friend in getting to know the beauty of this strand of baubles).
Finally, I am smitten with the old-school charm of Sophie's Vintage Tote: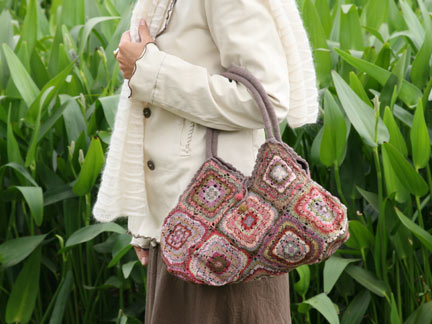 This light, summery bag's aesthetic is delightfully retro. It represents everything we like about Sophie Digard: eye-popping artistry, a lovely palette, and a one-of-a-kind collectibility. 
If a springtime trip to Paris isn't in your cards, then wearing a Sophie Digard item is a close second–effortlessly chic and able to turn every head on the boulevard.
Tags: bag, brooch, chic, crochet, handbag, jewelry, linen, necklace, Parisian, scarf, Sophie Digard, spring, summer