Increase your socks appeal with Antipast!
Although most of Ped's shoes are comfortable worn barefoot, it's fun to spice things up (or warm things up) with a great pair of socks! And for our money, the cutest and most comfortable socks in the world(!) are designed by a Japanese mother and daughter team, Emiko and Junko, the geniuses behind Antipast. What a sense of whimsy they bring to their work! The latest craze on the catwalk is the sock-with-sandal look, so it's the perfect time to add a little 'zazz to your summer footwear with Antipast's dazzling designs. We just got in our latest shipment, and here are a few of the new treats from our wonderful friends in Japan: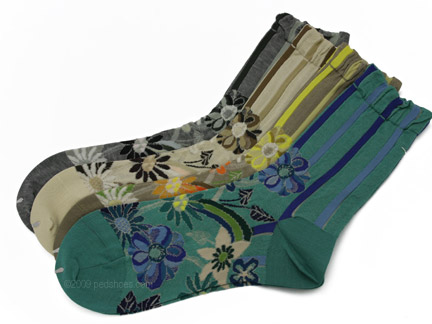 Everybody at Ped HQ bursts into a smile whenever we send out a pair of these Mod Flower socks. They are like a sunny day for your feet! I especially like how the profusion of flowers on the foot moves into stripes heading up your ankle to a little ruffle at the top. (If you like a longer sock, we also have these in an over-the-knee version—super sweet with a short skirt!)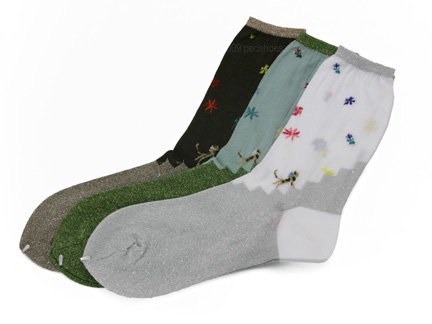 These soft charmers are simply too cute! Beneath a flower-filled sky, a be-ribboned cat chases a little fish up sparkly stairs that rise as they go around your foot. Want to start a conversation with someone who's caught your eye? Just flash these Cat Street socks, and he or she will be putty in your palm!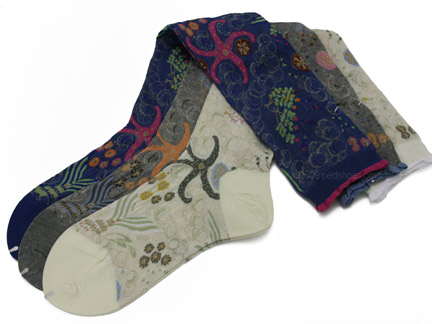 Nothing goes with summer more than a seaside vacation! Why not send your feet on one in these ocean-inspired Mermaid Knee-His? Swimming with starfish, undersea plants, and other creatures, they are endlessly entertaining and softer than sand. Prefer an ankle sock? Lucky you–Ped has these  Mermaids in trouser-length, too.
So, pull on a pair of Antipast and go knock their socks off!
Tags: ankle socks, Antipast, Japanese, knee-highs, over-the-knee, socks, spring, summer, thigh-high