Ped's "Sweet Treat" (giving you a little sugar)
Did you know that every week Ped offers a little something special to those who are wise to our ways? Look at the upper right corner of this page. See "be sweet to your feet" up there? Mouse over it. Ta da! Like magic, it changes to "sweet treat"! "But what does that mean?" you may wonder. Well, when you click it, you are suddenly transported to a special Ped item that's 20% off when you enter the code "SWEET TREAT" in the box on the last page of checkout. How cool is that? The treat changes every seven days or so (admittedly, some weeks we're a little slow on the uptake). Perhaps that pair of Chies you've been drooling over or that cool Cydwoq bag that has your name practically emblazoned on it will suddenly be 20% off! So, don't forget to check what the treat is every time you visit the Ped site. You never know—it just might be your lucky day!
For instance, this week the "sweet treat" is Jutta Neumann's minimal but oh-so-luscious Monica bag. Handcrafted in Jutta's NYC studio, this envelope-like beauty is light but easily holds everything you need, leaving your hands free. Definitely sweet, at 20% off, it's quite a treat!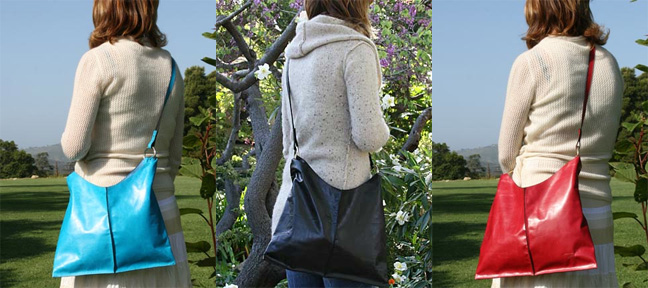 We love the vibrant colors! Whether you choose turquoise, black, or red, the Monica will make your day each and every day! So, click through "be sweet to your feet" and treat yourself to 20% off! And come back next week for a different "sweet treat."
Tags: bag, black, blue, handbag, Jutta Neumann, leather, Monica, red, sling, sweet treat, turquoise