Va-va-va-voom Vialis!
When I say the word "clog," what comes to mind? I'll tell you what I used to envision: comfy but clunky shoes standing in front of the bulk granola at the health food store.
But that was before VIALIS!
Those Spanish geniuses have taken the humble wood-soled clog and transformed it into blue-flame hotness, creating designs more appropriate for the catwalk than the checkout line at the co-op. (Not that there's anything wrong with that!) What Vialis hasn't changed is the comfort; every sandal and shoe offers mile after mile of blissful walking.
Plus, Vialis shoes are beautifully made with an eye to craftsmanship and detail. Check out this video that demonstrates why Vialis is so special:
[ylwm_vimeo]29609690[/ylwm_vimeo]
Is your curiosity piqued to see Ped's new Vialis clogs? Get ready to have your socks knocked off (which is just fine because every pair feels fantastic barefoot)!
Let's get this party started with a style that's both sunny and sexy, Vialis' Mimi: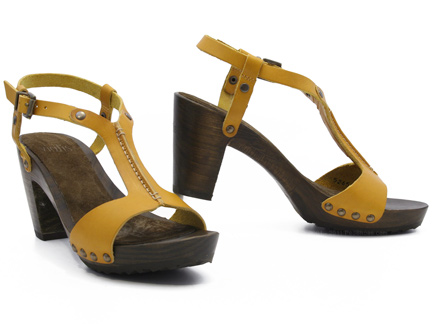 The perfect companion for  your favorite summer dress or clamdiggers, this sandal will make everyone smile! A t-strap always elongates the leg line, but this one's extra special, thanks to the central raised seam with contrast top-stitching—a little accent with big impact! (We also have the Mimi in versatile black.)
Vialis uses a similar detail to good effect in the Arabelle: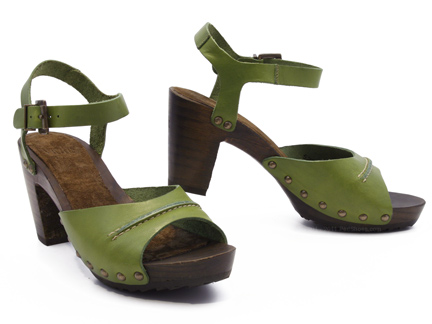 You know how much I adore a green shoe, and this shade makes me swoon! Then again, the Arabelle also sets off fireworks in red! And like every pair of Vialis clogs, a suede-covered padded footbed keeps the wood sole comfy!
If you prefer a closed toe, Vialis has you covered(!) with the Sara: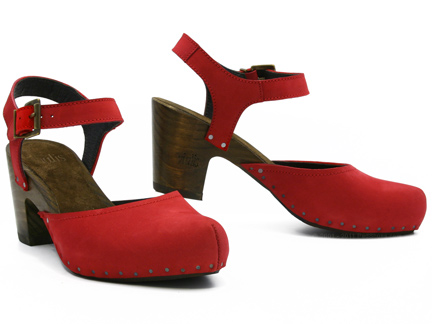 Mi corazon! This flirt of a shoe will win admirers everywhere you walk! We love the clean design, accented only by the exposed nail heads around the perimeter. Plus the seamed toe creates such an elegant line. (You noir lovers will be happy to hear this knockout also comes in black!)
Looking for something a little more casual but still smokin'? Feast your eyes on the Vialis Claudette: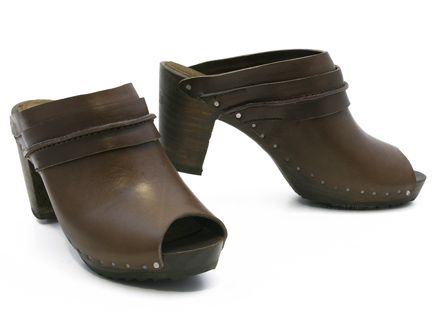 Low key enough for work but still hot enough for after-five cocktails, the Claudette is an ideal go-to shoe. Wear it to run errands! Wear it to the Riviera! It's as versatile as they come! (Plus we also have this beauty in azul blue.)
Not high on heels? Don't worry, Vialis has something for you, too! How cute is the Sophie?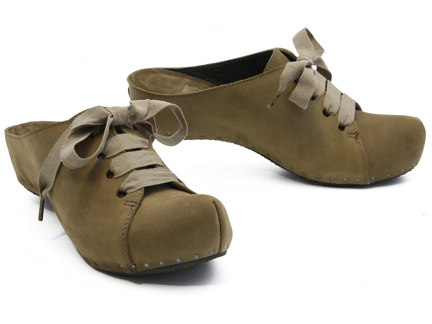 We love the playful take on oxford styling, especially the slightly oversized ribbon lacing! So fun!
If it's color you're after (and as I told you last post, it's the wave of the future), drink in the loveliness of Vialis' Lulu: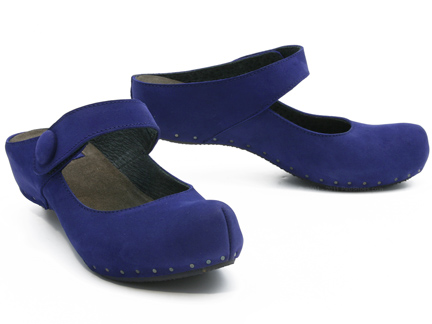 Oo la la, Lulu! Could that azul blue nubuck be any juicer? Only Vialis could spin the classic mary jane into such a dazzling clog!
But what about just a regular clog, you say? Well, yes, Vialis has that, too: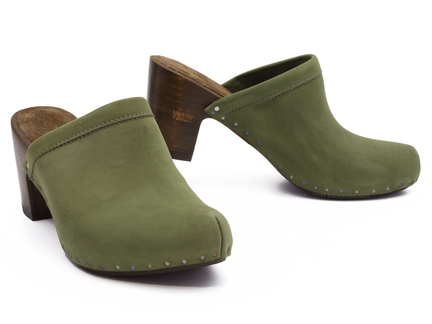 Lean, clean, and devastatingly chic—that's the Vialis Claris! We adore the sage green nubuck, but this favorite clog also comes in go-with-everything sand.
So, clunk no more in traditional clogs! Step up to Vialis' wood soles with soul!
(Speaking of wood, have you seen this week's Sweet Treat, the Argila Allie? Its sculpted wooden heel is truly a thing of beauty—along with the rest of its retro-inspired design! Buckle it up for 20% off when you click "be sweet to your feet" in the upper right corner of any Ped page, which will whisk you to the Allie with the magic discount code to enter at checkout.)
Tags: black, blue, brown, clogs, green, high heel, lacing, leather, mary jane, mustard, nubuck, oxford, peep-toe, red, sage, sand, sandal, shoe, Spanish, t-strap, tan, taupe, Vialis, wood, wooden sole, yellow