Friday, July 25th, 2014
The time has come, Ped fans, to see what marvels Chie Mihara has whipped up for fall! Everyone's favorite Spanish sorceress of style has once again designed heels to make you happy in leathers to make everyone look.
So pour yourself an ice tea or a cocktail and prepare to scroll through beauty!
The title of this post is a play on one of Chie Mihara's most playful leather techniques this season, checkerboard weaving, which looks especially sassy on the new Uptown oxford: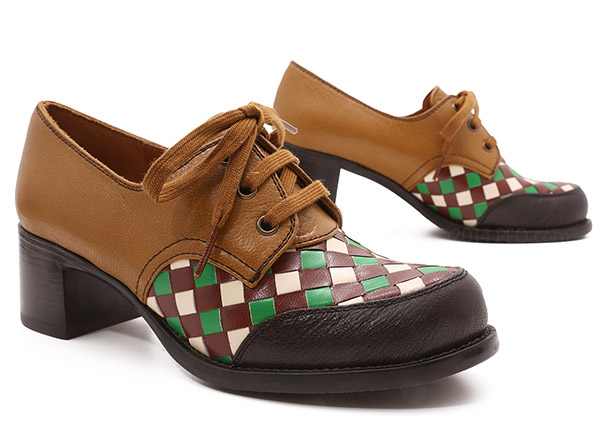 How fun is this lace-up??? We especially like how the caramel leather back and dark brown leather toe complement the Uptown's green, cream, and chocolate checked midsection!
Chie takes her checkered ways a little higher and amps up the femininity in the gorgeous Genesis: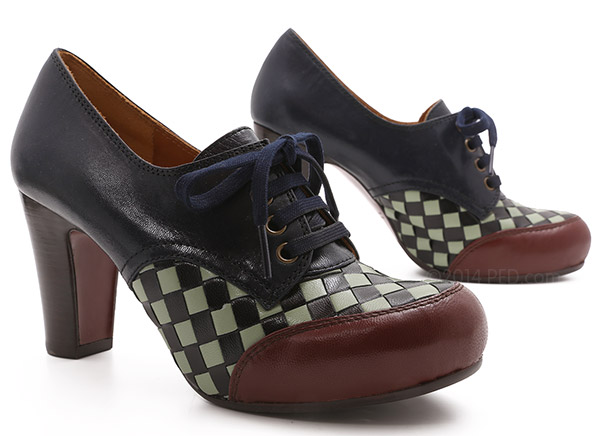 Ooh la la, so chic! The leather colors are eye-catching and unusual (that's a pale sage interwoven with black in the midsection). Even though the heel is a statuesque 3″, you can comfortably wear it all day long because Chie has cleverly hidden a .5″ platform under the toe, bringing the pitch to an easy 2.5″.
The always imaginative Ms. Mihara moves her checkerboard technique in a new direction on the Dalatchi, which weaves together wool and leather: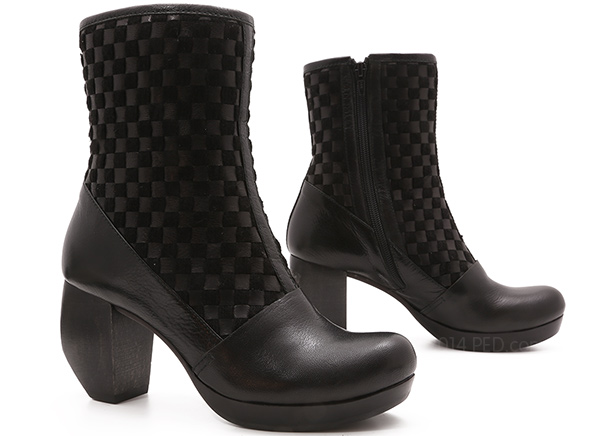 If ever there was a bootie to stop traffic, this is it! Below the stunning woven shaft, black matte leather adds a luxe element, while the 3″ sculpted wood heel is architecturally interesting. Sister, trust us, the Dalatchi is GO!
But Chie's checkerboard weave isn't the only trick she has up her design sleeve this season. Take a gander at the flocked leather on the Jan: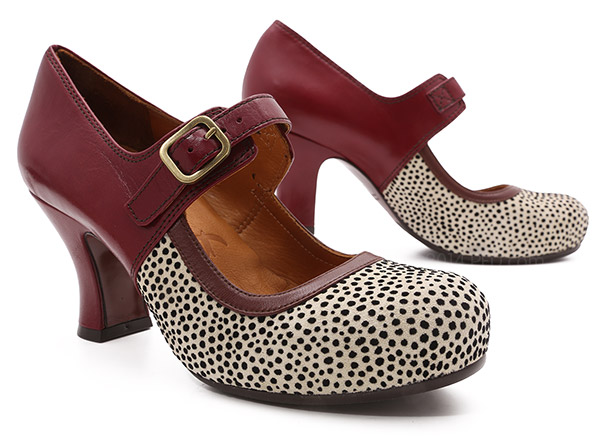 We swoon every time we look at this modern Mary Jane! The flocked leather on the toe, which feels like suede and looks like a mini-cheetah print, is the show stealer, but also adding fuel to the fire are the Jan's slightly flared heel and beautifully constructed buckle strap!
Chie Mihara has the deftest touch when it comes to creating understated designs that still let your flair fly, like the Ozana: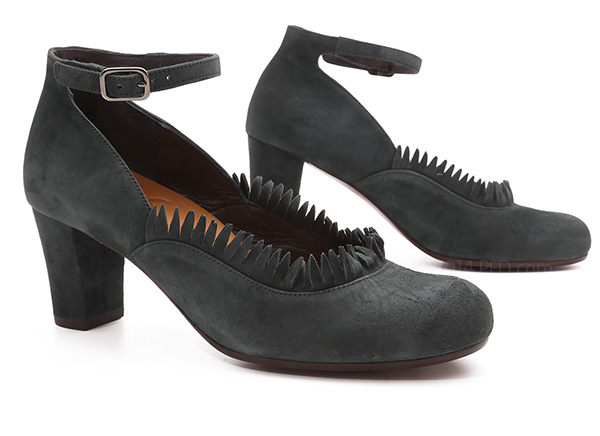 Perfect for arguing a case in court or holding court at an art opening, the Ozana's luxe grey suede is subtly sexed up by its ankle strap and teeth-like fringe! Sharp and chic!
Another bold detail that's just right without going over-the-top is the bow on  Chie Mihara's Zulema boot: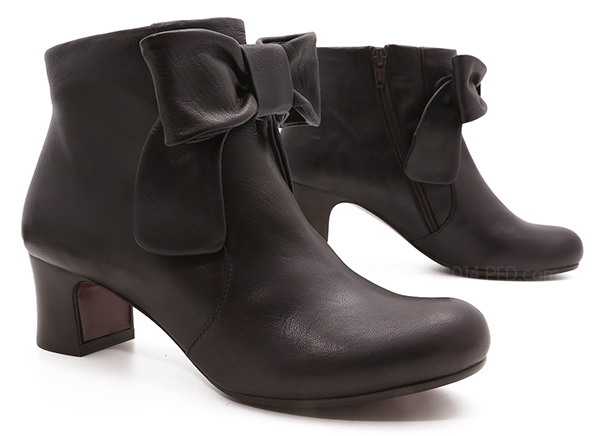 All the lines are lean and clean, allowing the bow to be at once fem and and badass! Zip up the Zulema, and put some girly zing in your step!
But when going over-the-top is exactly what you want, we highly recommend Chie Mihara's knockout Wiuda: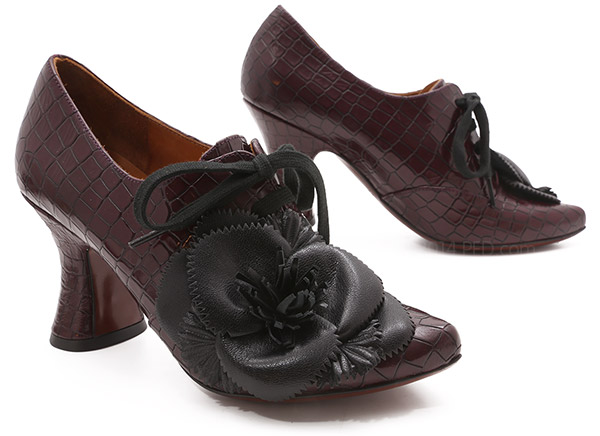 Holy hot sauce, what a looker! This purplish-brown, croc-embossed leather lace-up, with its flared heel and pointed—yet still comfortable!—toe,  would have been beautiful on its own. But Chie embellishes it with a fringed and pinked-edge black leather flower to send this femme fetale into the stratosphere of gorgeousness! Wow to the Wiuda!
Chie Mihara shoes always make us want to cha-cha out the door and down the street, so everyone can admire our beautiful feet! Believe it or not, there's even more Chie Mihara loveliness to admire at Ped, so click on through and put  some Spanish spice in your step!
(And don't forget to snag a bag! This week's Sweet Treat is the Trippen Carola, which you can get for cool 20% off by clicking "be sweet to your feet" at the bottom of the box on the left of most Ped pages. When you arrive at the Carola with the "Sweet Treat " designation, all you have to do is add it to your bag to receive the discount automatically at checkout.)