Tuesday, July 31st, 2012
As much as we love summer at Ped HQ, it's always a treat when the fall styles begin to arrive at the warehouse! It seems like an eon has passed since the orders were placed, so opening the boxes leads to a whole new round of oohing and aahing.
And no one gets more oohs and aahs than that Spanish apple of our eye, Chie Mihara, who has truly outdone herself for autumn! Her whimsical and feminine creations, so meticulously detailed, make us sigh over and over again! Given what a scorcher this summer has been, it's lovely to imagine brisk fall days and what we might wear with this shoe or that! Try it yourself with this taste of Chie Mihara's fall feast!
It's so hard to choose what to show you from the 15 new Chie styles now in the Ped house—every single one is GORGEOUS! But let's begin with Ms. Mihara's new Vedet: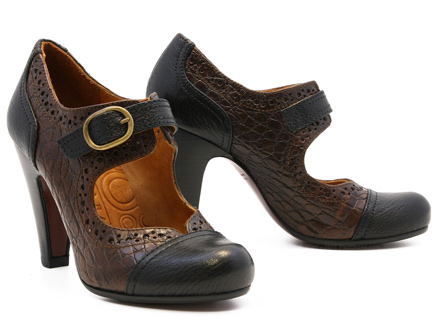 Mary Jane to the MAX! Who knew such a sweet classic could look so sophisticated and seductive? The mix of the brown mock croc leather with a textured black toe, heel, and cross strap is genius! Sexy schoolgirl, indeed!
For those of you who prefer a lower heel and a slightly quieter voice, Chie Mihara offers several options, one of the prettiest being the Gual: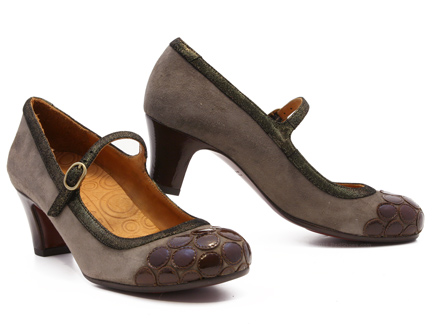 The heel is more down-to-earth and the mink grey suede is a softer approach than the Vedet, but don't be fooled—the Gual has plenty of stylish gas in its tank! Patent leather dots strewn over the toe and gold-infused black leather trim give this versatile neutral a flirty edge!
To be honest, though, we most heart the designs in which Chie goes all out! Exhibit A: the Exito!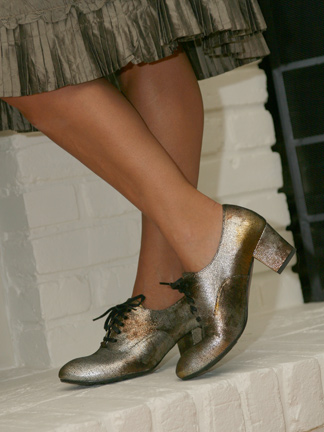 Look at that leather!!!(!!!!!!) We simply can't stop smiling at how stunning it is—a textured and marbled combo of bronze, gold, and silver that dazzles and shines in this modern heeled oxford!
Let's pump of the volume further—or at least the height! Presented for your approval (and drool), Chie Mihara's Zanzubar: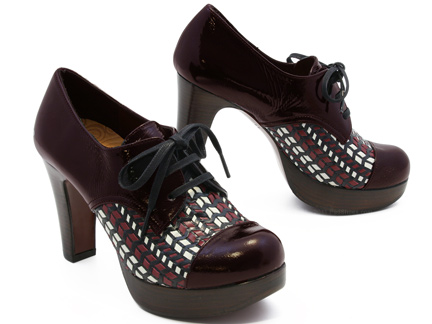 Paying homage to the platform shoes of the 1970s, Chie Mihara has created a heeled oxford like no other! The chevron pattern created from braided black, white, and burgundy leather is out of this world!
Another retro-rocking style is Chie's new Uja: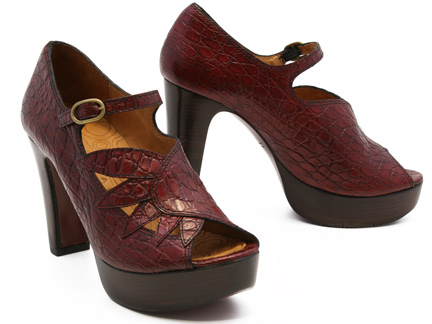 Holy cow! We love the "red pepper" faux croc leather of this peep-toe hot tamale! The heel is a take-no-prisoners 3.75″, but the Uja's pitch is an easy-peasy 2.75″ —that's the function supporting the fun of the 1″ platform under the toe.
Maybe you enjoy vintage-inspired designs but prefer the flair of the Big Band era. If so, you'll adore the Chie Mihara Pam: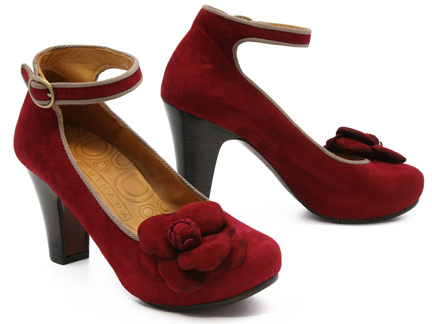 What a bombshell—the ankle strap and flower blossoming on the toe are so dreamy in red suede! And the khaki grosgrain piping adds just a charming drop of contrast!
But the shoe you might just lose sleep over until you make it your own is Chie's stunning Insomnia: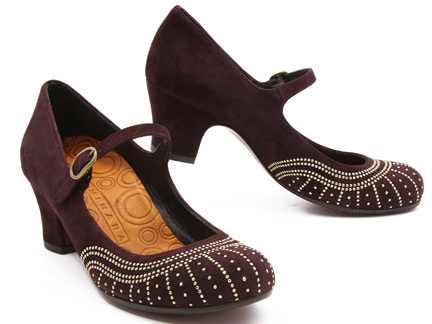 Romance is alive and thriving in this rhinestone-bedecked jewel of a shoe! Perfect for dancing the night away, this plum suede beauty will instantly make you the belle of the ball!
Are you starry-eyed imagininghow you'd look and what marvelous adventures you'd have in Chie Mihara's latest designs? Well, the above stunners are just the beginning of the all the Chie Mihara gorgeousness awaiting you at Ped's main site! Why resist? Go ahead and fall for fall!
(By the way, this week's Sweet Treat is Trippen's Aloe, a style that's ideal for making the transition from summer to autumn! Click "be sweet to your feet" in the upper right corner of any Ped page to reach the Aloe, where you'll find a magic code that will bring 20% off at checkout!)