Wednesday, November 12th, 2008
At Ped, we enjoy it when a secret surprise or an unexpected discovery–as long as it's good–livens up our day, and we've been thinking about how to pass that experience on to Ped fans. One day, while brainstorming, we came up with the "sweet treat"! Look up to the left. See "be sweet to your feet"? Mouse over it, and it will change to "sweet treat"! Click it, and you'll be whisked to an item that's instantly 20% off when you enter "sweet treat" at checkout (the box is on the last page). The special will change weekly, and the only way to reach it is by clicking through "sweet treat," which is to say if you navigate to the shoe (or scarf or bag) the normal way, you'll miss its treat-ness! Fun, eh? And if there's something you'd love to see become a "sweet treat," just let us know by e-mail.
We also know many Ped heads are addicted to Orla Kiely, so we thought we'd celebrate the holidays early by offering 20% off all our Orla stock (yes, the sale items, too!) when you enter "Orla@Ped" at checkout. Pretty cool!
There are a couple Orla Kiely items I want to make sure you know about because they are extra special! First, this Small Stem Tote is just too cute in person. It seems quite perfunctory (and it is practical!) until you start carrying it, at which point it simply starts looking great! At the photo shoot, all of us were gushing about how the tote was really much, much cuter than we'd thought when we first got in the Orla Kiely stock. It's now our favorite!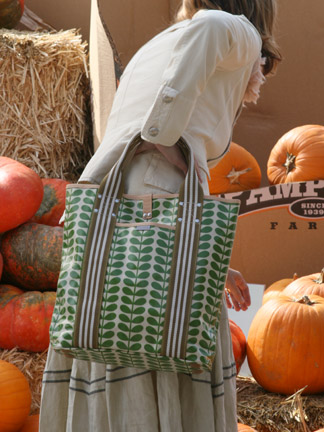 Another bag that deserves a second look is Orla's gorgeous Handstitched Leather Sling. Not only is the tangerine color to die for (our orange-loving friend Laura is head over heels for this bag), but the leather stitch work is so unusual. This sling will definitely brighten up the grey, wintry days ahead, but it will also look juicy once its warm again!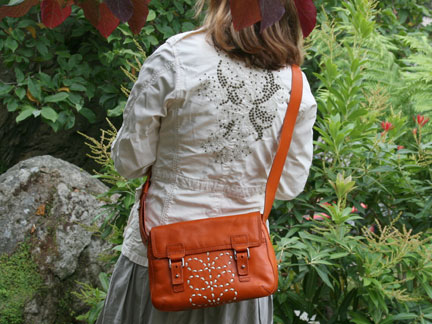 Here at Ped, we hope all your treats during the upcoming holiday season are very sweet! We definitely give thanks for you!