Sunday, March 11th, 2012
We can't help it! When March comes along, we feel like tossing off our winter coats and dancing outside! Tulips and daffodils are opening to the sun! Daylight is stretching languidly into the evening! And the mercury is on the upswing . . .
Which is what trips us up every year! We always think (wish, hope) the last of winter's chill is behind us before it really is. The temptation is to bust out our barest sandals, which leads to literally cold feet, especially after the sun goes down. It's best to ease into the season, giving our sun-craving soles a taste of fresh air without fully exposing them to the elements. Happily, Ped has just the shoes for making the transition from nippy weather to days of ice-tea and lemonade.
Good news: you don't have to give up your oxfords to let your tootsies taste the breeze. Just lace up Argila's Natalie: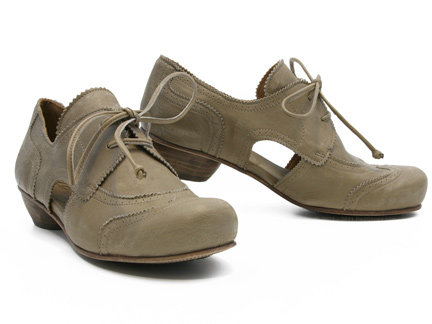 An oxford with air-conditioning! The sandy color is a cinch to wear with almost everything in your wardrobe, and the pinked edges are so fun!
Another terrific aerated lace-up is Trippen's perennially popular Golf: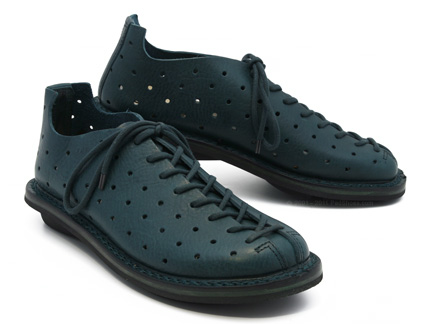 An ideal walking shoe, the Golf's Euro-edgy looks and comfortable perforated leather will make you the envy of everyone you pass. ("Pardon me, where did you get those great shoes?)
Cydwoq also knows a thing or two about comfortably walking from early spring right through summer and on into fall, as evidenced by the new Malba: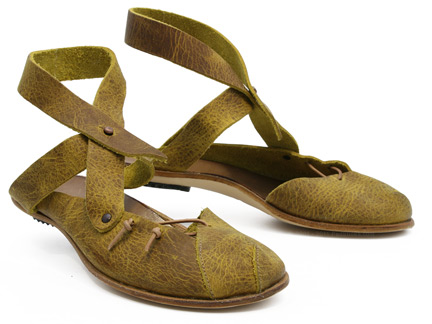 Bare your heels, while keeping your toes enclosed! We're crazy about the thong detail, which adds just the right touch to the innovative design. (Not a fan of turmeric? The Malba also comes in fresh sage.)
Another great way to cool your heels is with Cydwoq's wonderful Orient: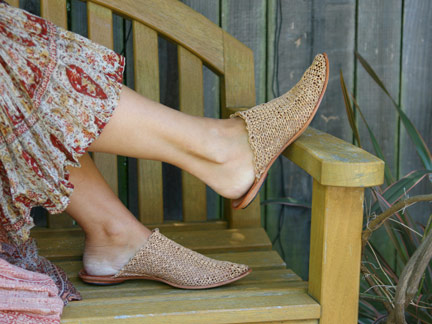 The leather is KNIT! How cool is that? This easy slide immediately became a Ped favorite last year. This year we also have it in black, for those of you who favor all things noir.
"Those are all great weekend shoes," you may be saying, "but what about something transitional for work?" The answer: Cydwoq's Poa:
We don't know how Cydwoq keeps coming up with artistic variations on the classic mary jane, but we're just glad they do! Dressy, yes, but not too, the Poa stands apart with its luscious lavender leather!
Looking for a transitional heel to boost your height? Cydwoq's Prairie is just the thing: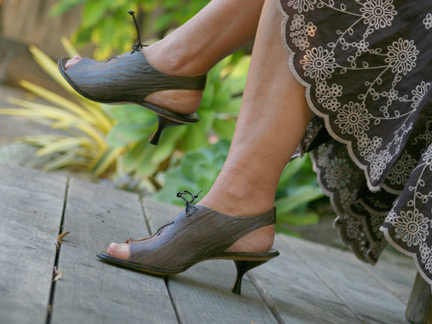 The perfect compromise between a sandal and a shoe, this slingback peep-toe is incredibly versatile in addition to being a sophisticated stunner!
If you like the Prairie, but you're still wishing for something taller and juicier, say good day to Fiorentini + Baker's Floss: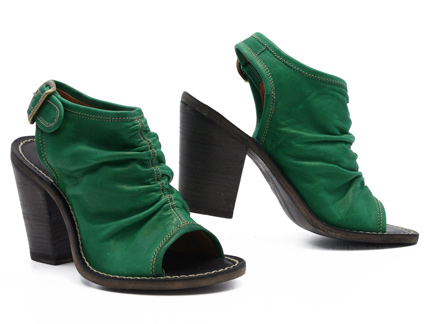 Good day, indeed! WOW! And just wait until you slide your foot inside the super supple leather of this green dream! De-lish!
Over at Ped's main site, there are even more ways to walk from winter into warm weather. So, ease your feet back into the outside world! They'll say, "Aaaah!" while all your fans say, "Ooooh!"