Monday, November 19th, 2012
Around this time every year, we start thinking about how things feel. We're layering up to keep the cold out, and it starts to matter whether things are scratchy or soft, coarse or silky. Our fingers crave something nice to touch—and nothing's nicer than reaching down and finding the satisfaction of suede on our feet!
Suede has the added benefit of making its colors really pop! Want to know the remedy for an overcast day? Hued suede shoes for dancing down the street! Allow us to show you what we mean:
When it comes to beautiful suede designs, Accessoire is in a league of its own! Say hello to the head-turning Ulrich: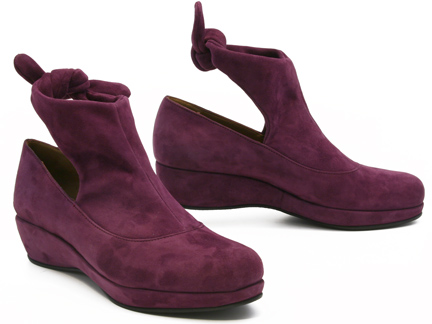 How yummy is this shoe? The design is innovative and chic, and the cassis color is, in a word, intoxicating!
If you're looking for a neutral, perhaps you'd like to slip on Accessoire's Ueda:
Versatility gets a flash of French flair in this super-soft number, which easily shifts from a day in the office to a night on the town! (Mocha too low key? Then check out the Ueda in brilliant red!)
Work schmork—this time of year, it's all about the after-five parties! Accessoire once again has just the thing with the Vram: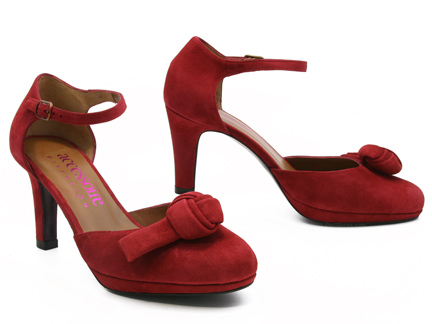 If you're hoping to tie a certain someone around your little finger, this knot-embellished suede hottie is a good place to start! Holy moly—don't be surprised if the sprinkler system kicks on when you walk in the door!
Fiorentini + Baker is also famous for having a way with suede! One of our favorite ankle boots this season is F+B's Pansy (which we just got back in stock):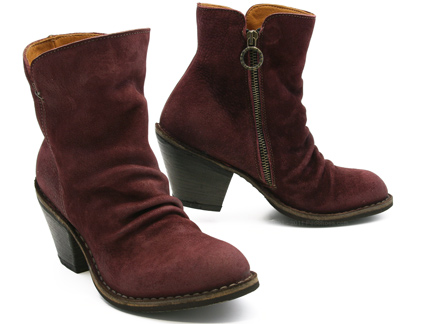 Simple yet devastatingly sexy! And because it's made by F+B's master craftsmen, every detail is meticulously rendered! Get ready for a lot of boot envy! (We also have the Pansy in luscious brown!)
Looking for a suede bootie that's a little less "lady"? Let your inner cowgirl out to play in Fiorentini + Baker's Enola: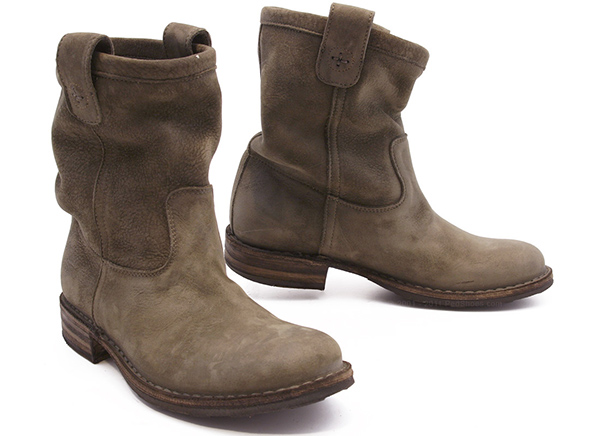 Sassy city! Crafted in F+B's go-with-everything grey ice suede, this little honey is flirty and kickass all at once. (Its brown version will also let you lasso hearts!)
Suede also plays well with matte leather in creative combos, as demonstrated by Cydwoq's Regiment boot:
Pairing the zigzag-patterned suede shaft with the mocha leather body is a scheme I dreamed up and Rafi & co. executed! Hope you love this lace-up as much as I do!
Another terrific suede and leather ankle boot comes from Argila! Behold the oxford-styled Lauren: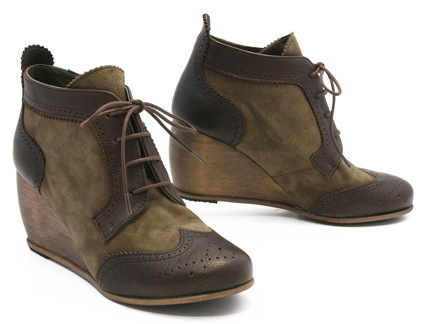 From the wooden wedge to the perforated design over the toe to the pinked edges, this boot's details are all pitch perfect!
Want even more funk and an even higher heel? Chie Mihara is happy to oblige with her fantastic Tamaia: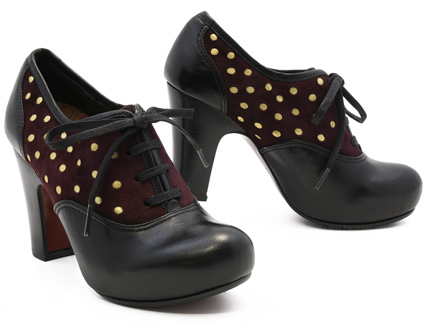 Plum suede, gold dots, and luxe black leather—what a tasty treat that will have everyone wishing they were in your shoes! It's the heel deal!
Even more deliciously tactile suede designs are waiting at Ped's main site. Let yourself be swayed by suede—your feet and fingertips will thank you!
(Speaking of tactile delights, this week's Sweet Treat takes the cake: Cydwoq's flirty Victim! Turn every head at every holiday party! Just click "be sweet to your feet" in the upper right corner of any Ped page, which will whisk you to the Victim, where you'll find the magic code that will bring 20% off at checkout!)