Saturday, March 14th, 2009
Well, I'm back at Ped HQ, and I'm happy to report that, as usual, I had a complete blast while working hard in Paris! A few notes about what you have to look forward to next fall and winter: The "in" colors are cool tones—greys, ranging from graphite to elephant grey, and blues, running from slate to cobalt to teal. And good news! Black is the new black! The style trend dominating Paris is the boot—both short and tall—worn all seasons of the year. It's a look I personally love. I think a breezy summer dress paired with chic boots is so fresh! Stay tuned because new Fiorentini + Baker boot styles arrive in June. (Yippee!!!!) Plus, I'm excited about the amazing Cydwoq and Trippen designs coming for fall. 
Of course, while in France I made time for a little personal shopping.
Gals, if you don't already know about Cotélac and Noa Noa, you definitely need to acquaint yourself with these wonderful clothing shops the next time you're in Europe! They are always at the top of my Paris to-do list. And, of course, I had to stop by Ladurée to pick up some macaroons for my sweetie! Terry is so terrific about holding down the Ped fort while I skip around Paris, eating Lebanese food, drinking espresso, and soaking up everything from shoes to architecture, that the least I can do is bring him his favorite treat!
When I got home, I discovered Ped transformed into Sandal Central! We have so many eye-popping new designs, and they are ALL so fabulous that I hardly know where to begin. But here are a few of my favorites (with more to come in a later post):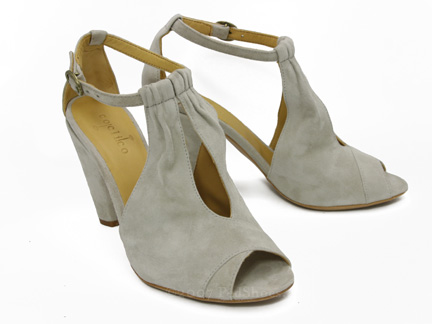 Oo-la-la, ladies, how sexy is Coclico's Odalisk? Every time I look at this gorgeous heel (which is so, so soft to the touch), all I can think of is movie-star glamour! Wearing this suede beauty, you could truly stop traffic.
Next…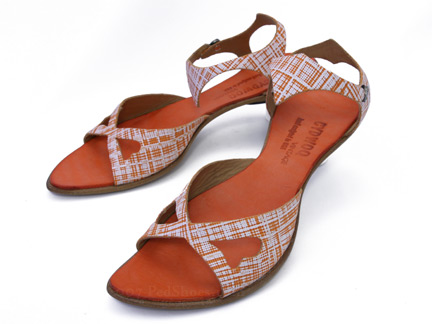 The Cydwoq Vintage Feel makes me feel like going on a romantic picnic on a sunny afternoon (and maybe turning a few cartwheels). This flat sandal captures the very spirit of summer! Plus, you have to love, love, love the orange insole—what a fun detail!
For those of you who like a more earthy look: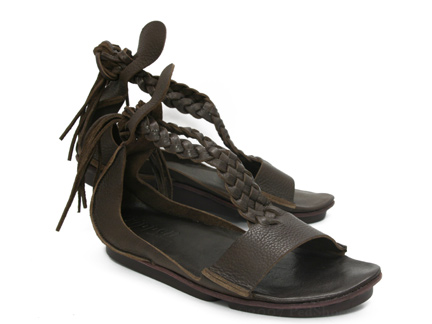 Trippen has wowed us again with the Curls sandal! The look is hippie-retro but with a modern edge (and, needless to say, it's ultra-comfortable). The design of the leather is truly ingenious (notice how the braid running up the front organically emerges from the solid strap over the toe). Plus, we're crazy about the fringed knot at the back, which is both functional and fun.
Now let's all do a warm-weather dance to bring on spring! I'm in the mood to let my toes run free.