Friday, October 28th, 2011
Wow, after our big birthday week, we are tired but happy campers here at Ped HQ! We're also enjoying full-flung fall, which puts us in the mood to wear boots! (Okay, honestly, we're always in the mood to wear boots!)
This season offers a veritable boot feast, including quite a few sporting a new height that's a smidge taller than an ankle boot but  stops short of mid-calf. These low boots are not only sassy to see, but they also offer versatility, playing well with both pants and skirts! Here are a few of our faves:
Almost everything Chie Mihara cooks up is a tasty treat, but her new Jonathan Boot is especially delicious: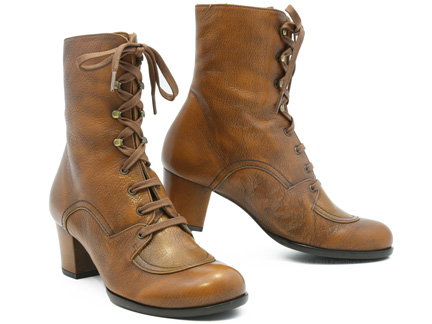 Don't just take our word for it. Here's what a customer in Portland e-mailed: "Hey guys – just wanted to give you some feedback on the Chie Mihara "Jonathan." They are unbelievably comfortable. I even fell asleep in my chair wearing them. Weird, I know, but they are awesome."
Another terrific low boot with a heel is Argila's Suzanna Bootie: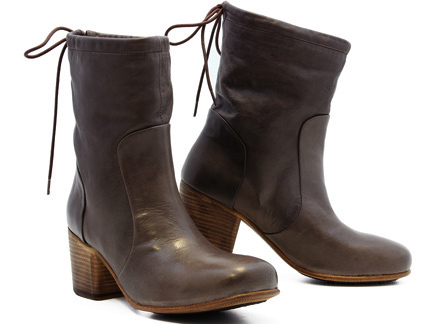 So streamlined and stylish, this boot gets oomph from the elephant grey shade of its soft leather. Grey is the IT color of the season! Plus, the simple cinch around the top that ties in back is the perfect detail.
Want to amp up the  va-va-va-voom? Then consider Cydwoq's steamy Texture low boot: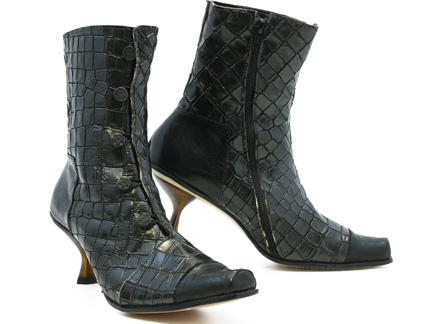 Meow! From the faux-croc embossed leather to the perfectly cut snub nose to the sexy heel placed directly under your weight (makes all the difference in comfort), there's everything to like about this little black boot. (Just like a LBD, everyone needs an LBB!)
But maybe you prefer a little less femme and a little more funk in your boot, in which case, Cydwoq's Grinder is waiting for you to lace it up!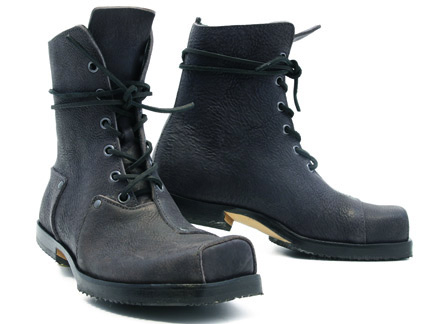 Low lace-ups are all the rage this season, especially those with an industrial edge! But the best thing? This boot's style will never fade—it's a classic. (Plus, the Grinder's luxe leather is cobalt blue—how cool is that?)
Of course, Fiorentini + Baker has several players in the low-boot game, including the fabulous Emmy!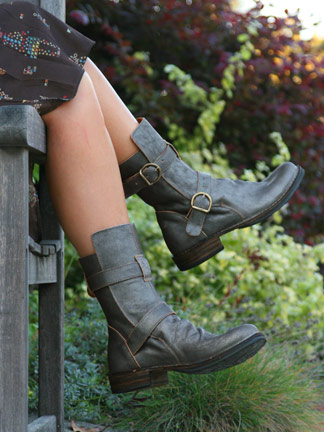 We can't get enough of styles that combine sex appeal with tough-girl attitude! And we are WILD, wild, wild, about F+B's new antiqued silver leather with natural edges! This boot + that leather = Perfection!
On the other hand, there is always something to be said for sleek minimalism, as exemplified by Trippen's Deer Bootie: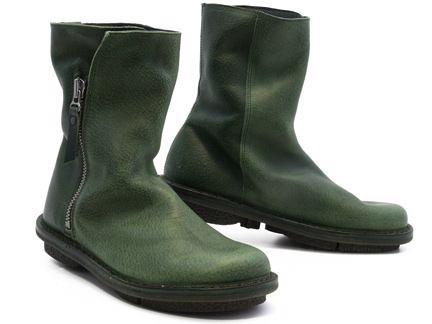 What a lean, green style machine! The supple leather is to die for, and the zipper on the outside gives this no-fuss boot just the right edge!
What's that? You say you love green, but you want a low boot that can go from casual to dressy in a heartbeat? Fiorentini + Baker grants your wish with the luxe and luscious Pia boot: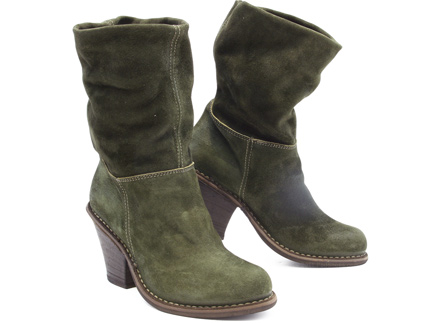 Here's what a Seattle customer had to say about this green suede stunner: "Ok, now you have really done it. This new F& B Pia boots are the hottest thing I have ever seen. I can retire all other boots and shoes and die happily. They are so sexy, tough, simple, practical. My entire wardrobe has taken on a new personality. Yay!" Recommendations don't get any better than that!
So, click on over to Ped's main site and linger over all the low boots ready and waiting to liven up your fall! Going low will make your style high and mighty!
(By the way, this week's Sweet Treat is one of the sexiest boots ever to stroll into the Ped warehouse: Cydwoq's Podium! Simply click on "be sweet to your feet" in the upper right corner of any Ped page to land at the Podium with the magic code that will bring 20% off at checkout!)