Wednesday, March 24th, 2010
Hey sister, go sister, soul sister, go sister … (Sing it!) Okay, we admit we're feeling a little slap-happy here at Ped. Chalk it up to spring fever and the fact that we're dizzy from all the beautiful things arriving in the warehouse!
No sooner did I get back from Paris than Paris came to me in the form of Accessoire, yet another line I first discovered during Ped's days as a brick-and-mortar store in Seattle. Designer Avril Gau began her career with Robert Clergerie and then spent seven years overseeing the shoe collections at Chanel. That's quite a pedigree! These days she designs for Accessoire, creating sophisticated yet comfortable shoes that meet the demands of modern women. Accessoire styles wow with an unmistakable French flair; the shoes are never over-designed yet they command attention and admiration—effortlessly chic! But why take my word for it when you can see for yourself?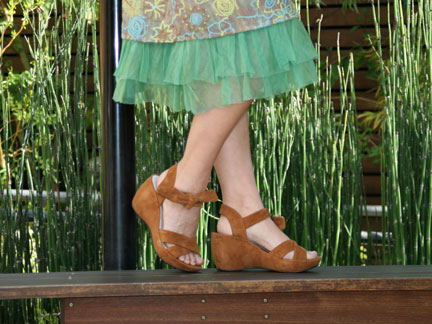 Platform wedges are all the rage this season, but Accessoire gives its Izard a distinctive French twist by replacing the buckle with a soft tie. The caramel brown color of the suede is Luscious with a capital "L"!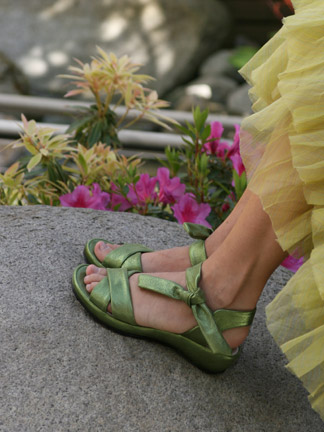 Ped fans know how much I love green, so you can imagine how my heart raced when I saw Accessoire's amazing, metallic, cactus-green Iseult! Iridescent and interesting without being over-the-top, these buttery soft sandals are to. die. for.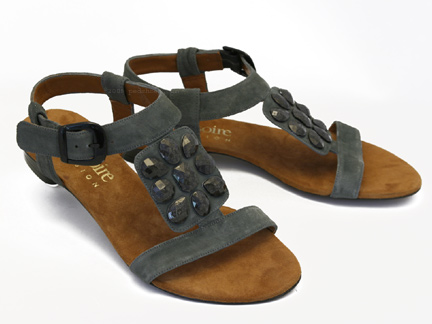 Sure, jewel-embellished sandals have been "in" for a few years, but unlike the gaudy ones flooding the market, Accessoire's Julien is sparkly but still tasteful. It's got just the right amount of bling to be fun without being obnoxious. And the grey color is ultra-versatile!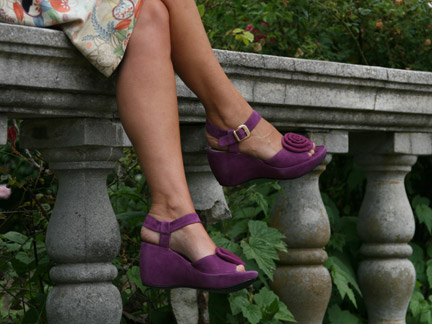 Oo-la-la—I saved Laura's favorite, the Island, for last! She's been walking around in a dreamy daze ever since these came out of the box. I can't blame her because this platform wedge is something special with its aura of old-school glamour. The color of the suede is so juicy, and the rosette is the perfect detail! Parisian style to the max!
So slip on a pair of Accessoire beauties, and let your feet speak with an unmistakable French accent!