Wednesday, March 18th, 2009
As most of you know, Ped takes great care in selecting what we carry. We look for lines that offer beautiful, exquisitely made items that are also ethically produced using environmentally sound practices. The former is what dazzles the eye, but the latter is what truly matters(!) even though it often goes unnoticed. Which is why we are SO EXCITED that our Seattle-based friend, Jamie Joseph, is getting props for her eco-responsible approach to jewelry in an upcoming issue of Time magazine!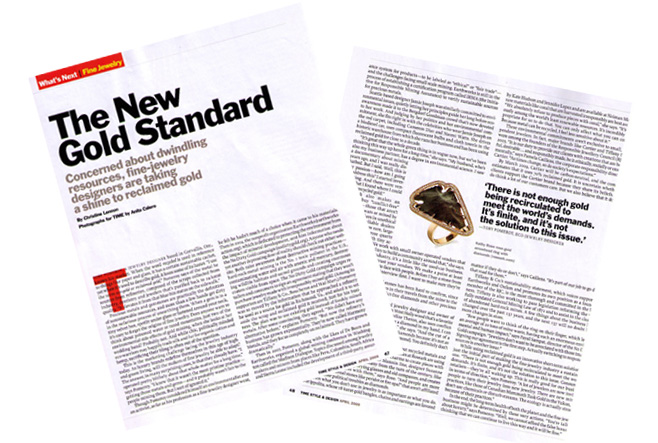 Written by Christine Lennon, "The New Gold Standard" focuses on a handful of environmentally aware jewelers who use reclaimed gold in their creations. Here is the excerpt profiling our gal Jamie:
Seattle-based designer Jamie Joseph was similarly committed to environmental issues, quietly letting her principles guide her long before eco-awareness made it to the Bergdorf Goodman crowd that's now devoted to her work. And judging by her politics and her environmental commitment, she fits right in with the celebrities who wear Jamie Joseph on the red carpet, including Cameron Diaz and Naomi Watts. She drives a biodiesal car, uses compact fluorescent bulbs and cloth towels in the historic warehouse from which she runs her business and has been using reclaimed gold for close to a decade.
"It's great that the whole green thing is in vogue now, but we've been thinking this way up here for a long time," she says. "My husband, who's also my business partner, has a degree in environmental science. I saw a documentary about mining years ago, and I was really disturbed. But I said, Well this is my passion—how am I going to address this? I started investigating. And there were vendors that I found where I could buy all-recycled gold."
Joseph also makes an effort to buy "conflict-free" gemstones—those that aren't sold to fund wars or mined by exploited workers in unethical ways—from reliable dealers and often uses less rare, large-scale stones like rose quartz and chalcedony with tiny accents of diamonds. "We work with small owner-operated vendors that have similar beliefs and try to build a community around that," she says. "The whole gemstone industry, it's a little like the used-car business. You've got to know and trust your vendors. We make a point at least once a year of meeting face to face with people. Before I buy a stone from someone, I have to have an interview first. I want to make sure they're not out raping the land."
The article also features this beautiful image of one of Jamie's necklaces (it's the one on the left):
Isn't that necklace drop-dead gorgeous? It's available by special order from Ped! Just let us know, and we'll ask the incomparable Ms. Joseph to create one for you.
In the meantime, here are a few other Jamie Joseph lovelies currently available at Ped: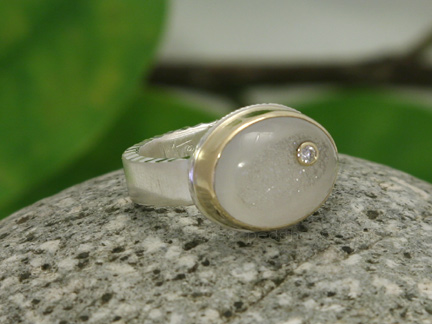 We love how the tiny gold-set diamond in this Oval Drusy Ring complements the fairy-dust sparkle of the larger stone.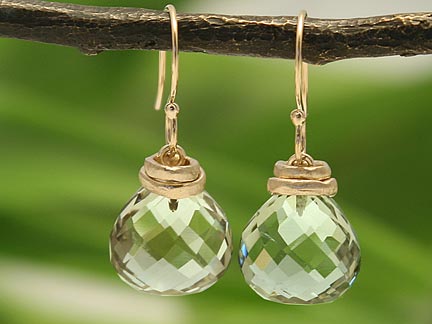 These Mint Quartz Earrings are so fresh and green that wearing them is like wearing springtime!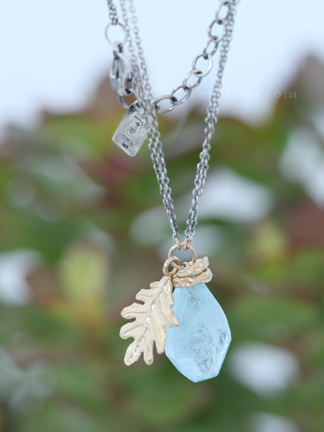 One of the things we like best about Jamie Joseph is the way she turns to nature for design inspiration, as in the wonderful gold oak leaf she uses in combination with the aquamarine stone in this beautiful necklace.
And there is plenty more gorgeousness where those came from! Isn't it nice to know Jamie Joseph really walks the talk in caring for the world? Ped hearts Jamie Joseph!