Precious metals
Shimmer, shine, gleam, and glimmer! Ped fans, one of the zingiest trends right now is metallic leather!
Once relegated to after-5 formality, metallics now come out to play in daytime designs that radiate like the sun! This season, Ped has all kinds of ways to make your toes twinkle, so let's take a look! (You might want to get out your sunglasses.)
Longtime Ped fans know how much I adore my golden Cydwoq Tomcat sandals, so imagine my excitement over Cydwoq's gleaming new Minimalist: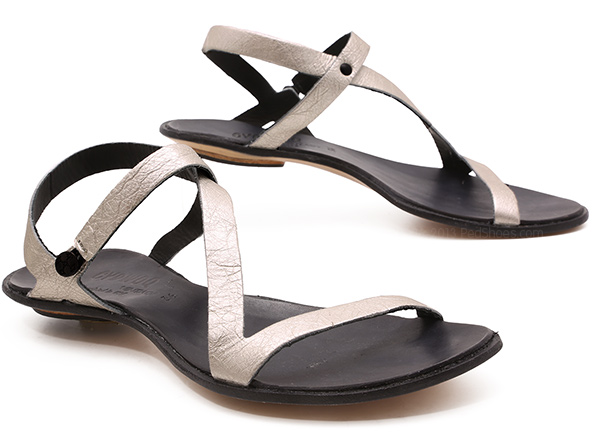 This lightweight and fluid flat gives a whole new meaning to the term "quick silver." As lovely as a summer day is long, the Minimalist lets you dash from here to there like Mercury!
On a darker but no less beautiful note, the Trippen Venus is another luminous flat: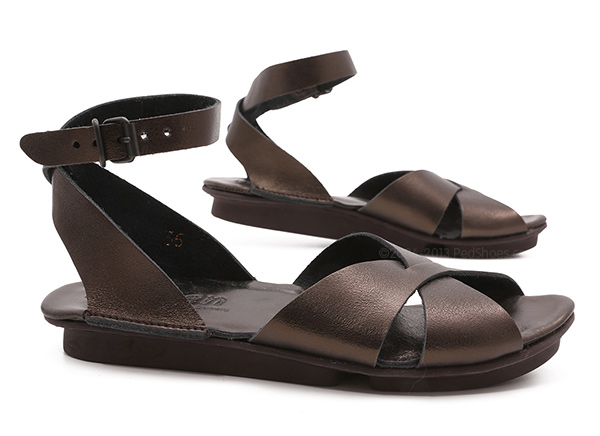 The saucy ankle strap adds sex appeal to the Venus's walk-anywhere-and-everywhere practicality. This copper cutie is like a lucky penny!
For its part, Argila performs style alchemy by mixing metallics with other leathers this season. The Marisol is one of the glowing results: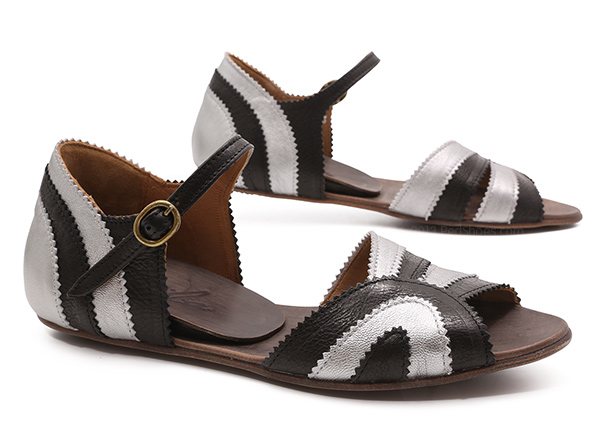 The brass buckle adds extra shine to the black and silver party! This sandal also has a hidden secret: an internal wedge at the heel that keeps your foot feeling effervescent in this flat!
Argila designer Pep Monjo conjures similar magic in his eponymous line. Sigh with us over the gorgeousness of Pep Monjo's Daniella: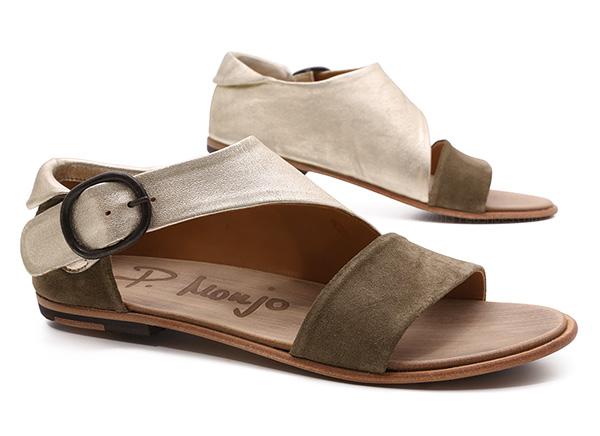 The combo of mocha and platinum leathers is stunning! The Daniella is Laura's fave this season—but she didn't act fast enough, and now her size is gone. (Hello, Laura, early bird? Worm? You know how things go at Ped!)
We realize many of you want to add a few inches to your height, in which case, check out the Trippen Tough: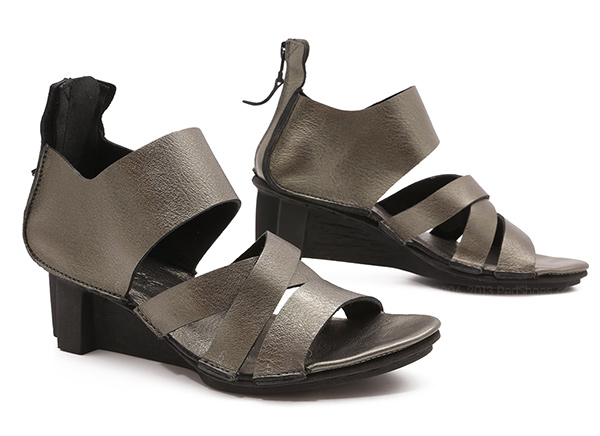 This steely beauty may be named Tough, but its comfort is cushy because it stands on Trippen's famous t-shaped rubber wedge! The zip up the back? Extra gleaming steam!
Another height-enhancing sparkler is Trippen's Orinoco: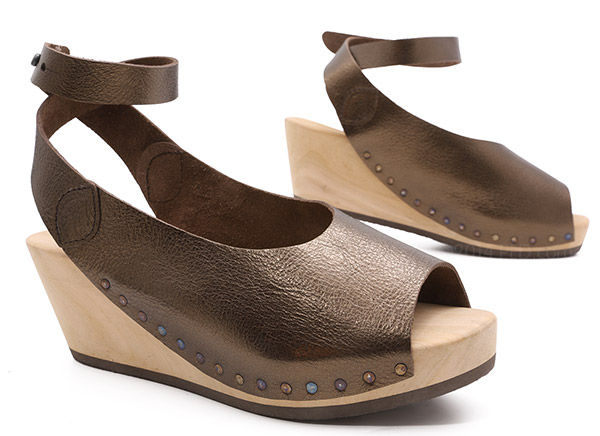 Wooden soles of wonder! The Orinoco's metallic leather is a knockout shade of bronze, and its multi-colored nail heads add the perfect punctuation. Clog me, please!
Argila also offers a heeled sandal to make your style golden. Say hello to the Vanessa: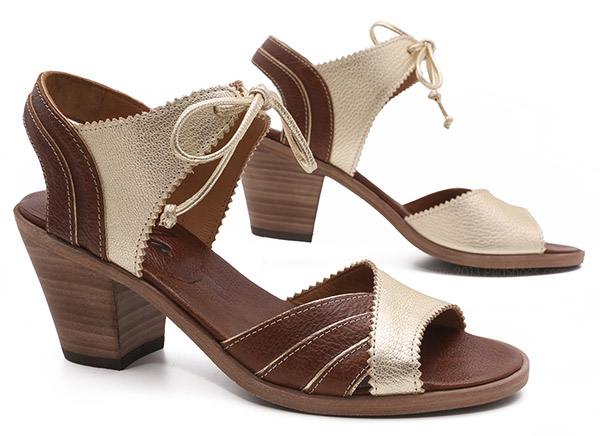 What a way to bring traffic to a halt! We love the interplay of the pinked edges of the platinum leather and the platinum-piped curves of the brown!
Any of the above styles can easily stroll from an afternoon in the park out for a night on the town. But if you really want to dress things up and bring the house down, then buckle up Chie Mihara's Noche!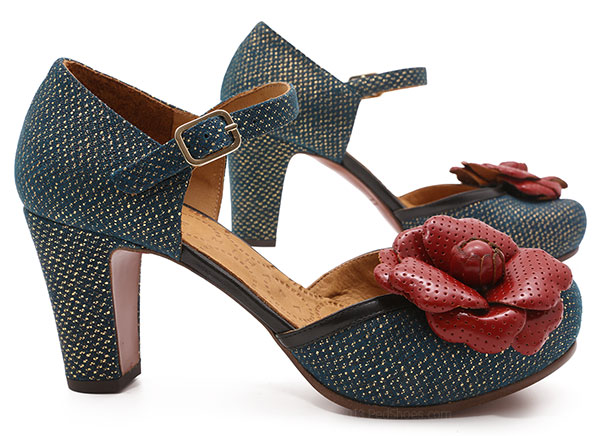 You'll put a glint in the eye of everyone who sees you! The gold-flecked textured lapis leather contrasts beautifully with the perforated matte red leather rosette on the toe! Glimmering and glam-tastic!
As always, there are more ways to sparkle and shine over at Ped's main site, so let your shoes be as scintillating as your conversation! It's a golden age for metallics!
(Psst, in case you missed it below, this week's Sweet Treat is the Chie Mihara Ruper. Just click "be sweet to your feet" at the bottom of the box on the left at Ped's main site to arrive at the Ruper with the special designation. Then simply add it to your bag to receive 20% off at checkout.)
Tags: Argila, bronze, Chie Mihara, clogs, copper, Cydwoq, Daniella, flats, gold, heels, Marisol, metallics, Minimalist, Noche, Orinoco, Pep Monjo, platinum, sandals, shoes, silver, Tough, Trippen, Vanessa, Venus, wood sole