Mama Mia Zia!
Dayna may be off having high tea in Singapore and riding elephants in Thailand, but Ped's blog must go on! Laura, here, standing in for our fearless leader and bringing you great news: the latest shipment of Mia Zia loveliness has just arrived at Ped! Inspired by all things Moroccan, Mia Zia  is renowned for its way with tassels, stripes, and wonderfully woven textiles. Everything the company produces treasures is a delight to see and touch!
Here are a few of Mia Zia's latest things that have everyone at Ped HQ swooning: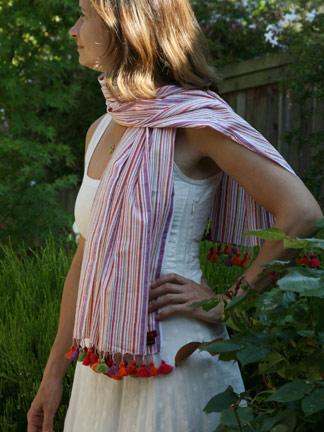 It's as if Mia Zia took everything that's good about summer and infused it into this fresh and playful Fiji scarf! The hand-printed stripes and tassels are so zesty! They make us want to kick up our heels and dance down the beach! (Maybe that's what Dayna's doing…)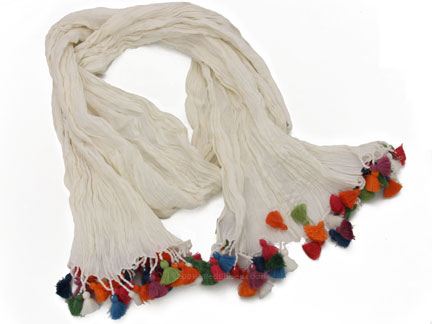 MIa Zia's crinkled silk scarf is luxurious and sophisticated without sacrificing its sense of fun. Silk is one of those wonderful fabrics that offers warmth in winter but remains airy and breathable in summer. Pretty as a scarf. Pretty as a shawl. Pretty as a sash wrapped around your waist!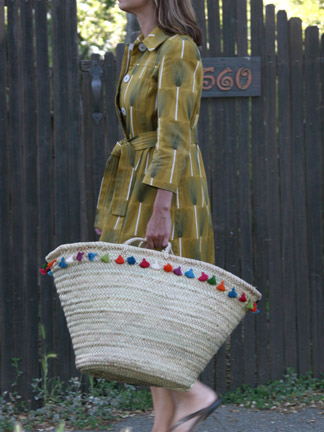 Of all of Ped's Mia Zia treasures, the Parisian Market basket, modeled on traditional baskets women take to bazaars throughout Morocco, may just be our favorite! This tightly woven raffia beauty is HUGE, which means it's ideal for a day at the beach or a trip to the farmer's market—or for catching everything you forgot to pack in your main suitcase when you're bolting out the door to catch your plane. No matter what kind of a rush we're in, those Mia Zia tassels never fail to make us smile!
So, why not add a little Moroccan spice to your life with Mia Zia?
Tags: bags, cotton, handbags, Mia Zia, Morocco, scarf, scarves, silk, stripes, summer, tassels