Friday, May 13th, 2011
We love shoes at Ped—no surprise there!—but we're also crazy about accessorizing them with socks! Sure, Ped's shoes are comfortable barefoot, but pairing them with the fun funkiness of a pair of Antipast or Mia Zia socks gives a whole new twist to their personalities! And socks aren't just for chilly days anymore—wearing a cute pair with sandals is all the rage on the runways this year!
Think how sassy any of the following would look with, say, Fiorentini + Baker's Eliza Oxford, Vialis's Eloisa, or even Chie Mihara's Yoisho (for those of you who like to go bold with your style)!
It's always a party at Ped HQ when we get a shipment from Antipast! Mother-daughter team, Emiko and Junko take such a playful approach to design. One of our Antipast favorites this season is the La Vie en Rose ankle sock: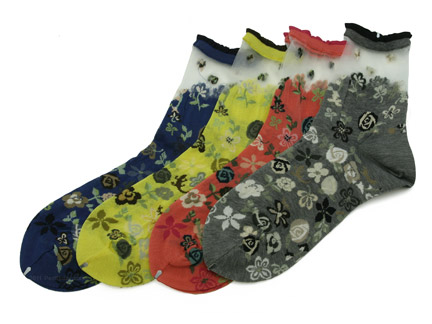 A garden of flowers bloom across this sweet number, but what makes it really special is the sheer area just below elastic ruching at the top! Innovative and eye-catching!
Another dazzler, which looks particularly great with a knee-length or shorter skirt, is Antipast's Spangle Knee High:
Fun and bubbly! We smile every time we look at the way the looping part of the pattern combines with the ruffly top! (We also have Antipast's Spangle goodness in a trouser-length sock.)
An even more colorful, bubbly style is Antipast's Puzzle Dots Sock: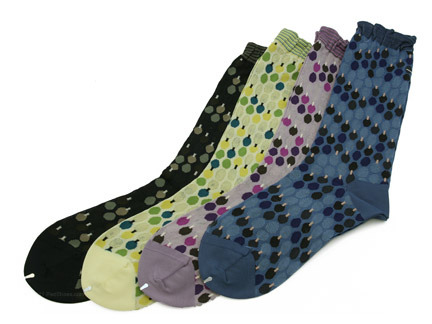 There's an ongoing debate in the warehouse about whether this trouser-length sock looks more like lollipops or a colorful honeycomb. One thing we all agree on, though, is how fab it is! (Ped also has the Puzzle Dots pattern in a knee-high.)
Everyone knows how much we go gaga for stripes. Happily, both Antipast and Mia Zia have satisfied our stripe craving this spring! First, Antipast's Beach Chair Knee High: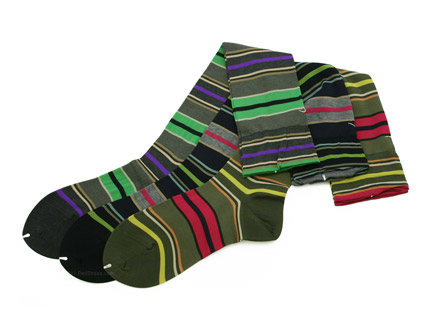 This zesty knee high is perfectly named because its stripes recall those great canvas chairs we love to lounge in by the sea! If you like your socks on the shorter side, though, the Beach Chair stripes are also available in trouser-length.
Mia Zia also has stripes galore for adding zing to your spring and summer: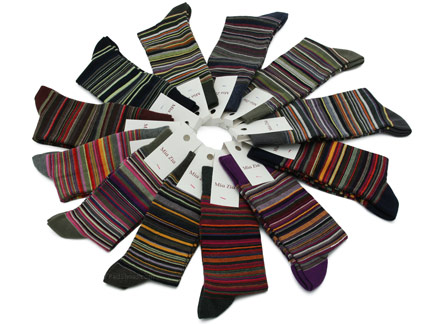 For stripe lovers, it doesn't get any better than Mia Zia's cottony-wonderful Mini Stripe socks! (They also come in a knee-high version.) Here's an idea for a modern look: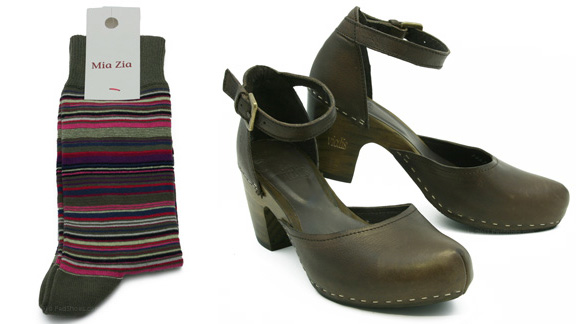 That's Mia Zia's Mini-Stripe sock in Olive paired with the Vialis Eloisa.
For sheer, unabashed fun, though, the hands-down (feet-down?) sock winner is Antipast's Jungle Check Sock: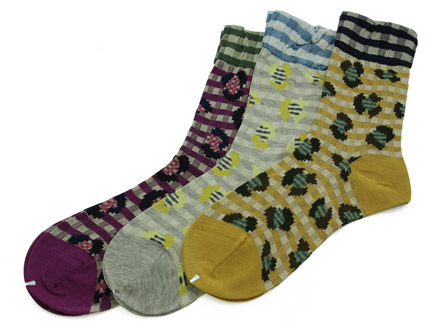 Only Antipast would think to mix a cheetah print with a gingham pattern in summer colors! We are smitten! (Want even more? There's a Jungle Check Knee High!)  If you feel like pulling the stops out on your style, then how about this combo: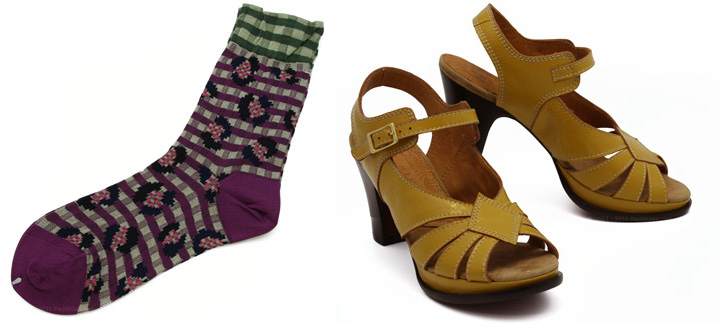 That's Antipast's Jungle Check in purple paired with Chie Mihara's Yoisho! We admit it's a "lot of look," as Tim Gunn would say, but it's also crazy, flirty fun!
Whenever an outfit needs a colorful pick-me-up, our best advice is to rock the socks!
(By the way, this week's Sweet Treat is Coclico's sizzling Lucifer heeled sandal! Just click "be sweet to your feet" in the upper right corner of any Ped page and be transported to the Lucifer with the magic check-out code that will let you set the world on fire for 20% off!)
Tweet