Sunday, October 27th, 2013
Ped fans, you know we are all about beautiful, fun, artistic and comfortable shoes, but style cannot live on shoes alone. It needs a few other items to make it zing—like zesty socks or an eye-opening scarf or the perfect bag!
We've already introduced you to our fresh line of Bon Homme socks, but we have new goods in the Ped house from Antipast, Epice, Sophie Digard, and Trippen, too, to amp up your flair as the temperature drops. Let's take a look!
As always, Emiko and Junko at Antipast have made it easy to walk through fall and winter with a smile, thanks to their always-fun sock designs! Even if you're not quite ready for snow yet, who can resist Antipast's Snowball socks?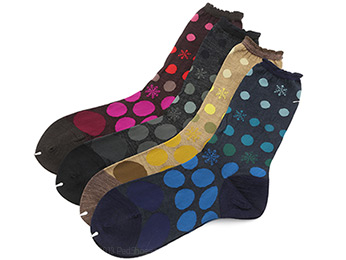 We love the shift in color and dot size from top to bottom!
Snow also inspires  the charm of Antipast's Winter Skier Socks: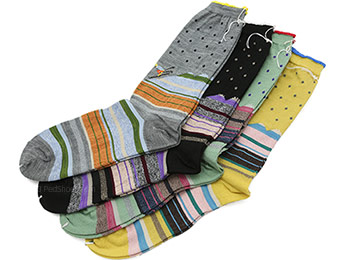 These sweethearts have everything we like: stripes, dots, colors, and a fun narrative! Prefer your socks longer? You're in luck because we also have Winter Skier Knee Highs!
On the other hand, maybe you'd rather have your woolies remind you of warmer days, in which case the Antipast Spangle Knee Highs are singing your song:
Birds, beasts, and blooms—it doesn't get any better than these beauties! By the way, we also have trouser-length Spangle Socks.
Now that your toes are toasty, let's sample a few lovely ways to bedeck your neck! When it comes to exquisitely loomed textiles, Epice has our hearts! The new Licorice Scarf  is the sweetest way to spice up an overcast day:

A solid-color wool coat becomes infinitely more interesting when you add a lick of Licorice!
If you prefer to keep cozy in a more understated way, perhaps Epice's Lunares Scarf will light up your sky: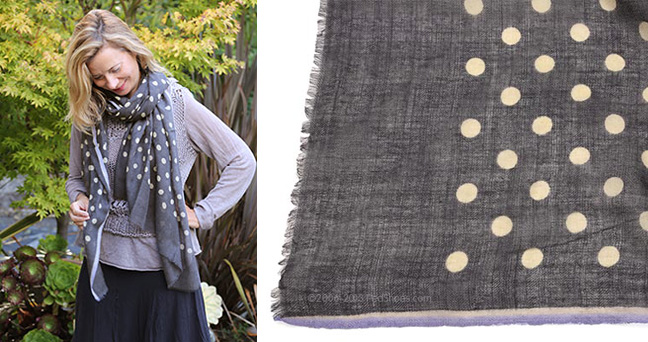 Luminous ivory moons dot the charcoal background, all sweetly bordered by ivory and periwinkle stripes. (We also have offer this woolen beauty in royal blue with golden lunettes.)
Sophie Digard also has moons on her mind this season! Bask in the dazzling glow of her Velvet Lune Scarf: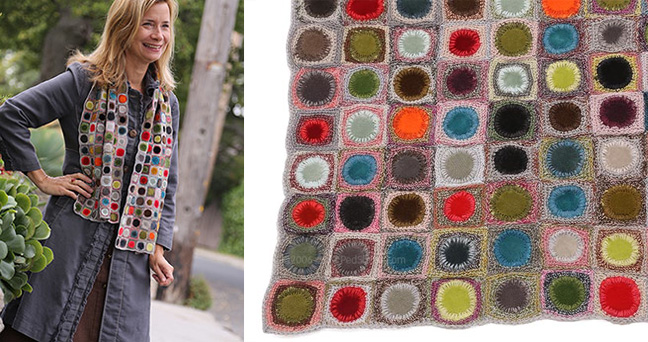 Soft velvet moons shine from within hundreds of hand-crocheted merino wool squares! Your fans will be starstruck when you wrap this gorgeous scarf around your neck!
Another multi-textured masterpiece is the Sophie Digard Manouche Scarf:

Velvet and wool squares of all sizes mix it up in this wearable work of art!
Perhaps our favorite of the new Sophie Digard scarves, though, is the Cercle Pop Scarf:

We adore the fresh colors of this crocheted mosaic of joy, guaranteed to make winter days a lot more fun!
Your ankles are covered, and your neck is nice and warm, so all that's left is to find a stylish way to carry your essentials! Happily, the genius German shoemakers at Trippen have now ventured into designing fantastic bags! Need to haul a lot? Check out the spacious Trippen Claudia Bag: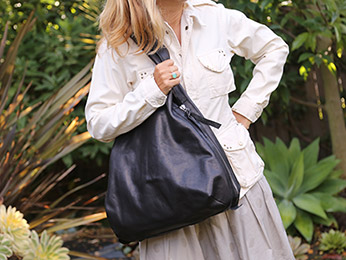 You can tell how buttery the leather is just by looking at it! Choose either the black version of the Claudia pictured here or the equally beautiful and versatile brown version.
Need to carry a little less? Then sling the Trippen Carola Bag over your shoulder: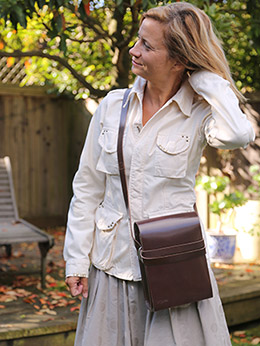 We love this boxy little bag—so streamlined and modern!
Of course, there's still more to see over at Ped's main site. So rise up and accessorize—it's the easy way to add soul to your soles!
(Psst, the Sweet Treat this week is the Argila Madrid boot. Let your inner cowgirl kick up her heels by clicking "be sweet to your feet" at the bottom of the box on the left of most Ped pages, which will take you to the Madrid's page, where you will find a magic code that will bring 20% off at checkout! Yee-ha!)