Monday, March 29th, 2010
Spring has arrived in Ped-land, and although we love how the leaves are leafing and the buds are budding, the daily variations in the mercury make getting dressed a challenge. The forecast may call for a warm afternoon, but, brrr, that first step out the door in the morning can be brisk. Which is why at this time of year, a scarf is our constant companion! Not only does it keep us cozy, but it also spices up outfits with a little extra zing. Once the temperature rises, we can either loosen it or take it off and tie it around our handbag's strap (that way, we keep the zest).
Luckily, Ped has new scarves from both Mia Zia and Sophie Digard, ideal for navigating the transitional season. Here are just a few of our favorites: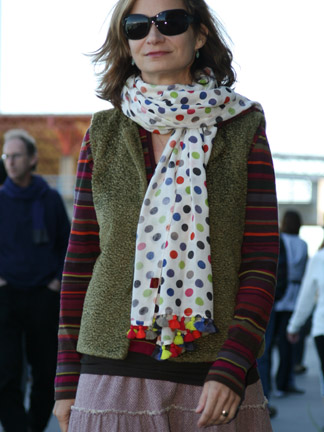 We are wild about dots here at Ped, so Mia Zia's Dotti Scarf is high on our list! It's such an instant pick-me-up. Loomed from ultra-soft cotton, it feels so good against your skin.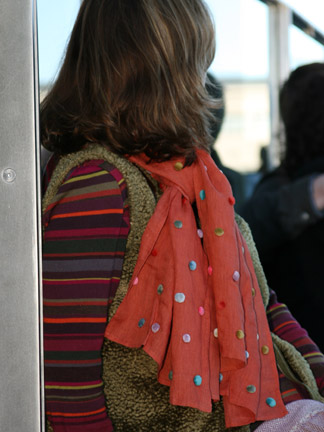 You say you'd like a little texture  with your dots, thank you? Then say hello to Sophie Digard's Gumdrop Scarf! Ms. Digard, our favorite Parisian textile artist, wows with this playful design that charms with multicolored velvet hemispheres hand-sewn to the prettiest colored linen (it also comes in grass green).
Speaking of green, the Mia Zia Willow Scarf received an invitation to join the Ped family the instant we saw it:

Doesn't the color make you think of sunny days in the garden? Mia Zia's woven fabrics are so exquisite that they have to be touched and seen in person to be fully appreciated! And if green isn't your scene, the Willow also comes in go-with-everything grey.
Another grey beauty is Sophie Digard's Bauble Scarf, created in linen for warm-weather wear: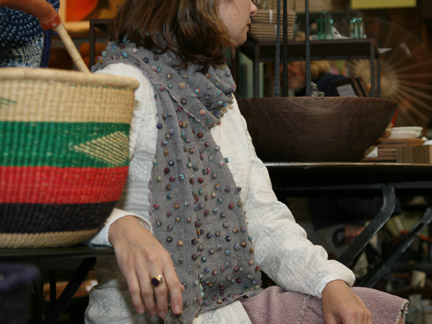 Every tiny sphere adorning this crocheted masterpiece is a world unto itself—no two baubles are the same. Truly, Sophie's creations are labor-intensive works of art!
Plus, we admire how she's always changing things up and venturing in new directions! One of the most innovative scarves this season is Sophie's Serendipity Scarf: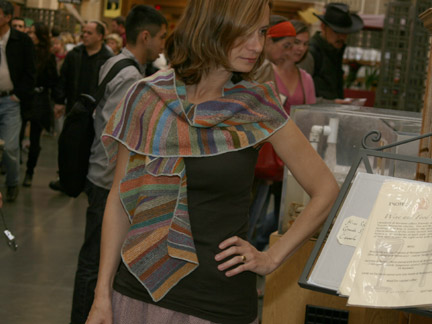 This striped wonder incorporates an organic-shaped curve in its design that makes it especially easy to twine around your neck or drape across your shoulders. And the colors? They make us daydream about beach cabanas under a Mediterranean sun by an azure sea.
Of course, if you long for a classic Sophie Digard scarf that expresses her unique approach to crochet-work and color, the linen Maccaron will make you smile: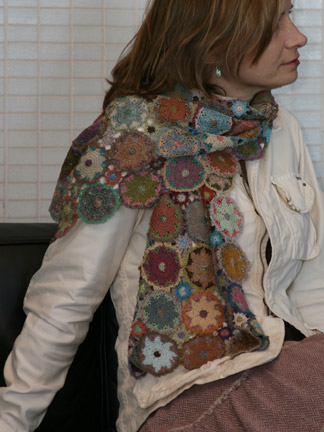 In a word, tasty!
More wonderful scarves await at the Ped site! Settling on one may be hard, but, luckily, there's absolutely no way to go wrong. So, wrap up and rock out!