Wednesday, August 29th, 2012
A few years ago we added Argila to the Ped family, and Ped fans welcomed the Spanish line with open arms and delighted feet!
Now Pep Monjo, Argila's founder and resident design genius, has created an eponymous line of footwear, with his signature right on the bottom of every sole! Exquisitely crafted in Monjo's hometown of Menorca, each pair is timeless, yet the designs walk the cutting edge of European style. Take a look, and prepare to fall in love!
One of Pep Monjo's many talents is his ability to spice up vintage-inspired styles with just the right details. Exhibit A: the Edith Boot.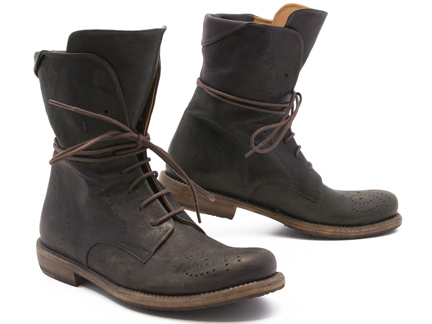 At first glance, these look like a treasured pair of boots discovered at an estate sale, but the fold-down collar in back and the exaggerated tongue in front give the Edith decidedly modern flair! (Go only halfway with the laces to get the latest European look!)
For some Ped fans, it's "black or bust"! If you're among the noir lovers, Pep Monjo's got your number with the Sybil Boot: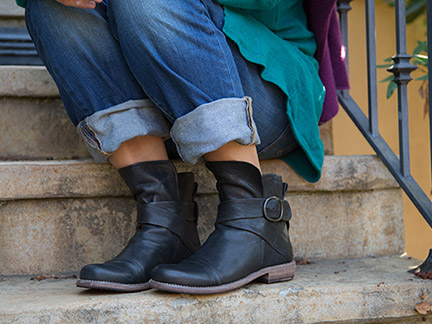 Much more interesting than the average motorcycle boot, Monjo's version features crisscrossed straps and a seam over the toe—small details that make for a huge impact! And needless to say, the leather is luscious and the comfort divine!
Last but far from least, check out Pep Monjo's Levigne Boot, which is, quite simply, boot perfection! (Think of it as the Nadia Comaneci of boots!)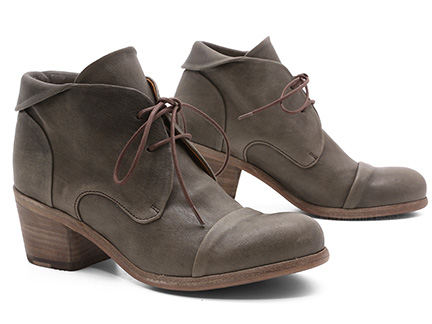 Niether over-designed nor under-designed, the Lavigne is just right! Pep Monjo has granted the wish of so many gals who want one boot that will go everywhere and go with everything!
What a trio of beauties, each made to last a lifetime! If you've been craving a fantastic pair of boots for fall, Pep Monjo's have your name (and his) on them!
Speaking of boots, we've harvested a bounty for Ped! Stay tuned because every day or so during the next week, we'll be showcasing different heights and styles here on the blog to help you find the perfect pair.
(For instance, Coclico's Kita might be right up your alley—in which case, lucky you because it's this week's Sweet Treat! Simply click "be sweet to your feet" in the upper right corner of any Ped page to land at the Kita, where you'll find a magic code that will bring 20% off at checkout!)