Sunday, April 21st, 2013
Ped fans, suede is everywhere this season! It looks fantastic and feels sumptuously soft, but how much do you really know about suede?
Here's a quick lesson. The word "suede" comes from the French "gants de suede," meaning "gloves of Sweden," a term first used in the mid-19th century. Tanners create suede by sanding the underside of leather to yield a soft nap. Ever wondered what the difference between suede and nubuck is? Well, nubuck results from sanding the exterior of a hide. Both suede and nubuck feel wonderful, but nubuck is less supple and a little more rough-and-tumble.
We adore suede not only for its tactile quality, but also for how it enriches color! This spring and summer, Ped has suede styles galore in glorious shades perfect for soaking up the sun. Take a look!
Accessoire is a virtuoso when it comes to color-saturated suede—it's what they do best! Bask in the beauty of the Accessoire Bahia: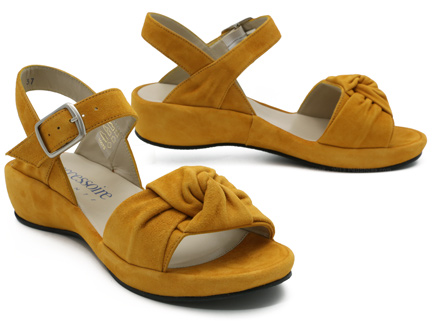 Accessoire calls this color "papaya," and it certainly is juicy! What an easy way to make a sundress even sunnier!
One of Accessoire's many charms is their ability to give their designs an aura of vintage romance, as they do with the Alabama: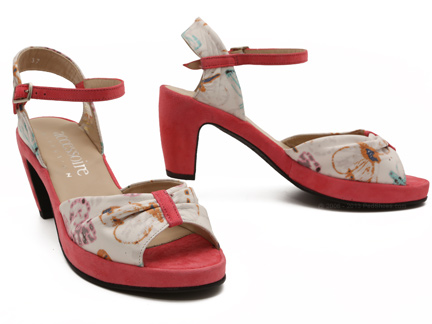 This lovely sandal looks like something Lana Turner would have worn in 1940s Hollywood. Glam meets chic in Accessoire's combination of butterfly-printed leather and coral-pink suede!
Another feminine sandal in a beautiful shade of suede is Chie Mihara's Gipsy:
Could that cobalt blue be any more luminous? We also love the way Chie contrasts the airy straps up front with the enclosed heel in back. Now that's a phat flat!
Looking for something less girly? Another down-to-earth sandal made in suede is Pep Monjo's Angelina: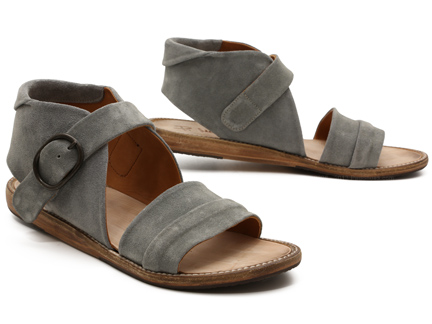 The grey suede complements the urban edge of this style, and since grey is a neutral, it works with all your favorite warm-weather clothes.
Fiorentini + Baker takes suede higher and in a retro direction with its 1970s-inspired Dina sandal: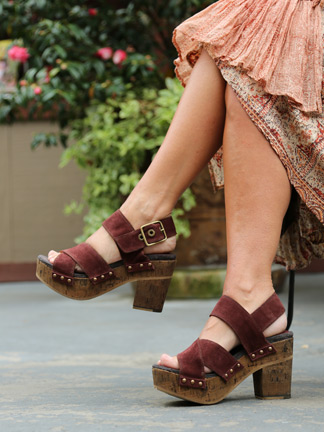 Holy hotness! The burgundy suede straps make a bold statement, while the cork sole adds inches in a light and comfortable way! (FYI, we also have the Dina in mustard leather.)
This fantastic sole also adds 'zazz to F+B's Ding clog, back at Ped by popular demand:
Suede that swings! The fringe has our hearts, but the teal color is what really sends us over the moon! (But if you prefer black, we've got your back.)
Wishing for a lace-up shoe? This season we're offering Fiorentini + Baker's beloved Eliza oxford in several shades of suede, including sienna: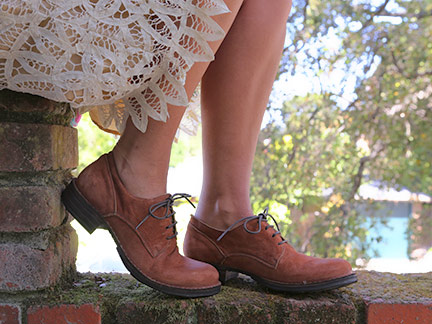 In a word: YUM! This suede shoe exemplifies why Italian shoes are prized; it's so well made and comfortable it will be your best friend for years. Be sure to check out the teal and verde versions, too!
Vialis' sweet suede lace-up mixes the best of a sneaker with the lightness of a dance shoe. Behold the wonderful Pepita: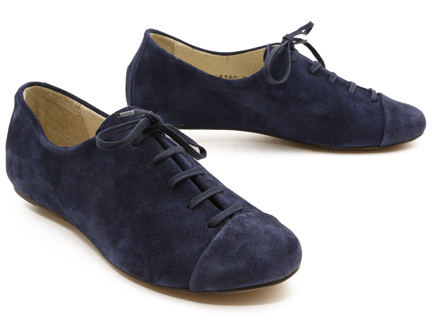 Simple and easy to wear, the Pepita is made for dashing around town followed by kicking back on the porch! The midnight blue color is so pretty, but you can also opt for the Pepita in spicy mustard.
Finally, if you're like us and love the look of boots with summery skirts and dresses, check out the Fiorentini + Baker Emil: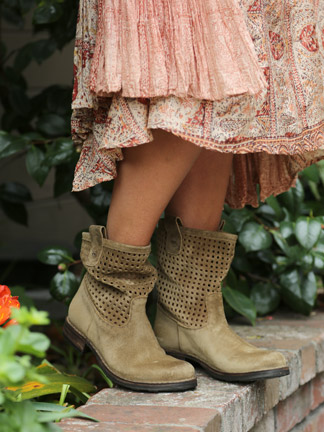 At last, an "air-conditioned" boot—perfect for wearing barefoot and showing off bare legs! (Of course, it will also look great with tights and funky kneehighs when the weather cools off.)
Even more suede sweethearts are waiting for you at Ped's main site! Discover why we're soft on suede, especially in the summertime!
(Speaking of suede, there are two suede versions—as well as two leather versions—of this week's super-duper tasty Sweet Treat: Fiorentini + Baker's Emmy Boot! Did we just give you a heart attack? Simply click "be sweet to your feet" in the upper right corner of any Ped page to land at the Emmy, where you'll find the magic code that will bring a sweet 20% off at checkout!)