Tuesday, February 23rd, 2010
One of the best things about working at Ped is having wonderful customers all over the world! Whenever we send a Sophie Digard necklace off to Japan or a Cydwoq shoe to Germany, we love imagining where our friends will wear those items. Rebecca P. in Australia gave us a little more fuel for our daydreams by sending this picture and describing where she took her Mia Zia Fiji Scarf  and Cydwoq Sling Bag (alas, both are currently out of stock—sorry, Ped fans—but, good news, more Mia Zia is on the way from Morocco).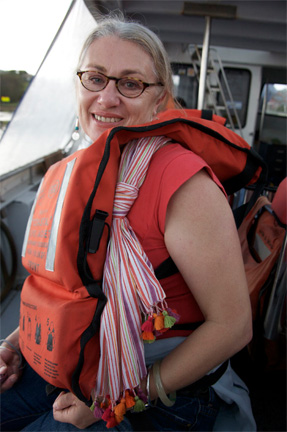 This picture was taken on the far south coast of New South Wales at a place called Narooma at the beginning of November. This is the time for the annual migration of whales to the Great Southern Ocean. I'd gone on a boat trip to see the whales. Not far out of the town of Narooma, the sea turned very rough with a huge southerly storm—hence the life jacket! It was very rough, but the scarf kept me lovely and secure. Unfortunately, the conditions got so rough so quickly we had to return to Narooma without seeing any whales. You can't see it, but I tucked my Cydwoq Sling bag under my life jacket because I wanted to protect the bag from the rain, which was quite heavy.
Wow! What an adventure, although we're sorry the weather kept Rebecca from seeing any whales. We know they would have appreciated her high style on the high seas! (Whales are very intelligent.) As thanks for letting us fantasize about a summertime sail off the coast of Australia—especially since it's wintertime in the U.S.—we're sending Rebecca $100 in Ped credit!
Do you have a Tale of the Sole? Tell us—and show us (we LOVE pictures!!!)—what happened to you while wearing a Ped item, and you, too, might be the recipient of $100 in Ped credit. Each month we pick the most sole-ful tale to share on the blog. So, let us know what in the world you've been doing in your Ped!