Saturday, August 21st, 2010
Get ready for a fun fall, Ped fans! On my European buying trip last spring, I found several new lines to add to the Ped family, all absolutely beautiful! The first to arrive in the warehouse: Couple Of!
Based in Tel Aviv, Israel, Couple Of is the creative collaboration of designers Shelly and Elon, who are not only work partners but also life partners (given Terry's and my relationship, I love that). They decided to call their company "Couple Of" as a play on the term "one-off," which indicates a unique work of uncommon beauty.
Unique and uncommonly beautiful? Couple Of's shoes definitely are! Using exquisite leathers, Shelly and Elon attend to every detail of their shoe designs, committed to crafting thoroughly wearable works of art. Their styles have an eye-opening irreverence that never goes too far—just enough to have every eye on the street glued to your feet with envy!
See for yourself! Here's the Couple Of shoe that first caught my attention: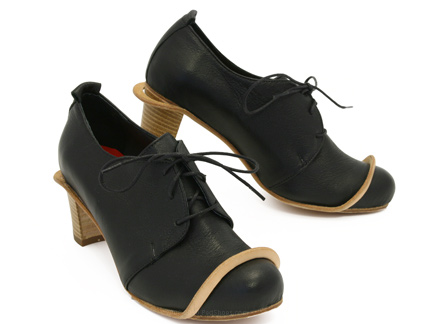 Where did I see it? On Shelly's feet when I walked into Couple Of's booth at the shoe show! Aptly called the Shelly Oxford, it blew my mind (and as someone who sees a lot of shoes, that's no easy feat)! Couple Of has taken a beautifully made, classic lace-up and cut around the natural leather outsole to create an arc over the toe and a slight dip behind the heel. SO COOL!!!! I was sold!
Did you also notice the red insole? Couple Of has a particular way with red! Often their designs have a carmine lining, but now and then they take it outside, as with the stunning Lily Slip On: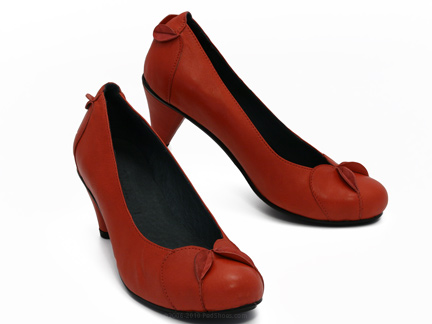 We adore a red heel, but this one goes above and beyond with its perfectly placed three-dimensional petals! So flirty!
Another great thing about Couple Of is how they pay attention not only to giving the toe some sass but also the heel! In their shoes, you give your fans something to look at coming and going. Case in point: The Ava Oxford.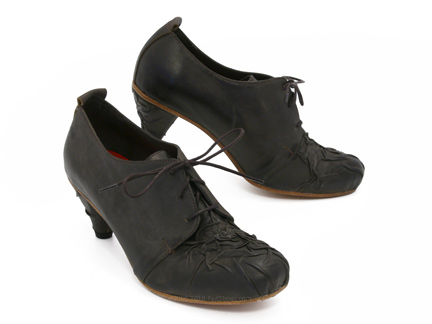 How cool is the minutely folded leather on the toe? Well, it also accents the 2.25″ heel! Such unusual detailing is what sets this brown lace-up apart from every other oxford on the street!
For another example of how Couple Of makes the most of well-edited accents, get an eyeful of the Derbi Oxford: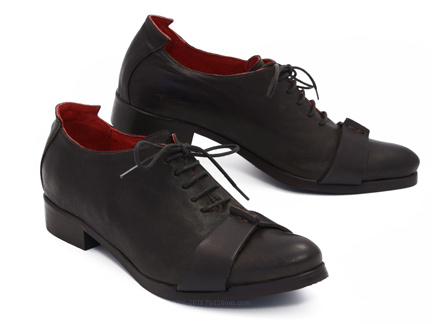 Couple Of has created a wonderful interpretation of the traditional menswear oxford and punched it up by adding a simple strap over the toe—stitched at the center for added interest—and a slightly flared heel piece (notice how those upward lines at the heel reflect the downward lines at the base of the toe strap). Suddenly, this shoe is something to talk about! Plus, the Derbi's red lining flashes at the edges in the most eye-catching way.
Couple Of has also put their unique stamp on the ankle boot/shootie trend that's all the rage this season: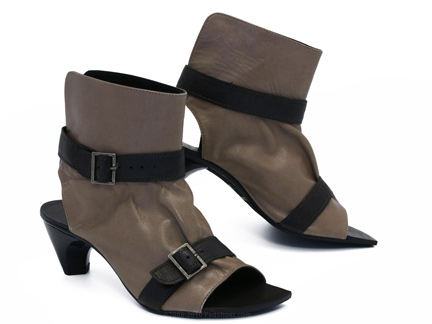 The Hannah Shootie is ultra-modern and über-sexy. We love how the masculine black straps cinch in the super-soft feminine taupe leather! As usual, Couple Of's clean design aesthetic is the key to this knockout toe-bearing and heel-flashing style.
Ped is the first U.S. boutique to carry Couple Of's fabulous designs, so when you slip on any of these comfortable stunners, you're guaranteed to be a one-off in your style!
(Psst, if you haven't checked it out, the "sweet treat" this week is Chie Mihara's gorgeous Rocosa heeled sandal. You still have a couple days left to snag it at 20% off by clicking "be sweet to your feet" in the upper corner of any Ped page to reach the magic discount code.)