Monday, October 18th, 2010
As I mentioned in my last post, my favorite new look—so hot in Europe right now—is oxfords worn without socks and paired with either cropped pants or skirts! Simultaneously chic and casual! Of course, for lots of you the temperature is dropping, so you can always add funky tights or cozy socks to keep your ankles warm. The key ingredient is the oxford!
Happily, Ped's designers have come up with endless variations on the classic menswear lace-up! Whether you like yours heeled or flat, embellished or plain, Ped is sure to have an oxford that's right up your alley. Here are a few of our favorites this season.
The newest oxford in the Ped warehouse is Accessoire's cutting-edge and comfortable Martial Oxford: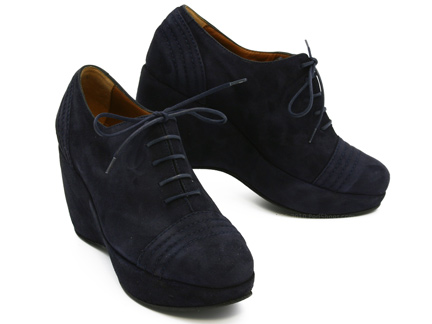 We love everything about this shoe from the inky blue color of the super-soft suede to the easy-going wedge sole (all the height and none of the hurt) to the subtle seaming over the toe and heel! The French always know how to turn a head.
Another especially arty oxford is Couple Of's Shelly Oxford: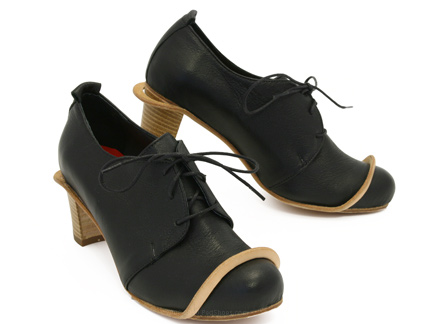 Now this is how to do black without getting boring! Couple Of excels at meticulously constructing a shoe with just the right details to take it out of the ordinary and into funky town! Cutting the outsole so it arcs over the toe and dips down behind the stacked-leather heel is pure design genius!
Of course, if you're looking for a flat, no-nonsense oxford, there are still ways of doing that with style and flair. Presented for your approval, Fiorentini + Baker's Eliza Oxford: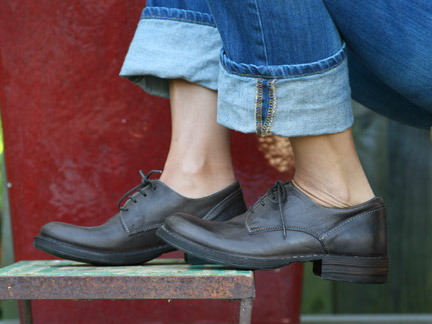 Although its design is straightforward, there's something about this F+B classic that takes our breath away. Plus, we just received a shipment in our new favorite Rabbit Grey color (and it also comes in luscious Marine Blue).
You say like the simplicity, but you also appreciate a heel? Then Coclico's got your number with the Bathan Oxford: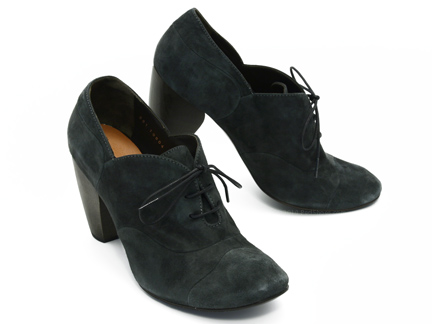 Between the fabulous chunky wooden heel, the sinuous curves and topstitching of the design, and the grey anthracite suede, there is just so much to like about this shoe! Just think of how many outfits it would enhance! (And, psst, it's just about to become this week's "sweet treat," starting tomorrow, October 19! Be sure to click "be sweet to your feet" in the upper right corner of any Ped page to get to the Bathan with the magic discount code that will enable you to get 20% off at checkout.)
Another great heeled number is Argila's rocking Lucie Oxford: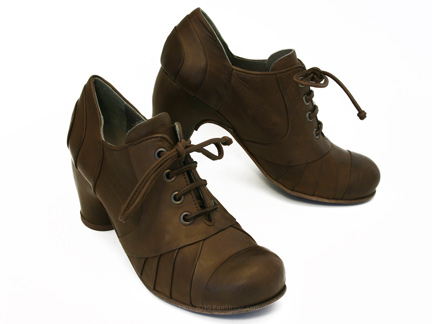 The caramel color is so rich! But this beauty also comes in black for you noir fans! Such a wonderful way to turn up the heat with the sexy schoolgirl look!
Although we think all of the above offer a feminine twist on the menswear look, we know some of you Ped fans like things a little frillier. As always, Chie Mihara is the BFF of girly girls around the world. With her Loti, you can have your oxford and ruffles, too!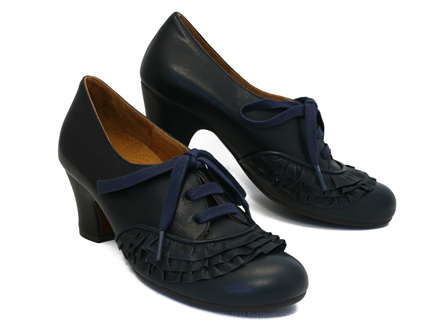 And, needless to say, the royal blue leather is to die for!
The "o" in oxford has zero to do with being old-fashioned and everything to do with being on the cutting edge (au courant, if you will)! So, lace up and step out!