Wednesday, April 27th, 2011
Let's face it, Ped fans, wearing heels can give you a boost beyond just a few inches in height. Heels are authoritative and at the same time feminine and glamorous. Plus, they make a gal's gams look fantastic! "Sure," you say, "but who wants to teeter with every step when our lives demand we go, go, go?"
Enter the wedge! Solving the problem of comfort and balance, while still maintaining the advantage of wearing a heel, the wedge is the answer when you want your style to stand out and stand up. And do we ever have wedges that wow this season! Take a gander:
We all agree the French know a thing or two about looking chic, so, of course, Accessoire's wedges are magnifique!, like this Papaye: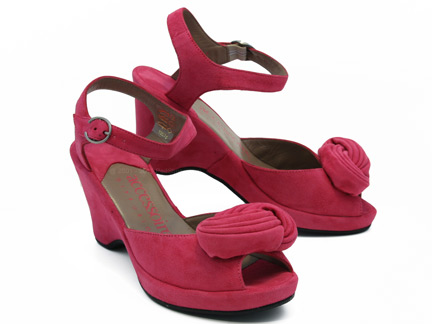 How stunning is this sexy peep-toe? How luscious is that tulip pink? Every time we look at the Papaye, we fall in love all over again! (And for those of you who insist on black, Ped also has the Papaye in your favorite color.)
Another winning wedge from Accessoire, the Nairobi, has a lower profile, but is no less beautiful: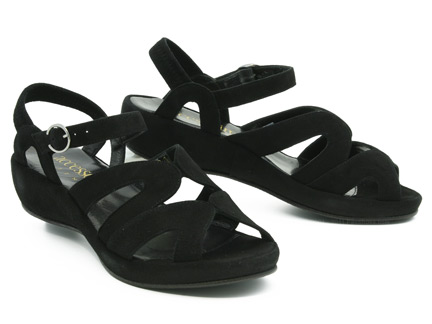 If you're looking for one sandal to do it all— walk the dog, attend a meeting, go out to dinner, and jet off for a weekend in Madrid— the Nairobi is up to the challenge! And your feet will thank you because they'll be sooooo comfortable!
Speaking of Spain, both Argila and Chie Mihara, our favorite Spanish designers, have lovely wedges in Ped's lineup. First up, Argila's Eliana: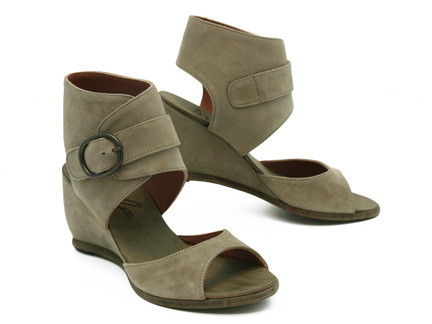 This go-with-everything wedge is back by popular demand, and it's just as fresh and sexy as ever! We love the buckled wrap at the ankle, which is so of the moment!
As only she can, Chie Mihara brings rich color and femininity together in one glorious wedge she calls the Ruala: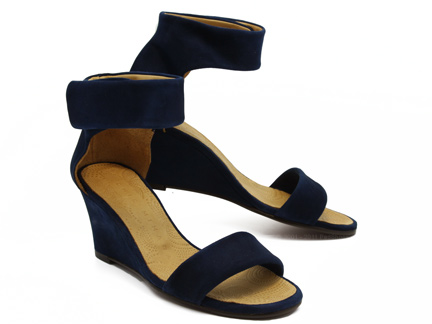 Illustrating how less is more, this sandal's minimal design is dazzling! Plus, the marine blue hue is so deep and delicious you'll practically want to dive into it!
You say you want a funkier edge to your wedge? Then Ellen Verbeek's Elka is right up your alley!

We are down for the count when it comes to this beautifully made shoe!!! Inspired by a bowling shoe, this lace-up peep-toe is striking! (Okay, yes, that was a bad pun—but a bad pun about a gorgeous sandal!) And Elka's edgy wedge is wooden!
Of course, if it's urban artiness you're after, Trippen has just the ticket in the Airy!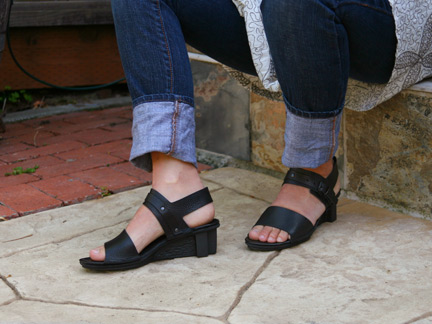 The design is deceptively simple, but the bold cut of the straps and studding over the ankle make this sandal super hip and modern! Trippen's t-shaped wedge sole, however, is what will win your comfort-loving devotion.
And there are lots more wedges to help you step up your style over at Ped's main site! Slip one on and find out what it means to be well-heeled!
(By the way, this week's Sweet Treat is also funk-a-licious: Couple Of's cutting-edge Zebra sandal! Click "be sweet to your feet" in the upper right corner of any Ped page to land at the Zebra, with the discount code that will bring 20% off at checkout. You're guaranteed to be all the buzz!)