Wednesday, March 23rd, 2011
It's been some time since we gave a big shout out to all the wonderful blogs and sites that have paid attention to Ped! We're always so happy and grateful when those we admire find something to like at Ped! Here are a few of the people and places that have made our hearts sing over the past few months. (Check 'em out—you might find a new favorite!):
* Michelle Taylor not only makes gorgeous jewelry out of vintage bits and bobs, but she also puts together the noteworthy design blog, Blue Moss. We love that she gave props to Vialis's Rambla Bootie.
* Another blogger who is a wonderful friend to Ped is Mrs. French at the always interesting and newly redesigned Bliss, where she recently admired Argila's Riley. (By the way, she also makes lovely photographs.)
* We heart Lindsey Cochran at Every Clog Has Its Day for giving a virtual hug to Ped's entire Vialis line, even though, as she points out, they're not technically clogs.
* Fernanda van der Laan included a tribute to Fiorentini + Baker boots on her eponymous blog, which discusses all kinds of things! (We hope she's enjoying her red Eternity boots!)
* We think Kristin at Lovely Apidae has amazing style, and we're so glad she thinks her Chie Mihara Loti beauties are perfect!
* Julie, creator of the The Accidental Frock, may be a "reluctant blogger," but we like what she does and are happy she likes Chie Mihara's Rumi. Plus, she's a fabulous textile designer!
* Si, a lovely French lass, blogs in English about beautiful things at French By Design. We are thrilled she called attention to Chie Mihara's Ruala!
* We are excited Sally McGraw at Already Pretty mentioned we carry Trippen! Sally has such bold style and offers great advice on body image and fashion.
* Of course, we also love it when our overseas friends write about us, even if we are often language-challenged by their words. (We're sure they're kind!) Here are a few foreign blogs that have recently mentioned Ped: Portion de vie, Lolapinso, and en Oby Ting.
Since all of us at Ped have so much fun bringing you wonderful things, it makes us feel fantastic when others notice and say so!
THANK YOU!!!!!!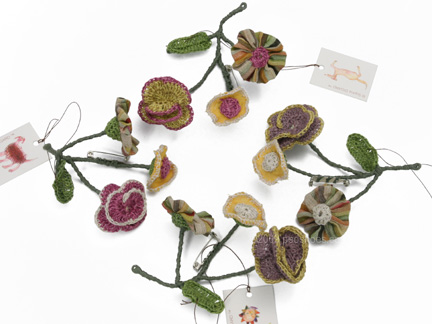 (One last thing: the Sweet Treat this week is Sophie Digard's fabulously fun Flower Petal Necklace! Just click "be sweet to your feet" in the top right corner of any Ped page to land at the Flower Petal Necklace with the discount code that will bring 20% off at checkout!)