Wooden you like a sandal clog?
Some of you Ped fans have let us know how much you adore clogs! It's true there's nothing like the feeling of wood beneath your feet—so solid yet comforting. But we wouldn't be Ped if we simply offered run-of-the-mill clogs, especially when we know your toes want to be free to enjoy the summer! So, we combed our sources to find a few especially beautiful wood-bottomed sandals that will speak to your stylish souls as well as your soles.
Although we hate to play favorites (we truly love all our shoes), Trippen's Ritzy is the stand-out style of the season: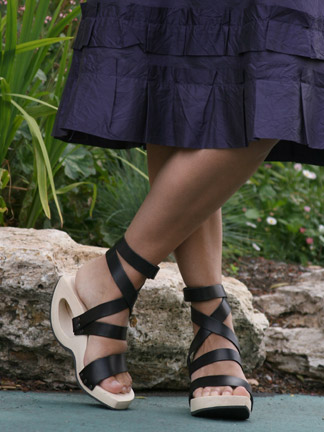 It is just IT! Starting with the fabulous way the supple black leather crisscrosses and wraps around your ankle and ending with how the wooden sole gives you a window on the world beneath your heel, the Ritzy is like no other sandal out there. Fun, edgy, and sexy!
Another clog sandal with head-turning power is Giraudon's Riley: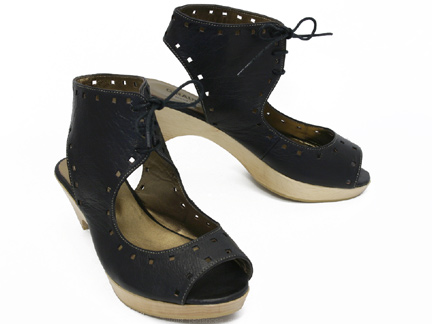 The lines of this airy peep-toe are so interesting, and we love how the ankle lacing gives the subtle suggestion of an ankle boot. Absolutely of the moment! (And the gold lining is so fun!)
But maybe what you like in a clog is the ability to just slip it on and go, in which case Trippen has your number with the Zen:
Nothing could be simpler to wear, yet the Zen still has enough 'zazz to make any outfit juicy! After all, who doesn't love a red sandal?
Another easy-to-wear style with a sole of hand-sculpted wood is the Cydwoq Revolt, a perennial Ped favorite: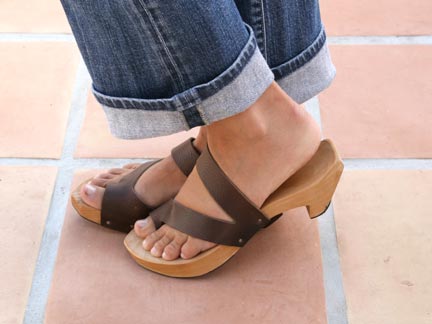 Cute and practical, this sandal makes a great traveling companion (slide off, slide on when navigating airport security). And because it's from Cydwoq, you know the Revolt's leather will comply with the shape of your individual foot for a custom fit.
So, clog lovers, choose whichever wood-soled siren sings your name, and take a solid step into summer!
(Psst, just fyi, this week's "sweet treat," Cydwoq's Proud, will only be especially sweet for a couple more days, so click "be sweet to your feet" in the upper right corner for 20% off while you still can.)
Tags: black, brown, clog, cute, Cydwoq, German, Giraudon, handmade, leather, red, Revolt, Riley, Ritzy, Trippen, wood, wood sole, wood-soled, wooden, Zen