Flower power
It's such a heady time of year with all the wonderful things in bloom! The lilacs, irises, and peonies may have come and gone (or if you're a little farther north, maybe they're still around), but gorgeous day lilies and sweet honeysuckle are hot on their heels, with black-eyed susans and other posies still to come. At Ped, we adore flowers—and we like to wear them whenever we can!
The undisputed queen of lovely blossoms that never fade is Swiss fiber artist Karin Wagner. We recently received a new shipment of her hand-felted wonders.
We are particularly crazy about her floral rings, like this attention-grabbing Lilia beauty: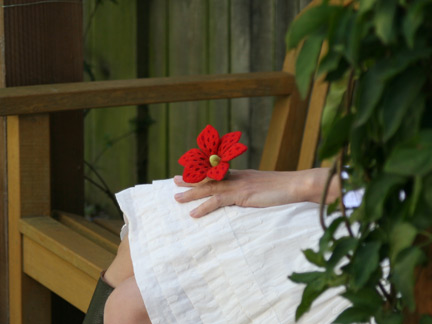 The way Karin has cut tiny diamonds out of the crimson petals is so unusual! Wear this ring and watch as conversations spring up all around you!
Many of Ms. Wagner's blooms are versatile. Who says you have to wear a brooch pinned to your clothing? This Clochette cluster, for example, makes a fabulous barrette: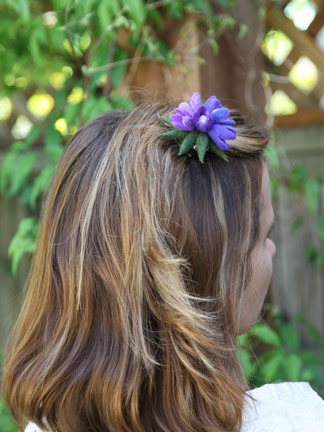 And, attention, summer brides, a wonderful alternative to wearing fresh flowers in your hair is to entwine Karin Wagner's Daisy necklace in your up 'do on the big day: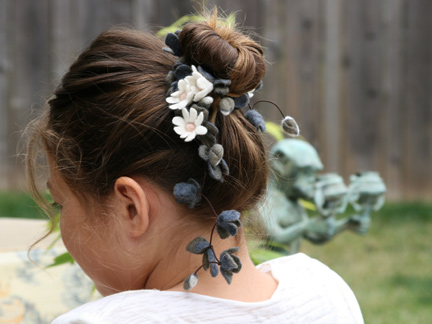 You'll have a sweet memento that will never wilt (hopefully, like your love). Plus, you can wear this vine of buds, leaves, and blossoms in a myriad of ways.
Another knockout flower necklace comes from Sophie Digard: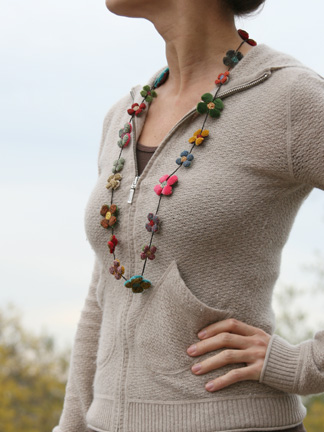 We love how each blossom has a different color scheme on each side—you can spin them and move them along the cord to create a new variation every time you wear it.
Sophie also works floral magic in her scarves and bags. For instance, how chic is this Geranium Handbag?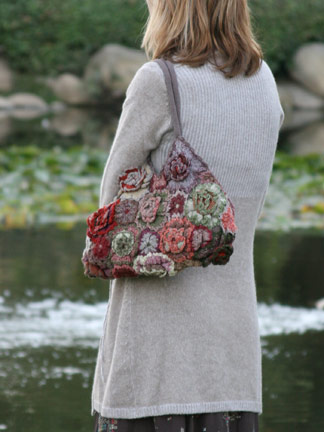 Drop-dead gorgeous with a nostalgic air of romance, this bag's crocheted blossoms must be seen in person to be fully appreciated. Each one is unique and contributes to the garden-like impact of this sweet bag.
At Ped, we even like to wear flowers on our feet!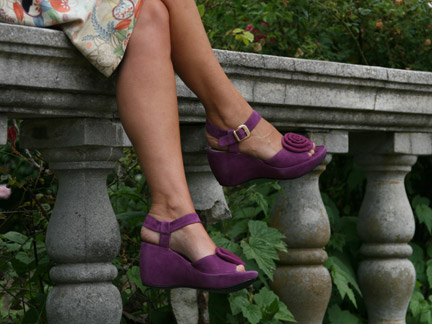 The Accessoire Island wedge, with its pretty rosette on the toe, is one of our favorite styles this season (and Ped's Laura reports it's a treat to wear—cushy and comfortable)!
There are even more petaled pretties to make you smile blooming at the Ped site. After all, there is nothing like the power of a simple flower to remind us that, despite wretched oil spills and ugly intolerance, the world offers so much beauty.
Tags: Accessoire, bag, brooch, felt, floral, flowers, French, handbag, jewelry, Karin Wagner, necklace, Parisian, pin, platform, purse, ring, rosette, sandal, Sophie Digard, suede, Swiss, wedge, wool