Friday, January 14th, 2011
Everyone at Ped HQ is glad the days are finally growing longer here in the northern hemisphere, but it will still be a while before green leaves deck the bare-limbed trees. Which is why we love anything and everything floral this time of year! A few blossoms here and there remind us that, no matter how gray the wintry day, spring is not too far off.
So, even when there's snow, here are a few ways to still have your garden grow.
Swiss textile artist Karin Wagner understands the power of the flower, and her hand-felted accessories are guaranteed to make you (and everyone around you) smile!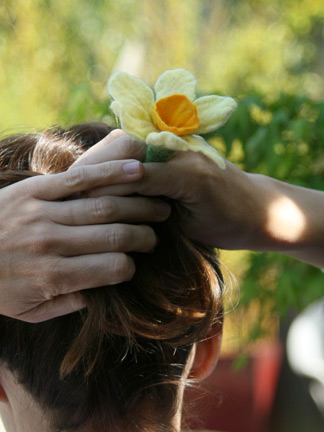 What could be more welcome than Karin's cheerful Daffodil Ring on an icy day? Having a yellow flower blooming on your hand is just the tonic for the mid-winter blues!
If  rings are not your thing, you can always pin a bold flower, like this Edelweiss Brooch, to your winter coat: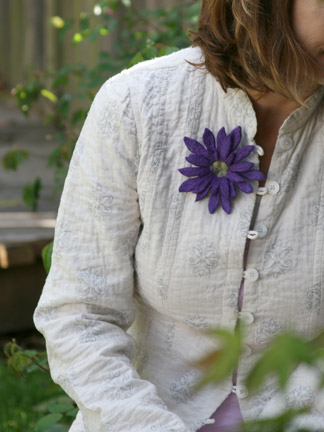 What a way to start a conversation! Get ready to hear the following over and over: "I love your pin! Can I ask where you got it?"
Sophie Digard, that Parisian queen of crochet, has also created a wonderful sprig of flowers to enliven your woolen sweaters: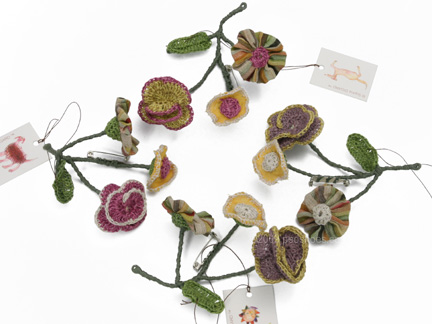 We love Sophie's whimsy in including a striped linen blossom in her Three Flower Brooch.
Several of Sophie Digard's cozy scarves are also abloom with flowers!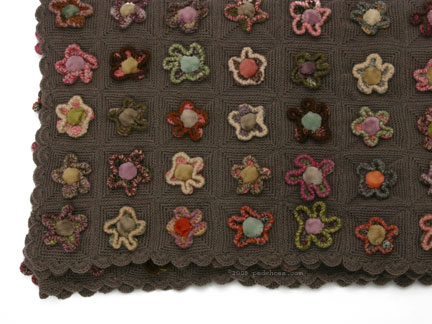 The tufted velvet centers of the one-of-a-kind blossoms strewn across this smokey lavender wool Wildflower Scarf are so charming. (This beauty is also available in a sassafras green linen version).
Another wonderful floral scarf is Epice's Lake Como Scarf: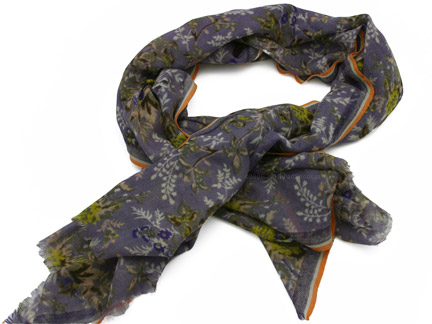 The orange border on this finely loomed wool wonder gives it such zest, plus the Lake Como Scarf is wide enough that you can wear it as a shawl—a garden for your shoulders!
Or you could let Antipast's flower-decked socks sprout on your legs!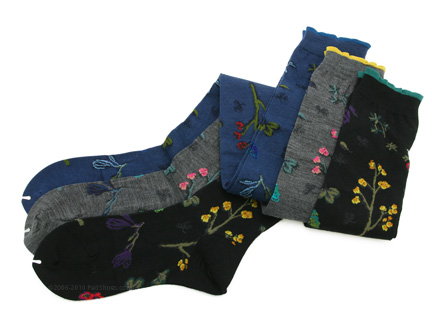 These over-the-knee Source of the Earth cuties would look terrific with a short skirt and a pair of oxfords or ankle boots! They're guaranteed to put a springy spring in your step!
Of course, when I think of fun flowers, my mind always turns to Pepita's Florinda necklace: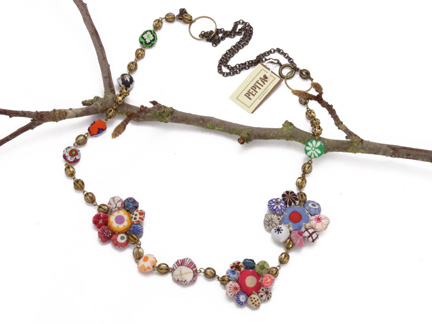 My love affair with Pepita's fantastic jewelry began with this necklace. As soon as I tried it on, it had to be mine! I still smile every time I wear it (which is often)!
So, don't let winter's barren landscape get you down—plant your own garden of style and let the sunshine in!
(And, hey, if you're chilly, have you checked out this week's "sweet treat"? It's Epice's sinfully soft Chevron Scarf loomed from cashmere and wool! Mmmmm! Just click "be sweet to your feet" in the upper right corner of any Ped page to land at the Chevron Scarf with the magic code that will bring you a 20% discount when entered in the box at checkout. De-lish!)