Wednesday, November 17th, 2010
If you're like me, Ped fans, when the days grow short and the temperature dips, my spirit sometimes needs an extra boost. And if that thing that recharges my emotional battery staves off the chill outside, too, then all the better!
Fortunately, we thought ahead here at Ped HQ to make sure we'd have some extra-special treasures arriving in the warehouse to brighten your grey, wintry days. (Of course, they're still fun when the sun's out!) Behold a small sampling of delightful new things just in from Antipast, Epice, and Sophie Digard!
The mother and daughter team, Emiko and Junko, who are the design geniuses behind Japan's Antipast, know a thing or two about keeping things fun while keeping things cozy. Their socks are always the cutest, softest, and toastiest! Case in point, the new Fun Fan Socks:

The winter blues don't stand a chance when you're wearing flowery fans on your ankles! We love these trouser-length sweeties, but we also have a knee-high version!
Speaking of knee highs, our favorite tall sock from Antipast this season is the Airship Knee High: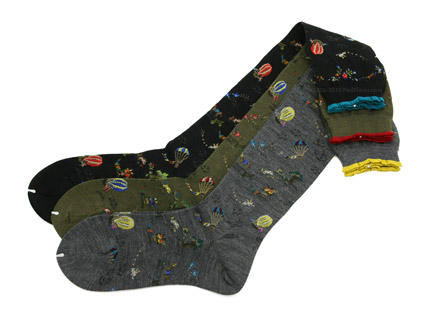 Need to take a break from daily grind?  Just look down at your legs and let your mind float away on a hot-air balloon!
Of course, Antipast's loveliness extends beyond just socks. They also make scarves, arm warmers, and gloves.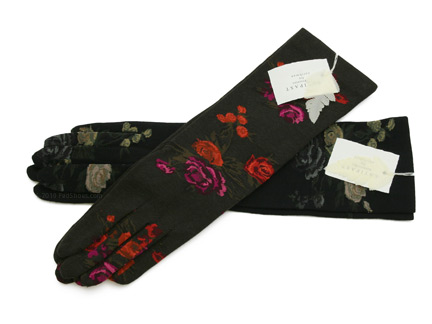 How beautiful are these Rose Gloves? Everybody at Ped HQ practically fainted when we took them out of the box—they're just the thing to pretty up a slushy day!
Another way to bring colorful flowers into wintry weather is with a beautiful scarf from Paris's own Sophie Digard.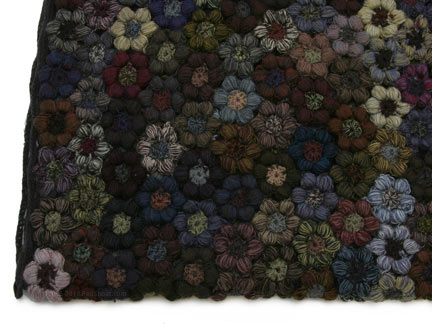 We're especially crazy about this new Freesia Scarf. Like a soft bed of blossoms, this scarf will make you feel wonderful every time you wind it around your neck.
If you prefer something more abstract, check out Sophie's eye-opening Biscuit Pop Scarf: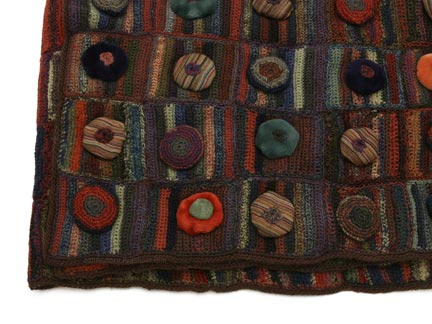 What an amazing amount of labor goes into this wearable work of art! You're guaranteed to turn every head on the street!
We also just received Sophie's ever-popular Flower Petal Necklace in rich autumn colors that will look spectacular with your LBD at holiday parties!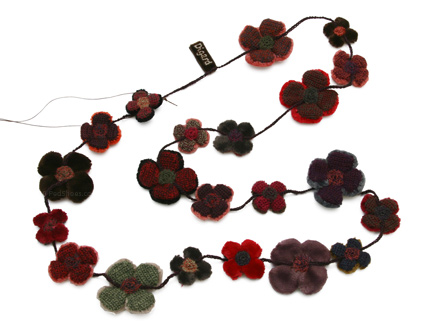 A mix of velvet and crochet, this necklace simply could not be any prettier! And did you know that the two sides of each flower are different and allow you to spin and slide them on their cord to create endless variations? So fun!
Maybe you're looking for something that can work both as a scarf and as a shawl, in which case, Epice has an expanse of luxury with your name on it!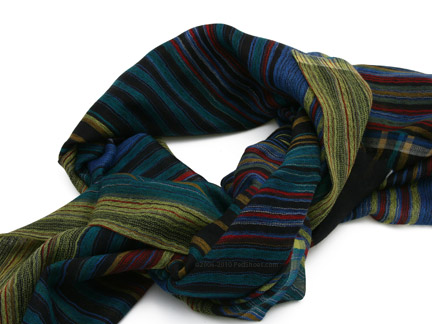 Everyone at Ped loves stripes, stripes, and more stripes, so this finely loomed wool Morocco Scarf has us swooning!
And if you want to up the luxe ante, nothing does that like cashmere! Epice's wool and cashmere Chevron Scarf is like a soft and cozy piece of heaven!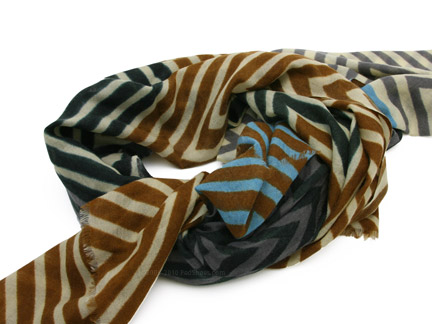 Wrap this beauty around your shoulders and just say, "Aaaahhhh!" You might even start to wish it was winter all the time.
These things are just a few of the wonders in the treasure trove that awaits you at Ped's main site! On a cold and dark day, a little indulgence can go a long way.
(And speaking of wonderful indulgences, don't forget to check out this week's "sweet treat" because it's especially delicious: Chie Mihara's Jupi! Get the sexy schoolgirl look for 20% off by clicking "be sweet to your feet" at the top of any Ped page, which will whisk you to the Jupi and the magic code for you to enter at checkout! Yum!)