Wednesday, August 25th, 2010
So many beautiful fall styles are arriving in the Ped warehouse that we hardly know what to show you first, Ped fans! One definite go-to look this season is ankle boots worn with anything and everything. From shooties that hit right at the ankle to short boots that don't quite reach the calf, there's a bootie in the house for everybody's style, from girly-girl to badass to fairly straight-laced (Ped never quite makes it all the way there, as you know).
Here are a few of the latest lovelies to inspire low-boot lust.
Topping the list, Fiorentini + Baker's new Paula: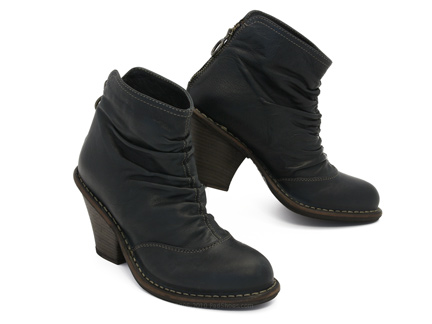 Wow, there is nothing like Italian ingenuity when it comes to craftsmanship and get-out-of-town style! With ruching down the front and a zipper up the back, this boot rocks out on a chunky 3″ heel! We love the deep blue color with contrasting off-white top stitching, but the Paula also comes in pure black. Every season, Ped's Laura gets a mad crush on one style (remember, it was Accessoire's Island this past summer?), and for fall, the Paula is IT!
Another F+B winner is the new Mix!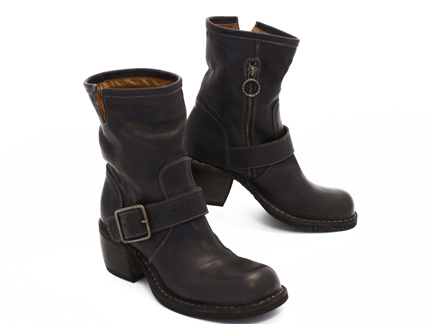 This gorgeous low boot is the love child of the Eli and the Mike; it's got the Eli's popular 6″ shaft height and single buckle strap and the Mike's chunky, take-no-prisoners heel! What a kickass combination!!! Plus, we love, love, love F+B's new rabbit grey color, which is a soft dark grey tinged with brown. But if you're like me and can't get enough green, the Mix also comes in lush forest green.
Speaking of green, if you're looking for a flat, knock-around-town bootie, check out Cydwoq's Tourist: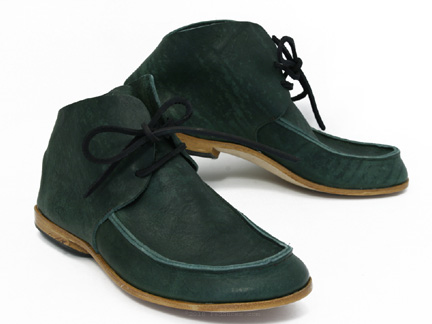 Cydwoq's Rafi has passed on his design know-how to his son, Ari, who has been refining this style for a few seasons, tweaking this and that detail, all leading to the Tourist! The pebbled leather is luscious, and the exposed seams around the rounded toe are just the right detail. And if green doesn't float your boat (how can that be?), this comfortable shootie also comes in royal blue.
Lacing is also used to good effect in Argila's Olivia: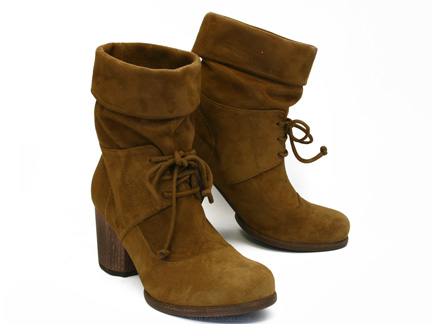 You can't imagine how wonderfully soft this boot's caramel suede  is! Talk about buttery! And the cuff at the top lets you unfold it for a little extra height, if you like. The crowning touch (well, soleful touch) is the chunky but lightweight wooden heel!
"That's all very well and good," you may be thinking, "but what about something sweet and girly?" As usual, Chie Mihara has your back, er, foot: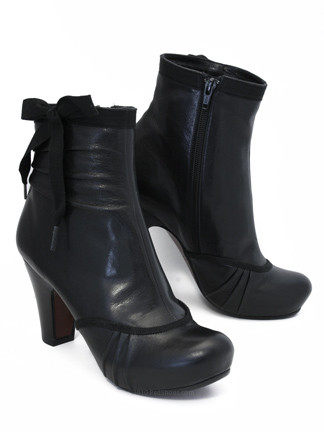 So chic, Chie's new Crusade is a taller, flirtier version of last year's Piet . A few gathers on the toe and a bow at the ankle are all you need to be a femme fatale!
Perhaps, though, you want  your ankle boot to make a bold, art-a-liscious statement. Look no further than Trippen's Fence, now available in metallic steel leather!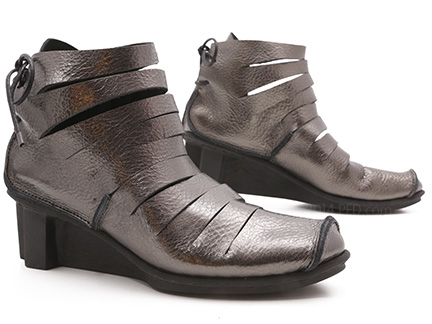 So urban and edgy, this boot does the talking and the walking! As if its stylish good looks weren't enough (did you notice it laces up the back?), the Fence stands on Trippen's famously comfortable t-shaped wedge that let's you walk all day, turning heads everywhere you go! (And, yes, it also comes in black.)
Those are only the beginning of the ankle boot options that abound over at Ped's main site. (There are scads more!) So, this fall take it low, and you're good to go!
(Although not an ankle boot, this week's "Sweet Treat" is still super cute: Cydwoq's emerald green Forbid. Look like a million bucks for 20% off by clicking "be sweet to your feet" in the upper corner of any Ped page to reach the magic discount code.)