F + B 4Ever!
Ped fans, let's all take a minute to appreciate that fate brought together Italian interior designer Gianpaolo Fiorentini and British shoe virtuoso Deborah Baker! Their combined genius created the powerhouse that is Fiorentini + Baker, everybody's favorite bootmaker!
And with good reason—F+B uses old-school Italian cobbling techniques to turn leathers and suedes of the highest quality into timeless styles with a modern sensibility. Fiorentini + Baker pays close attention to every detail of every design, and does it ever show! Better still, F+B's meticulously crafted boots feel as wonderful as they look and last a lifetime.
This fall Ped adds three new styles to our expanding F+B family, and we're offering several longtime favorites in fresh colors! Bella, bella, bella!
We humbly suggest you consider F+B's new Pansy your new BBF (Best Boot Friend):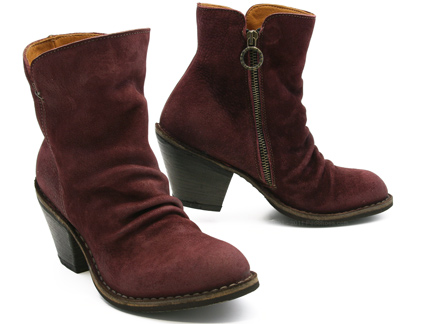 So simple in its design yet so breathtaking in its impact, this gorgeous suede number looks smashing with any length skirt, and it's just as fab with jeans! The Bordeaux wine shade of the suede is delicious, but we also carry the Pansy in a rich brown—utterly beautiful!
A perennial question we hear at Ped is, "Do you have cowboy boots?" Thanks to Fiorentini + Baker's new Enola, we can finally answer, "Yes, ma'am!"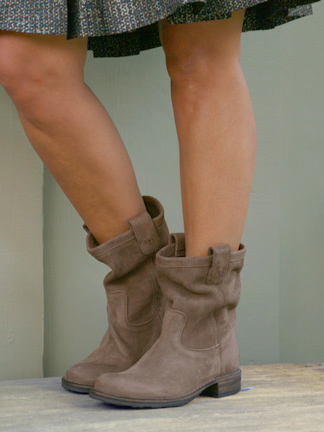 The classic ranch style has undergone an Italian makeover to turn it into an urban knockout! The flirty Enola is crafted from the supplest suede to give it a sexy slouch! Here's a happy conundrum: How to choose between the grey ice (pictured) and dark brown versions?
Looking for something with a little attitude? Let your inner rocker chick out to play in Fiorentini + Baker's new Celia: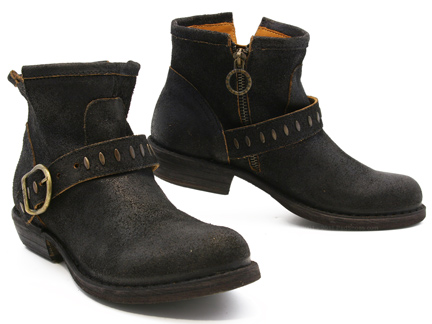 The brass studs arcing across the buckle strap drive home the Celia's take-no-prisoners approach to style! What a kickass way to become the talk of the town!
Now that you've met our three new boot beauties, say hello to several old friends in new colors!
Look how lovely the double-buckled Emmy is in Bordeaux wine: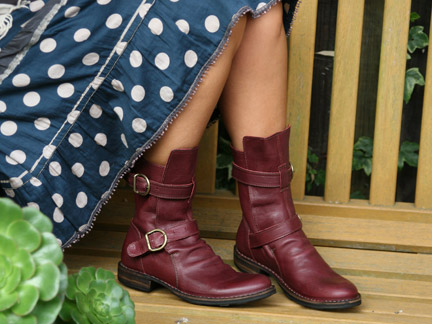 Of course, we also have the Emmy in black, blue moon, anthracite (Laura's fave!), and sand (which is currently on sale—act fast!).
We've also added a luscious grey suede version of F+B's ever-popular Eternity boot: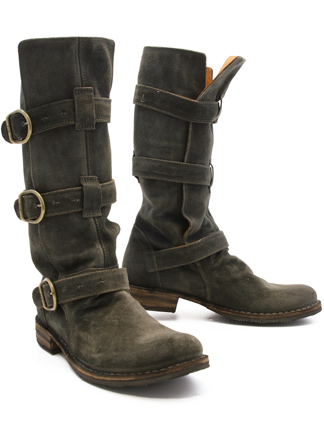 Don't worry, purists, we still have the Eternity in black and brown, too.
Speaking of black, we're introducing a black edition of Fiorentini + Baker's Edel (the tallest boot we carry):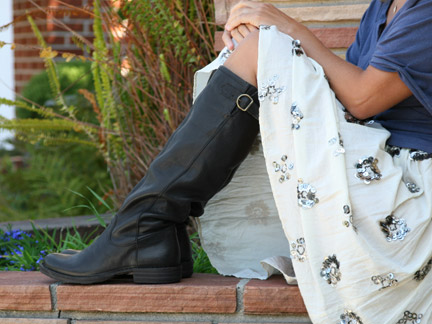 We also carry the Edel in dark brown, the version that won everyone's heart!
And there are several more new F+B color ways awaiting your discovery at Ped's main site! If you've yet to experience Fiorentini + Baker's Italian charms, why not take the plunge? We guarantee you'll instantly become a card-carrying member of the F+B fan club!
Tags: ankle boots, black, boot, booties, boots, bordeaux, brown, buckles, Celia, cowboy boots, Edel, Emmy, Enola, Eternity, Fiorentini + Baker, gray, grey, Italian, leather, Pansy, suede, wine