Sunday, September 2nd, 2012
Knee-high, mid-calf, and ankle—those were the three basic boot heights for what seemed like forever. But a couple years ago, three newcomers jumped in to jazz up the mix: shootie, low, and over-the-knee. The low boot, with a shaft falling somewhere between ankle and mid-calf height, quickly became a fan favorite with its rock 'n' roll vibe! Let's take a look at some of Ped's low-boot hotties:
If you want a boot unlike any other on the street, Argila's Celia is guaranteed to please: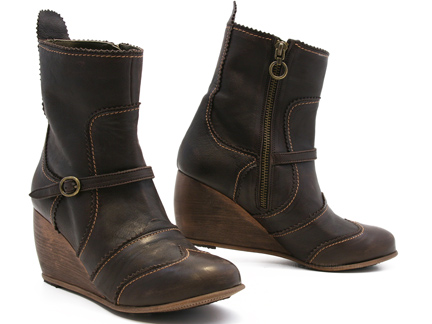 The seaming and the leather's pinked edges make this boot a head-turner! We also like the effect of the unexpectedly demure ankle strap, and let's not forget the wooden wedge! All the parts are beautiful, but the sum is even better!
Another boot that puts a lot of details to good use is the new Cydwoq Pilot: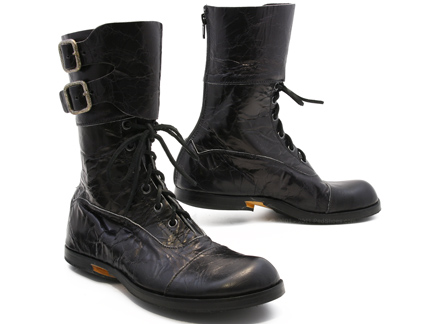 This bad grrl of a combat boot is ready to wage war on the battlefield of style! In its rock 'n' roll arsenal: a sexy zipper up the back, grommeted lacing in front, and two kickass buckles at the top!
Too many bells and whistles? Perhaps the new Cydwoq Statue is more along the line of what you have in mind: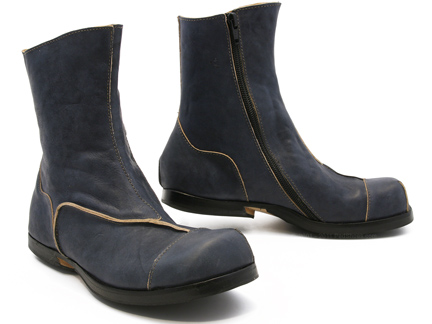 The way those wizards at Cydwoq cut leather is truly a thing of beauty! We particularly love the contrast of the natural edge along the exposed seams with the blue of the Pilot's luxe leather!
Blue is one of the IT colors this season, but color in general is big on the streets. If you're ready to do hue, consider lacing up the Trippen Fountain:
Fun and funky, this boot is guaranteed to steal the scene wherever you walk—and you can walk anywhere, thanks to Trippen's famously comfortable t-shaped rubber wedge! We love the Fountain in spring green, which looks great strolling through the fall leaves, but this low-boot lovely also comes in a washed blue!
As always, there are more low boots to love at Ped's main site. (Also, as always, Fiorentini + Baker offers some of the best, like the ever-popular Emmy and versatile Ella.)
Stay tuned—in our next installment we're booting it up to mid-calf!