Monday, November 12th, 2012
Well, we took a little hiatus from our exploration of the spectrum, but we're diving back into color today! You probably won't be surprised to learn I saved my favorite color for last: GREEN! Ped fans know how much I adore all things verdant, and this season I'm in heaven—so many shades of green, all lovely! Let's take a tour, shall we?
Since ankle boots are de rigueur these days, let's start with Trippen's splendid Pillow: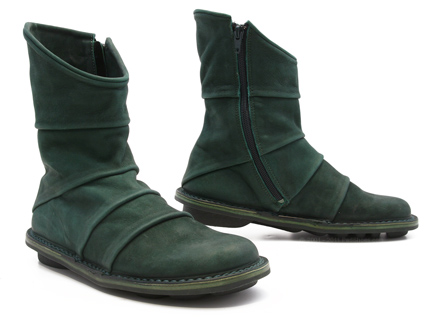 The forest green color of the vegetable-tanned and washed leather is so refreshing—you can practically smell pine needles when you look at it! Artsy without being over-the-top, the Pillow is definitely a German treat for your feet!
Another great Trippen low boot, the Fountain, shows off our favorite leather trend: colorful exposed seams!
Something about this lace-up boot makes us thing of grasshoppers—maybe it's the deep green body complemented by the light green laces and exposed seams? Whatever the reason, the Fountain makes us smile! And its comfort is sure to make you smile, too! (Want the Fountain in blue? Your wish is granted!)
Taking things down to shoe level, green adds zing to several kick-around flats, like the Cydwoq Downhill:
If you're looking for a shoe to walk from here to there and back again, season after season, put the Downhill at the top of your list! The roomy toe box and excellent arch support make it a friend you'll want to wear every day! And the more you wear it, the better it gets!
Another fantastic shoe to leave by the door (since it's the one you'll lace up day in and day out) is Cydwoq's Mud Doctor: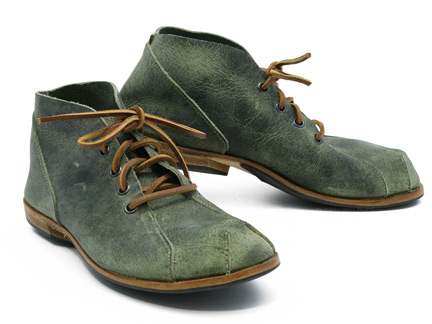 The combo of the natural leather laces with the delectable sage green leather is yummy in every way! Cydwoq's Mud Doctor is just what the doctor ordered! (FYI, we also offer this foot tonic in chocolate brown.)
Trippen takes the lace-up shoe and gives it a twist, putting the lacing in back! We love it! The Trippen Oven is cooking with style gas: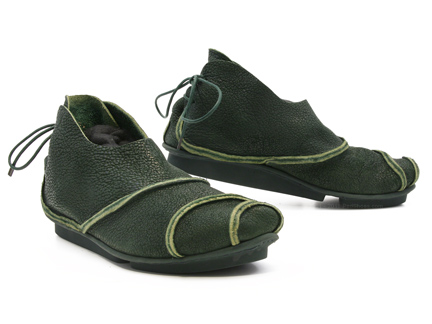 Not only is the Oven delightful to look at, it's also delightful to wear, thanks to Trippen's ultra-lightweight "Penna" rubber sole. Tie up the back of this organic green cutie, and dart around town like a forest sprite!
Maybe you're thinking, "Fine, fine, all green and beautiful, yes, but give me something girly!" Chie Mihara knows just what you want! Drink in the loveliness of the Ilaria: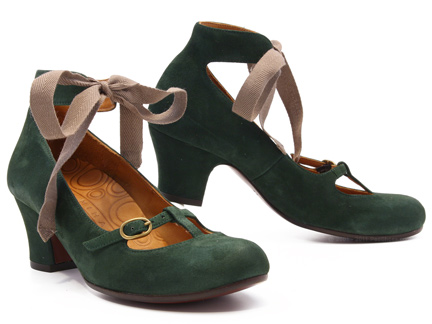 Feminine and fun without being prissy, the Ilaria is a vision in green suede! We especially like the way the taupe twill ribbon at the ankle adds contrast in texture as well as color! When you step out in this beauty, everyone will be green with envy!
Winter days may be grey, but you'll do the world a world of good by being seen in green!
Before we go, here's a tip for our Facebook friends (and if you haven't yet "liked" us, please do). You may have found yourself frustrated that Facebook isn't showing you all of Ped's posts. Well, Facebook has a new way to ensure you hear what's what with Ped! On the Ped page, hold you mouse over the checked "Liked" button up on the right under Lulu's picture. When the drop-down menu appears, check "Get Notifications." Now you'll always be in the Ped know!