Thursday, October 14th, 2010
Hello, Ped fans! Sorry to leave the blog untended for so long, but I have the best possible excuse: I was shoe shopping for you in Milan and Paris! And, wow, is there a lot to look forward to next spring! Not only will Ped have the latest from your favorite designers, but we're bringing back NDC from Belgium and adding Vic Matie sandals from Italy.
I began my style hunt in Milan, where the shoe show had an ultra-hip, retro-70s aesthetic.
Of course, I ran into several of Ped's treasured designers. It's always a treat to see Chie Mihara!
And here's the lovely Ellen Verbeek, one of the latest additions to the Ped family. (If you haven't checked out her gorgeous wood-soled boots yet, you really must!)
After Milan, it was off to Paris for another shoe show (tis the season).
I managed to get three of Ped's favorites in one shot! Check it out:
You may be wondering what trends I discovered. Well, next spring is going to be very colorful; I ordered shoes in red, yellow, grey, teal, navy, caramel, along with lots of metallics, which continue to sizzle. Look for studded detailing on bags and shoes. Also, wedge heels—both wood and cork—are all the rage. And Chie's line for Spring 2011 features lots of contrast stitching and mixes of suede and leather.
Perhaps my favorite trend is oxfords worn with skirts or cropped pants and no socks! Love that! Two looks I don't care for, though, are thick socks with heels and nylons worn with peep-toe wedges. Ugh!
I became a little obsessed with photographing the wide range of shoes the buyers and sellers were wearing at the show. Here's a sampler of what the shoe pros were sporting in Paris: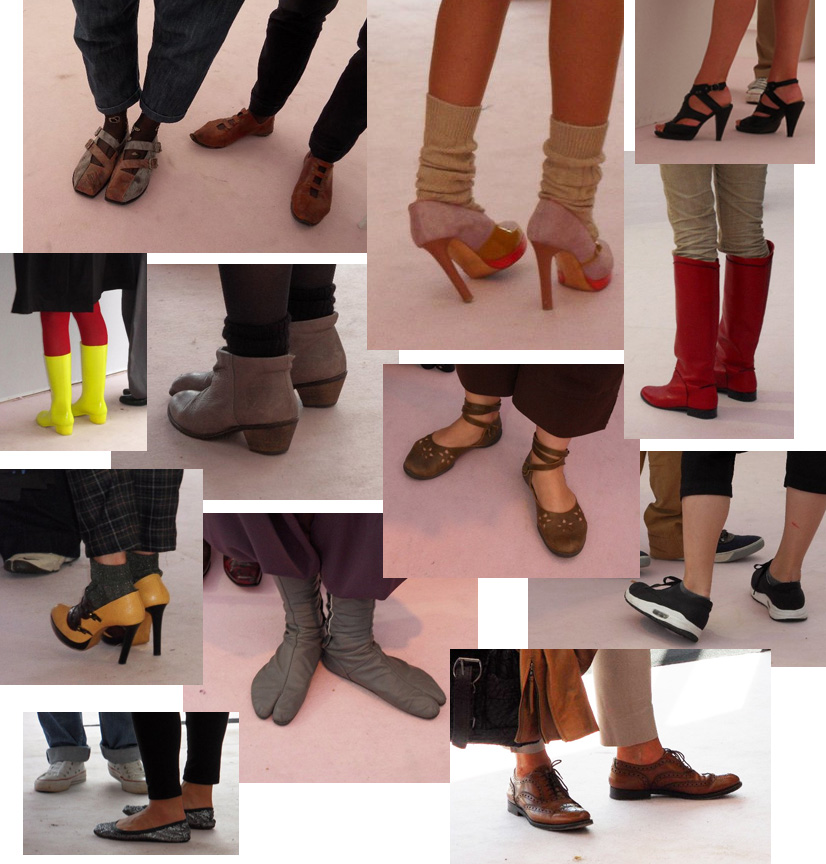 Honestly, two of the best parts of the day were walking to and from work because my route let me stroll through the beautiful Jardin des Tuileries, which looked particularly spectacular blooming with fall flowers.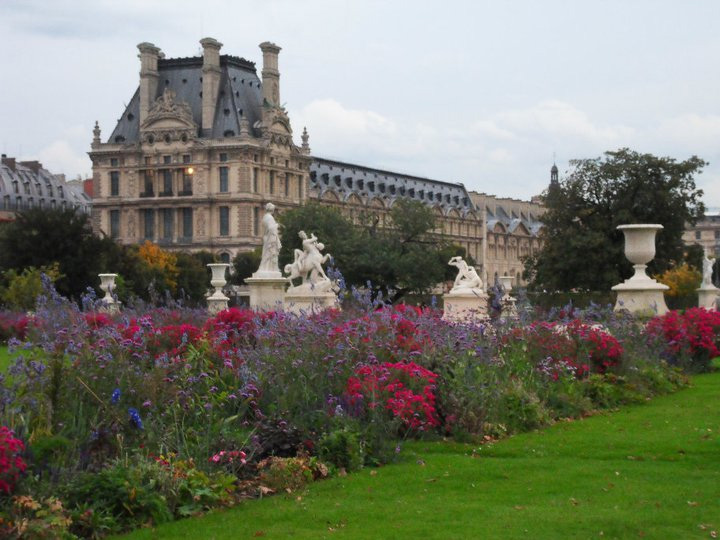 Aahhh, I love Paris in the autumn!
(By the way, in case you haven't discovered it yet, this week's "sweet treat" is Ellen Verbeek's knockout Camille Boot! Get 20% off this Belgian stunner by clicking "be sweet to your feet" in the top right corner of any Ped page, which will instantly take you to the Camille and the sought-after discount code!)