Thursday, August 30th, 2012
The variety of boots this fall is virtually endless: flats, heels, wedges, lace-ups, buckle-straps, laceless, rugged, girly, rock 'n' roll, etc. Every woman can find one (or two or three) she wants, but wading through all the options can take quite a while.
So to make browsing more bite-sized, we've decided to offer several quick samplers of Ped's boots, arranged by height. Every blog post for the next few days will be like a tasting menu—or boot tapas, if you will! Enjoy! It's all delicious!
Today's installment focuses on ankle boots that are barely boots (they just made the height requirement to get on the coaster). Sometimes called "shooties" because they walk the fine line between shoes and booties, these designs may have short shafts, but they're long on style!
Since we were singing the praises of Pep Monjo yesterday, let's start with a sweetheart from the company he founded, the Argila Anna: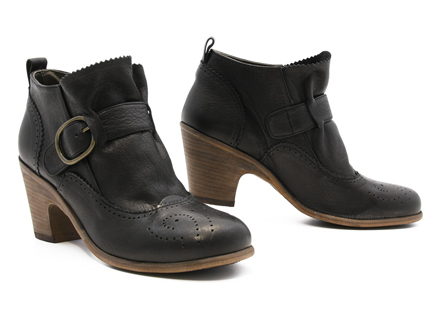 Like a femmed-up version of a motorcycle boot, the Anna charms with a perforated design over the toe and a supple front, pinked at the top and cinched into a loose ruffle by the buckle strap. Pretty and practical, this little boot goes with everything!
Another versatile beauty is Coclico's Rilke: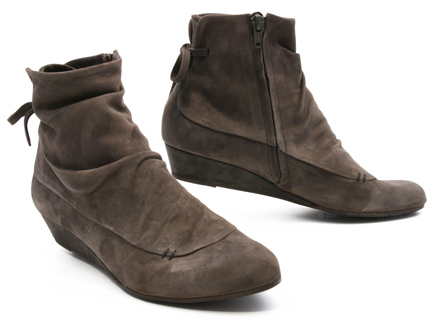 We love the tie and tongue at the back—it's always fun to give those behind you something to see! Plus, the Rilke is made of the softest grey suede imaginable!
Looking for something with a little more va-va-va voom? See what you think of Cydwoq's Elevate: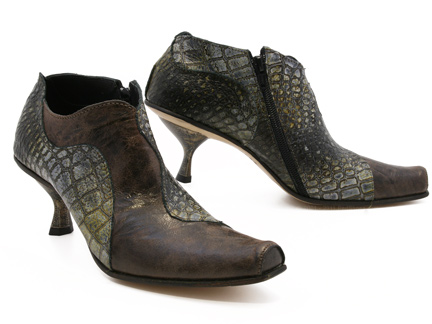 This is one of our favorite new styles from Rafi and Ari at Cydwoq! The serpentine curves and mix of leathers is simply spectacular! Choose from either brown and silvery faux croc (pictured) or black and burnout paisley pony (perfect for you steampunk lovers).
Nice, you say, but you want a boot with "go big or go home" boldness! Well, Cydwoq's Indies has that and then some: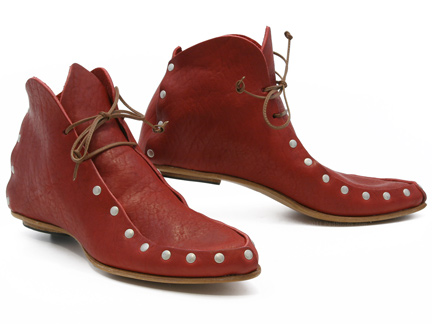 Rock 'n'roll, sister! Cydwoq's riveted red lace-up will have everyone wishing they were in your boots!
These are just a few of the low-riding lovelies over at Ped's main site. (For instance, we know we just showed you the Fiorentini + Baker Celia a few days ago, but it really is worth oohing and aahing over again!)
Be sure to come back tomorrow when we take things up an inch or two!