Wednesday, September 5th, 2012
Ped fans, we're gradually inching our way up the leg in our exploration of all things boot and beautiful! Today, we sample variations of a perennial favorite, the mid-calf boot. Neither short nor tall, like all good things (including porridge at the three bears' house), it's just right! Let's take a look:
Cydwoq has elevated designing mid-calf boots into an artform! Truly, it's their forte, as evidenced by the new Surgeon Boot:
The pewter leather treatment is stunning, especially in contrast with the cage-like overlay of matte brown (which you may remember from the Cydwoq Artisan, which we showed you a few days ago). But what makes Cydwoq mid-calf boots especially fantastic is the dip in back that comfortably accommodates a range of calf sizes!
Another Cydwoq boot that zips up the back is the traffic-stopping Bend: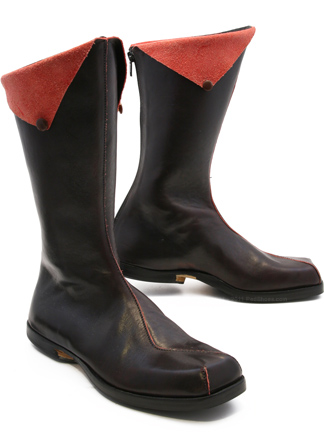 The crimson underside of the luxe black leather is beyond juicy! If you want to start conversations everywhere you go, zip up the Bend and get people talking!
Looking for something a little more girly? Then check out the most sensational boot of the season, Cydwoq's Rescue Boot: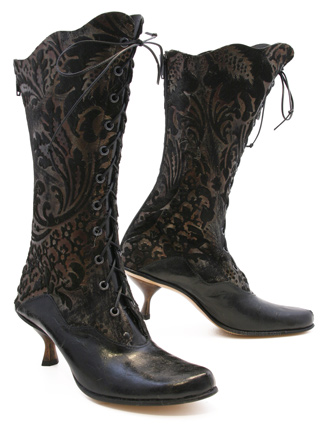 If you've seen steampunk fashion, which melds 19th century romanticism with science-fiction fantasies of the future (think Jules Verne), you know what a dream come true the Rescue is! From the metallic-hued heel and bronze undertones of the burnout paisley pattern to the scalloped top and lace-up front, this boot is smashing!
Finally, to put an exclamation point on this mid-calf medley, we give you the most popular Ped boot ever—a classic that looks perpetually modern—the Fiorentini + Baker Eternity Boot: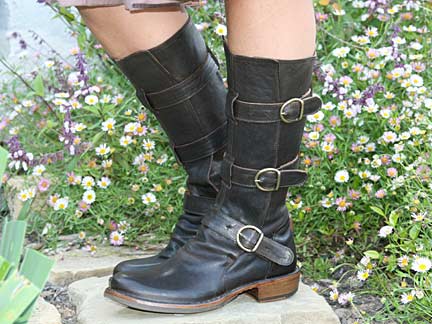 Like the Cydwoq boots above, the Eternity accommodates almost any calf size, thanks to its two-part shaft construction and trio of adjustable buckles. We could go on and on about the quality of the Italian craftsmanship, but the bottom line is this boot looks kickass! Choose either dark brown (pictured) or black leather, or opt for grey suede—every version is awesome!
As you can see, half-calf is where it's at!
We still have one more stop, a few inches higher, before we complete our foray through Ped's fabulous boots. Stay tuned for tall boots tomorrow!
(By the way, this week's Sweet Treat is a rockin' boot made for going from summer to fall: Trippen's Agave! Just click "be sweet to your feet" in the upper right corner of any Ped page to reach the Agave with the magic code that will bring 20% off at checkout!)