Tuesday, May 22nd, 2012
Whenever June gets close, we still get that giddy feeling we had when we were kids and counting down the days to summer vacation. (Here's what's running through our heads!) Whether your ideal holiday is hanging out in a Montana mountain cabin, shopping on the Champs-Élysées, or lounging on a Balinese beach, one thing is certain: the key to a happy getaway is comfortable shoes, good for walking all day or kicking back with a cocktail! So without further ado, here are a few of Ped's ideal traveling companions.
One of the most charming styles this season is also one of the most practical: Accessoire's Suisse!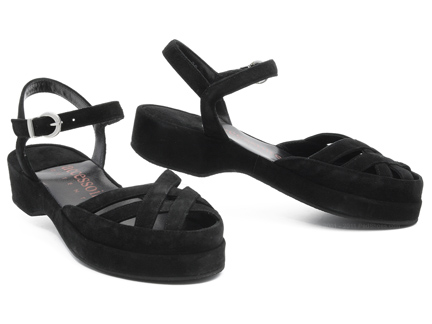 Airy! Chic! But with added protection for your toes! This sandal easily transitions from day to night when you only want to pack one pair. We like black for travel because it goes with everything, but if you prefer a jolt of color, the Suisse is also available in summery green.
Another great sandal for meandering through bazaars or taking a stroll down the boardwalk is the Cydwoq Cobra.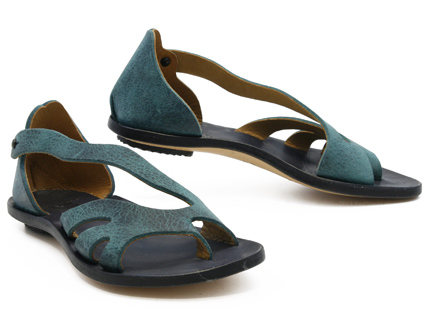 As Vicky E. told us in her "Tale of the Sole," Cydwoq sandals are great for ambling around ancient ruins, yet they're stylish enough for  evening drinks al fresco! We especially like the Cobra because its enclosed heel doesn't impede the ability to just slip it on and go!
Lots of people prefer an enclosed toe for catching trains, planes, and rickshaws. With Cydwoq's Rocket, you can have a full shoe and breeziness, too!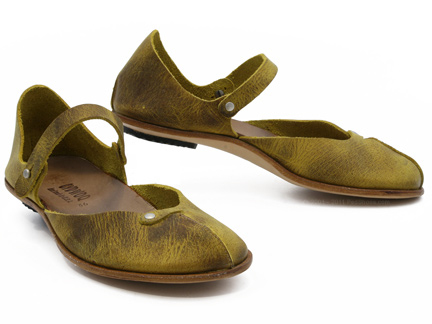 We love the tab and tiny window over the toe. Plus the color is so much fun! Other travelers will definitely want to know where you got your fantastic shoes!
A Cydwoq style just made for the life of leisure is the Orient: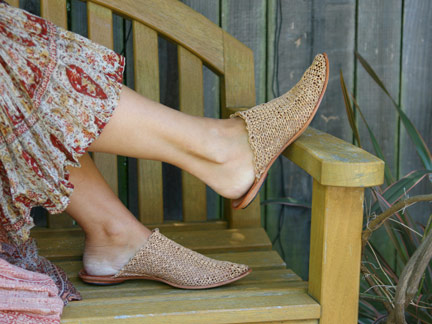 Effortlessly chic! And isn't that what we all want to be on vacation? The Orient's knit leather is so cool, both literally and figuratively! (It also comes in black, although sizing is limited since that color flew out the Ped warehouse door.)
Trippen is another company whose shoes are designed for walking, walking, and more walking. One of the best travel sandals this season is the Sensual: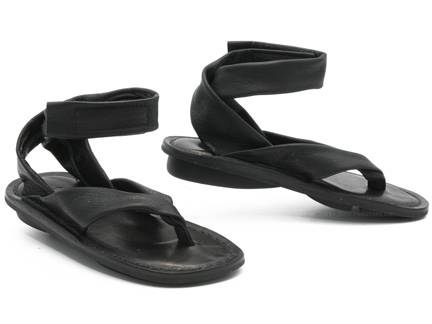 You simply have to feel the leather of this great flat to believe how deliciously supple it is! The design holds your foot securely through a long day of sightseeing, but it instantly becomes elegant when you slip on a LBD for a night on the town.
Looking for more of a moc for your days away? Consider Trippen's Chip: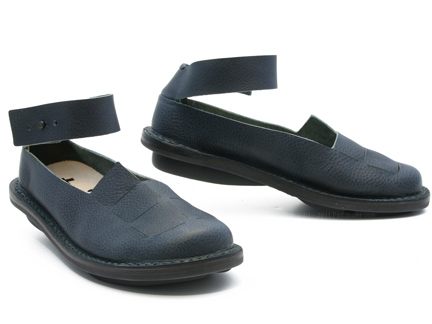 The asymmetrical design adds flair, and the slits on the toe box add ventilation! Perfect for moseying from here to there and back again on a hot day!
If you like the idea of a full shoe, but you want to stay light on your feet as you travel, then Trippen's Cream is calling your name!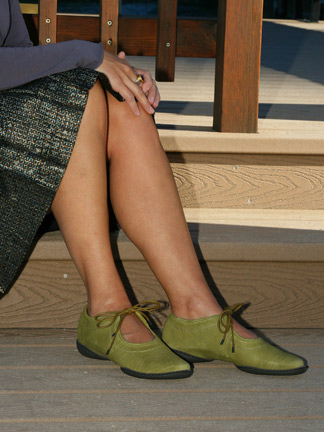 Ultra soft and ultra comfortable, this simple shoe is constructed on Trippen's "cups" sole, which will keep you nimble no matter how many miles you log. The pistachio color and double laces will have you smiling the whole way.
There are lots more travel-worthy options over at Ped's main site! No matter what your destination, a new pair of comfortable shoes or sandals is just the ticket to get your trip off on the right foot!
(Speaking of shoes that feel wonderful, Trippen's Aloe is this week's stellar Sweet Treat! Just click "be sweet to your feet" in the upper right corner of any Ped page to land at the Aloe with the magic code that will bring 20% off at checkout. Get the wedge edge!)