Sunday, October 14th, 2012
Ped fans, sorry to leave you hanging! We meant to give you another color infusion much sooner, but this, that, and the other thing kept us from it. Nevertheless, it's never too late to sing the BLUES! Definitely one of the "it" colors, blue comes in myriad shades this fall. Let's explore, shall we?
If anyone knows a thing or two about color, it's Chie Mihara! Check out her blue-licious Zuli heeled oxford: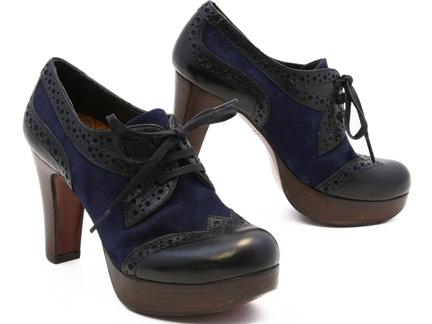 The platform may be '70s retro, but the styling is utterly modern. The Zuli's combination of matte black leather (love the perforated edges!!!) and cobalt blue suede is mesmerizing!
Need something a little more conservative (but not too) for the office? Cydwoq's Trasmit is just the semi-rebellious ticket: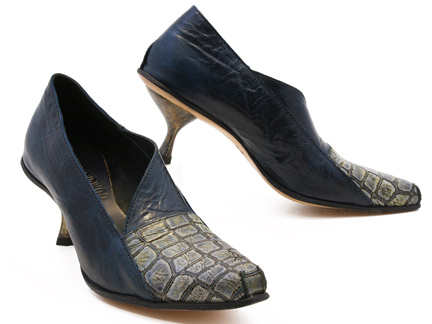 How cool is this lake-blue pump? Sure, it's "lady" enough to wear with jacket and skirt, but that faux croc toe let's everyone know you're ready to take a bite out of them with your style!
If you like that particular shade of blue but want something casual, consider lacing up the Cydwoq Display: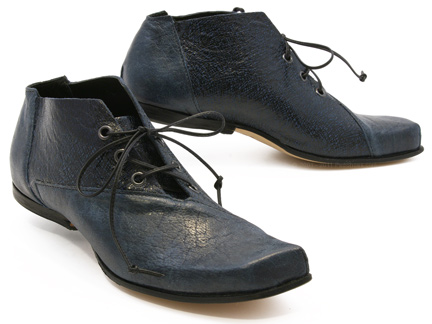 Cydwoq remakes the oxford in a new way, with angled edges and a squared-off toe! And the lake-blue leather once again looks luscious!
Cydwoq takes blue into boot territory with the terrific Statue: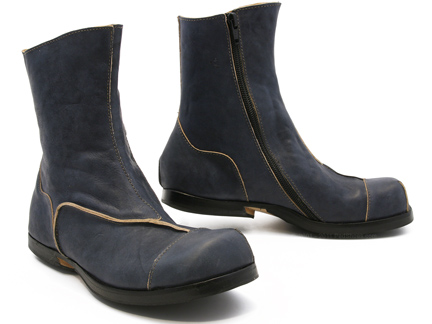 The way the design shows off the natural edge along the exposed seams, in contrast with the Statue's inky blue leather, is stunning! What a rock star—this low boot will have people asking for your autograph!
Natural-edged seams also amp up  the charm of Trippen's California bootie: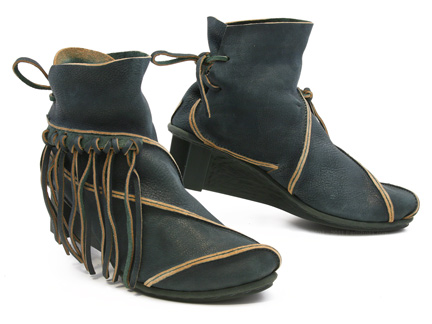 The tumbled leather of this back-laced lovely is sooooo soft, and the petrol hue is a muted teal blue. Fun, funky, and comfortable—Trippen does it again! Swing that fringe!
Another blue boot that will be your true-blue friend forever is Fiorentini + Baker's Emmy: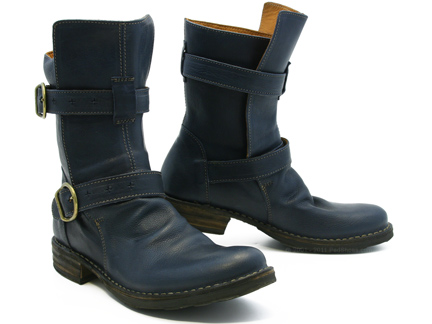 As many of you have discovered, the quality of Fiorentini + Baker's craftsmanship make their boots worth every penny! We particularly love how the Emmy's tough-girl design looks in this romantic Blue Moon color—as pretty as a night sky!
But maybe buckles, laces, and zippers are not what you have in mind; all you want is an easy slip-on in a cool color. Behold the Vialis Kate!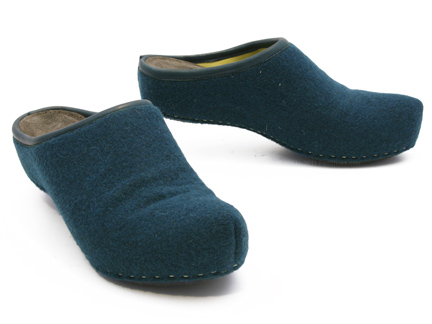 A clog unlike any other you'll encounter—the leather-lined wool felt will bring the house down with its rich petrol color! But the Kate's beauty is more than skin deep; it also feels oh-so comfortable on, with a curved sole designed to roll with the motion of your stride!
Our last blue indulgence doesn't quite follow the rules, but it's just so cool we can't resist including it! Take a gander at Trippen's Treasure: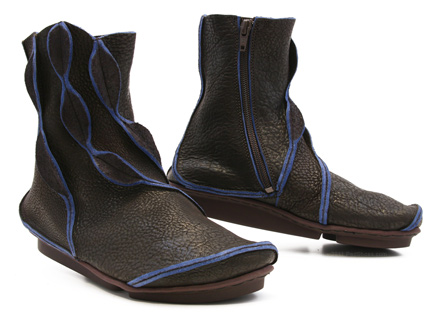 This brown boot gets its high-voltage "wow' from its electric-blue edges! The exposed seams open and close to flow over the boot in wavy rivulets! Beyond gorgeous! When you want to wear a show stopper, your fortune lies in the Treasure!
So many blue-tastic choices—luckily, every option is a winner! Who knew having the blues could be so much fun?
(By the way, you have until Tuesday to snag this week's blue-edged Sweet Treat: the Trippen Wind Boot! Click "be sweet to your feet" in the upper right corner of any Ped page to land at the Wind with the magic discount code that will bring a sweet 20% off at checkout!)