Monday, May 19th, 2014
Ped fans, today we invite you to get high—on sandals, people, on sandals!
For the final leg of our three-part tour through Ped's strap-happy styles, we continue our ascent by sampling high heels and platforms! In short, it's time to go tall!
When it comes to kicking things up a notch, Chie Mihara is the queen of adding height while keeping soles happy. Exhibit A: the Chie Mihara Alicante: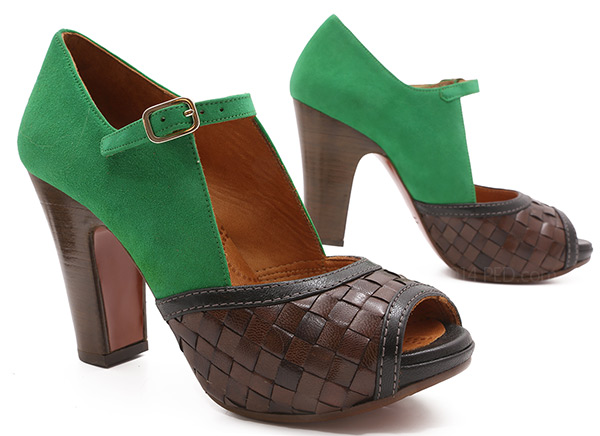 What a feast for your feet, from the green suede in back to the woven brown leather up front! And thanks to Chie's understanding of ergonomics and anatomy, the 3.75″ heel is a treat for your dogs that will keep them from barking and whining, even after hours of walking!
Suede also plays a starring role in Chie Mihara's well-named Amor! Buckle up and fall in love: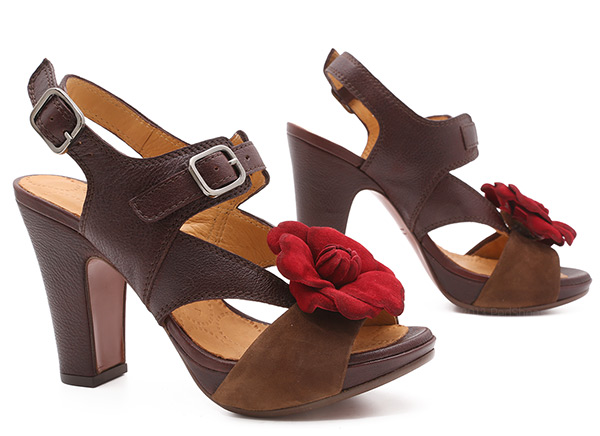 Ay dios mio! The Amor's heel is a statuesque 4″, but Chie's signature footbed and the 1″ platform under the ball of your foot mean it's a breeze to wear!
If you're looking for a heel that's a little less showy but still chic, perhaps the Chie Calenta could be your cup of tea: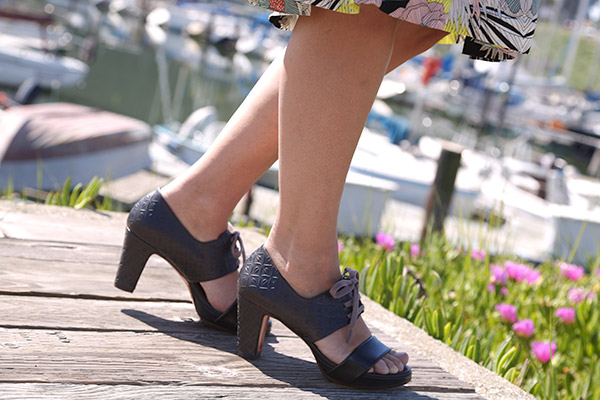 This unusual lace-up is one of our personal favorites this season because it's so versatile, plus the embossed black leather is gorgeous!
Of course, one of our favorite ways to add height without hurt is to step onto a platform, like Coclico's Merin: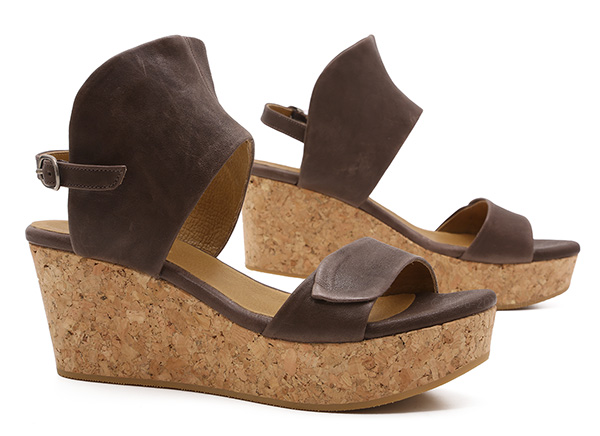 The leather is luscious, the cork is lightweight, and the look is urban without being pretentious! Best of all, because the platform slopes from 2.75″ in back to 1.25″ up front, the pitch comes in at an easy-peasy 1.5″.
Another Coclico wedge that's won our hearts is the Mosaic: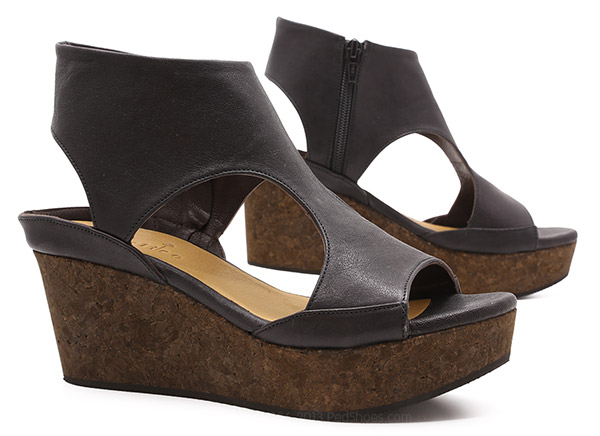 Such sauciness! This femme fetale brings together the best of an ankle boot with the airiness of a summer sandal. We particularly like the little lip that rims the heel, which offers a little extra security and edge.
Fiorentini + Baker also works wonders with a cork wedge, as evidenced by the knockout Dany: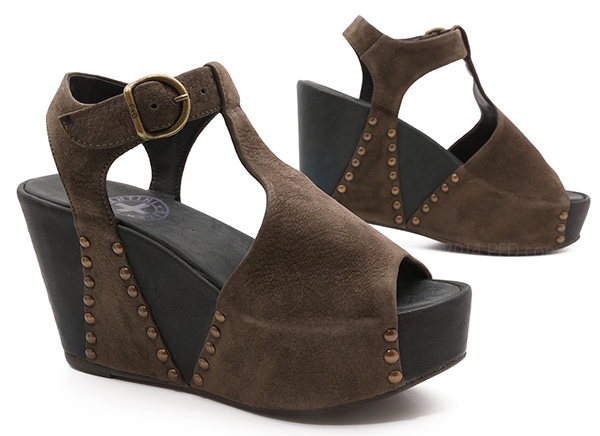 With attitude to spare, the Dany stops traffic with its be-studded brown suede that extends down over the the black leather-covered platform, which slopes from 3.5″ in back to 1.5″ up front. You don't have to be a rock star to strut like one!
Finally, let's again drink in the beauty of the Trippen Mikli, which we first oohed and aahed over in our post celebrating wood soles: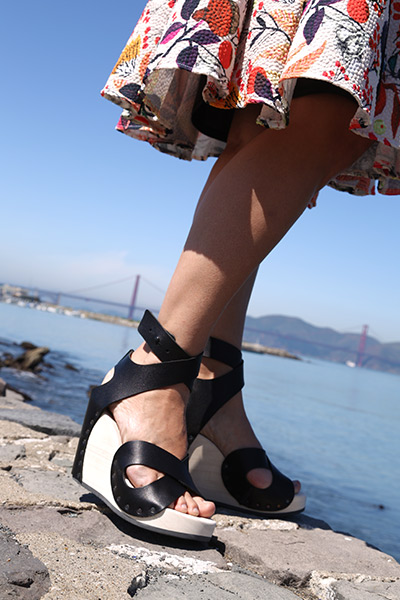 This show stopper is the skyscraper in Ped city, with its sculpted wooden wedge rising a full 4.5″ in back! The 1.5″ lift up front brings the pitch to 3″, and Trippen's skill at sculpting the footbed to match your sole's contours means the Mikli feels fantastic when you slide in and crisscross the ankle strap!
The Mikli also just happens to be our Sweet Treat this week, so you can rise and shine for 20% off by clicking "be sweet to your feet" at the bottom of the box on the left at Ped's main site!
So ends our air-conditioned travels through the many sandals of Ped! We gave you the lay of the land from the flats to the heights, but we didn't visit all the styles, so feel free to explore on your own at Ped! So many beautiful ways to let your toes play in the sun all summer long!