Tuesday, May 29th, 2012
Free your toes, and the rest will follow! Okay, so that's not quite how the song goes, but it's still good advice! After all, it's sandal season!
We love spending sunny days almost barefoot in a great pair of run-around flats! This year many of them offer a little extra something in the way of metallics, ranging from subtle shimmers to out-and-out, razzle-dazzle shines. Here are a few ways to make your tootsies sparkle.
Fact: Cydwoq makes THE BEST sandals! As evidence, we present Exhibit A: Cydwoq's Form: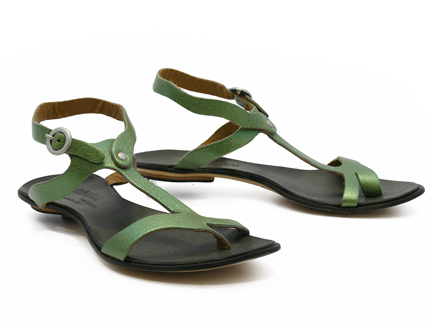 Ped fans know about my fondness for all things green, but Cydwoq takes it to the next level by adding a little metallic shimmer! Oh my! The Form's straps wow with their artistic cut. And how about that sweet circular buckle? So much to love!
Another sandal that benefits from a pearly polish is the Cydwoq Naked: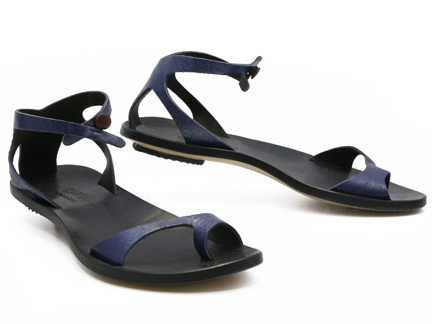 Blue is the color of the moment, and it looks especially beautiful glimmering like a moonlit sky. Looking for something more neutral? We also have the Naked in pewter.
For those of you who appreciate a slide, Cydwoq also gives the pearl treatment to the Samba: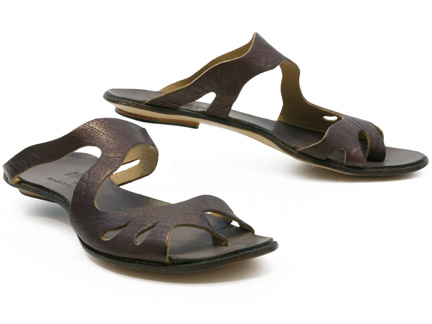 Simple and pretty, just the way we like it, with the warm burnish of a well-worn penny!
Another understated way to add some metal to your mettle is with Cydwoq's wonderful Thong: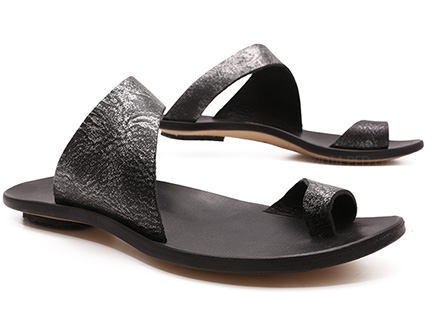 There are two reasons why this classic Cydwoq design remains popular year after year: 1) its incomparable comfort and 2) its ever-modern style! The silver sparkle makes the Thong shine in a sea of black sandals.
Maybe you're someone who likes to amp up the dazzle, in which case, Cydwoq's Tomcat will put a twinkle in your eye (as it did in mine):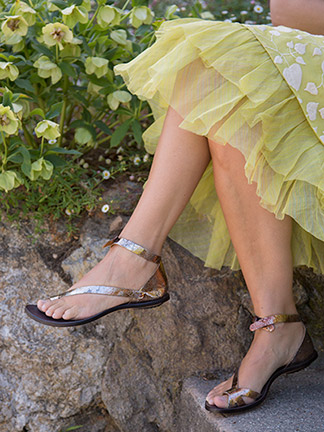 The antiqued silver and gold leather is stunning, and yet for being so eye-catching, these sandals are go-everywhere wearable! I wore mine all over Barcelona, for instance—here's proof:
But let's get a little shinier, shall we? Everyone at Ped HQ is over the moon for Cydwoq's new Admit: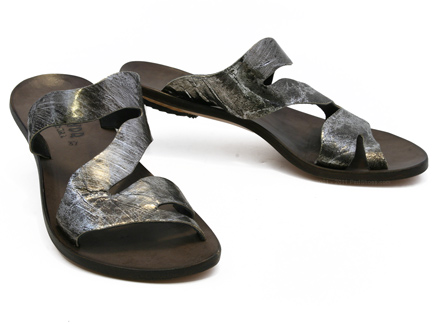 Such a great sandal! The leather looks like it was worked in a silversmith's shop! Gorgeous in every way!
Finally, for all-out gleam, the Trippen Careless takes the prize: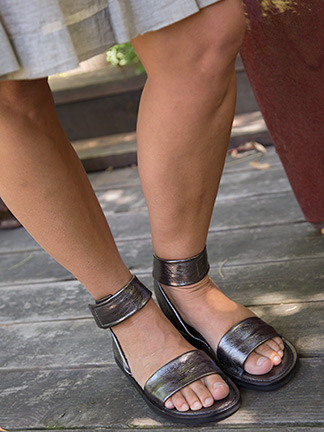 Sure, the Careless is shiny and bold, but its leather is also unbelievably soft! This sandal feels so good against your skin and under your sole, and it provides fantastic support for walking wherever the map takes you!
Slip on any of these breezy sandals, and  your feet will instantly be as dazzling as the sun on a cloudless summer day! Let your toes out to shine!
(Psst, have you oohed and aahed over this week's Sweet Treat? It's worthy—Vialias' saucy Sara! Click "be sweet to your feet" in the upper right corner of any Ped page to arrive at the Sara with the magic code that will bring 20% off at checkout!)