Sunday, December 9th, 2012
Ped fans, we have a confession: we feel a little conflicted this time of year. On the one hand, we love the lights, the parties, the month-long festive feeling, and especially the chance to give those we love something nice! On the other hand, it's a conundrum to find just the right thing for each woman on our list, ranging from our elderly aunt to our teenaged niece. Good thing all we need to do is look in our backyard—a.k.a. the Ped warehouse—to find treats that any gal any age will treasure!
If you, too, need a few ideas, check out the following suggestions, which are sure to brighten anyone's holidays. (Best of all—no size knowledge is needed to produce smiles!)
As every woman knows (and every guy should, too), a gorgeous and functional bag is truly a gift that keeps on giving. Practicality and style make beautiful music together in Fiorentini + Baker's Sylver Bag: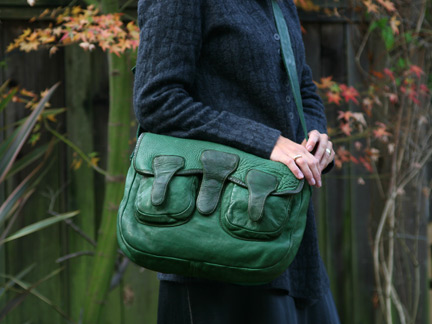 Since I love all things green, you can imagine how my heart raced when I ran across this bag in Europe! Perfect for Ped! The Sylver has twin exterior pockets, plus its spacious interior boasts another zipped pocket! And the leather is so soft. (It also comes in a grey and brown leather combo, in case that's more to your giftee's taste!)
Another sure-to-please bag is Accessoire's Seine Tote:
We absolutely love this carry-all, which is the first bag we've offered from Accessoire. The deep red color has beautiful blue undertones! We also like having the option of wearing the Seine as a shoulder bag or carrying it as a hand-held tote.
If your designated recipient wants something a bit smaller and a little funkier, Cydwoq's Postage Bag might be just the thing: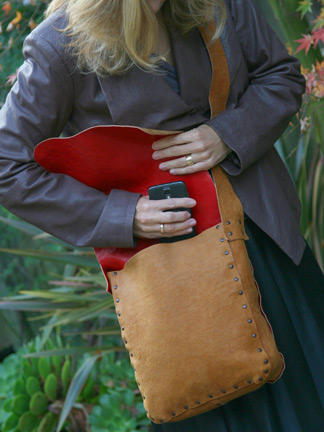 Constructed using rivets instead of stitching (talk about durable!), the Postage Bag features Rafi and Ari's latest twice-dyed leathers, neutral on one side and zingy on the other! In addition to the above caramel-and-red combo, Ped also offers a brown-and-orange combo and a super-saturated all-red version! Cydwoq always puts the "fun" in functional!
Another gift sure to warm a woman's heart is a scarf to warm her neck! Epice makes the most beautifully loomed woolens that not only feel soft and cozy but also wow with style. The Jubilee Scarf is a perfect example:
We're always dazzled by Epice's wonderful and often unexpected color combinations! Who else would think to mix pale pink, olive, leaf green, bright orange, and deep blue stripes in the same scarf, creating a design with beautifully balanced panache? Gorgeous! In addition to the Coral Reef combo pictured, the Jubilee also comes in two other equally eye-opening color schemes, Autumn Leaf and Pilot Blue.
In winter, flowers always brighten up grey days. Why not give your gal a wearable garden via the Epice Fleurs d'Hiver scarf?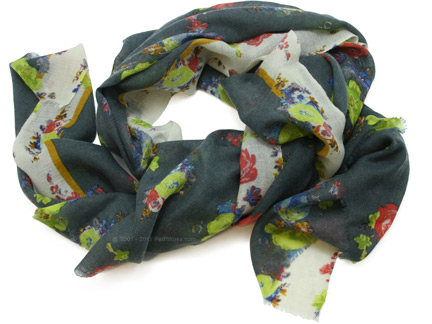 This nosegays and bouquets strewn across this scarf, which is wide enough to wear as a shawl, have such a lovely vintage sensibility! We love the freshness of the slate version pictured here, but this toasty scarf also comes in a silver version that features more muted blooms.
Our favorite Parisian virtuoso of crochet, Sophie Digard, also designs scarves guaranteed to delight. Who wouldn't love receiving her magnificent Petits Carres Scarf?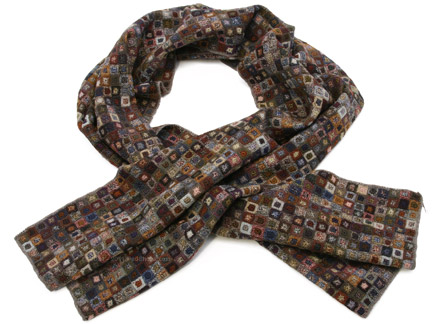 Hundreds upon hundreds of tiny squares come together to form a wearable mosaic of woolen artistry! Truly a masterpiece, this wonderful scarf comes in several color compositions—the Winter palette pictured here, as well as Desert, Bonheur, and Joyeux—all stunning!
Jewelry is another way to express your affection for your favorite females. It doesn't have to be bling-y or suggestive of romance—it can just be fun, like Sophie Digard's Velvet Pop Necklace!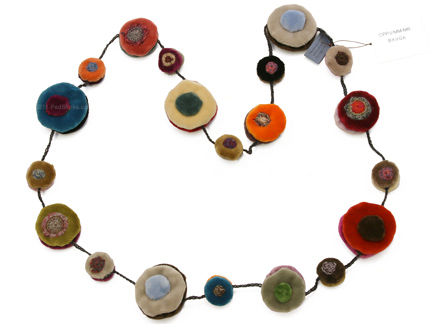 The colorful baubles on this necklace not only move along the cord, allowing your gal to cluster them in various ways, but they also spin to reveal a different color combo of velvets on each side. Ped's Laura has this necklace, and every time she wears it, she's deluged with compliments and questions about where she got it! Truly a show stopper!
If you do want to go for the sparkle, though, Jamie Joseph is your best gift-giving friend! JJ's Smooth Indian Ruby Earrings are sure to make your special someone sigh with joy: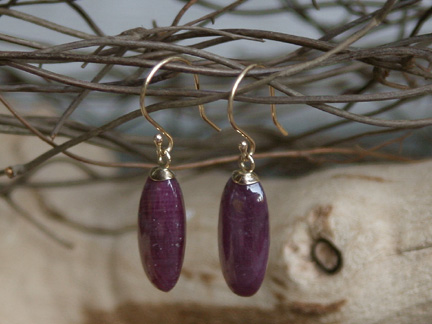 Aren't those stones to die for? Jamie personally selects every gem she uses in her simple yet devastatingly lovely designs!
Determined to dazzle? A time-proven way is with a gift of gold and diamonds! Jamie Joseph's 14kt Gold Organic Circle Necklace is simple, elegant, and drop-dead gorgeous!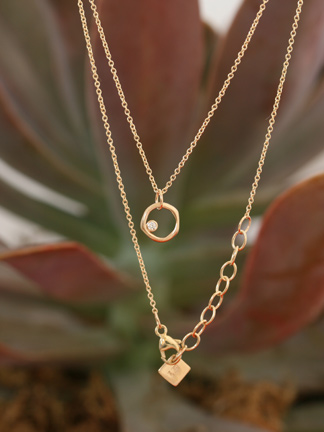 The very embodiment of good taste, without a hint of stuffiness, this sweet necklace will remind her of you every time she wears it!
Lots more possible presents, each guaranteed to please, await your browsing pleasure at Ped's main site!
We like to think anything you pick will make your recipient's heart sing, but if you're still nervous about making a good choice, why not invite her to make a "wish list" via the green button just under the "add to shopping bag" gold button on every Ped item's page? Another alternative is to have her email you her heart's desire via the "Share" button under the right corner of her chosen item's picture. At Ped, we make it easy to please! Happy stress-free holiday shopping!
(By the way, you've got another day and a half to take advantage of this week's tempting Sweet Treat: Chie Mihara's sparkle-plenty Exito Oxford! Brighten up your holiday by clicking "be sweet to your feet" in the upper right corner of any Ped page. You'll be delivered to the Exito with the magic code that will bring 20% off at checkout!)