Monday, March 18th, 2013
There was a time last century when fashionable young ladies regularly enrolled in charm schools to polish their manners and feminine style. Lessons included walking in heels while balancing a book on one's head to improve posture. Fun (not).
Fortunately, today we women determine our own style and are more concerned with balancing the books of our companies than balancing books on our heads. But that doesn't mean you have to give up girliness if that's what your heart desires. Chie Mihara is here to school you, and every one of her shoes provides a lesson in the three F's: femininity, functionality, and fun!
Slip on a pair of Chie Mihara shoes, and you'll instantly become a Chie charm school graduate! Here are a few of the colorful courses she's offering this spring at Ped:
When it comes to charm, nothing's more charming than a classic mary jane. Chie Mihara gives the m.j. a modern spin with the new Onna: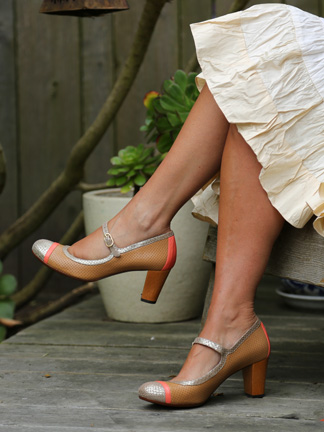 You have to love how Chie takes a neutral—the Onna's sesame body and platinum trim work with everything—and makes it anything but middle-of-the-road! Dig the wooden heel!
Another "lady" shoe that gets the Chie Mihara treatment this season is the timeless spectator pump. Behold the fantastic Zelia: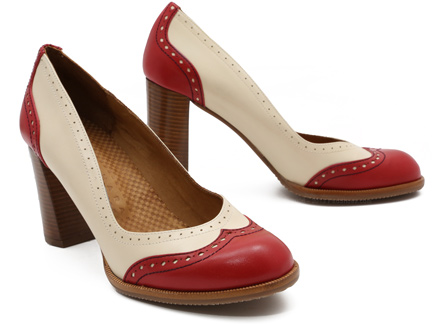 Everything from the stacked heel to the leather's perforated edges to the ridged rubber outsole is so well thought out! And the cream and tomato red color combo is to die for!
Red also amps up the charm of Chie Mihara's Joelia heeled sandal: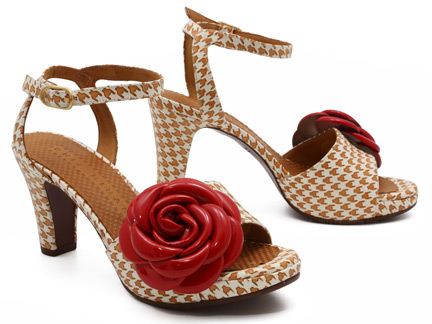 The playful houndstooth-patterned leather and the oversized patent rose on the toe offer a wink and a nudge to more conservative styles in a way that's sexy, artistic, and wearable!
Want even more whimsy? Then consider lacing up the new Chie Mihara Bandera: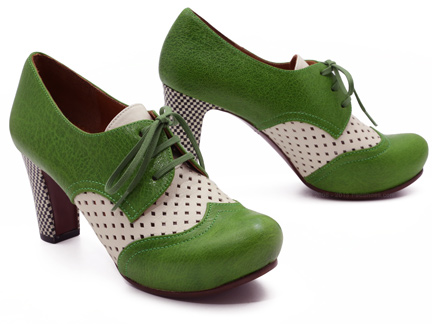 Ped fans know a beautiful green shoe always makes me sit up and take notice! Needless to say, the Bandera has my full attention. A checkerboard heel? Chie at her very best!
Love oxfords but prefer yours with a lower heel (but no less style)? Then feast your eyes on the spectacular Chie Mihara Isias: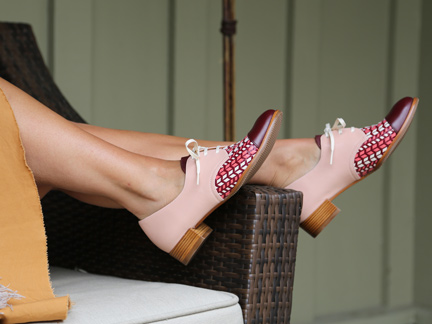 How cool is that color combo? Everyone at Ped HQ is crazy about the braided-leather detail that Chie introduced this winter, and wow, does it ever look fantastic on the Isias for spring! (If rosy colors are not your thing, you might prefer the black, cream, tan, and gold version.)
"Fine," you may say, "but what I really dream of is an oxford that's more open-air." Well, Chie fulfills your wish with the fresh-as-can-be Ingra: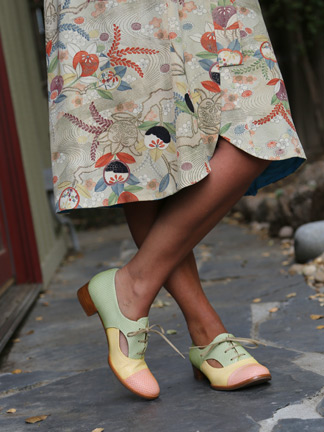 Wearing this breezy lace-up is guaranteed to lift your spirits—and brighten the day of everyone who sees you! Imagine how cute the Ingra would look with a pair of skinny ankle-length pants!
To give your winter-weary feet a true taste of the sun, though, we suggest you buckle up the Chie Mihara Present: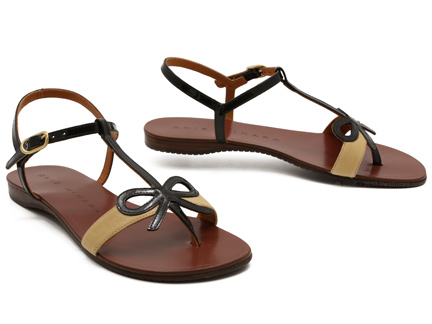 Talk about charming! The stylized black leather bow on the cream toe band makes the understated Present the valedictorian of Chie Mihara's charm school!
Even more lucky charms from Chie Mihara are waiting at Ped's main site, so click over and go girly this spring and summer!